How to Create an Impressive Accounting Resume to Be Noticed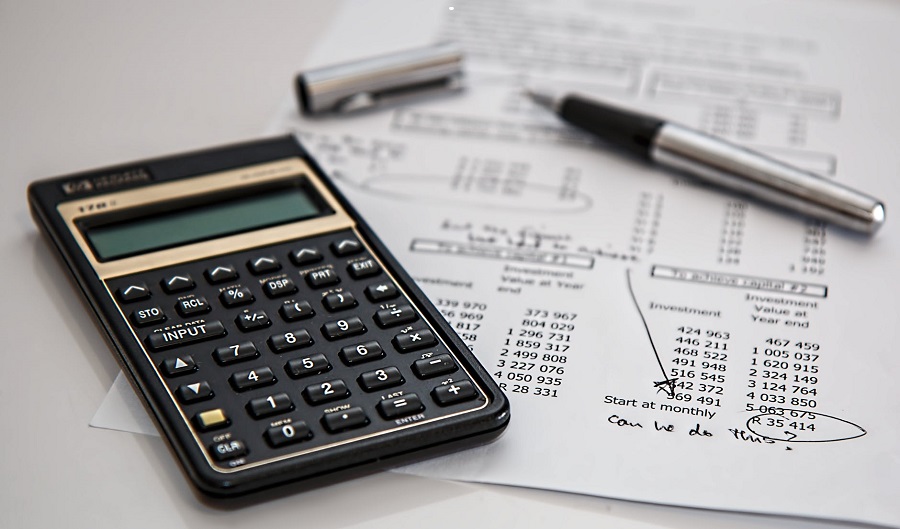 Being an accountant you know how attention to detail and being straight to the point is important for this profession. You can't just use one of those online resume templates to craft your application document. Your perfect accounting resume needs to be exact and should contain necessary keywords without using any flashy templates.
After all, you only have about 6 seconds to make a great first impression so make sure you don't lose your chance. Here are professional accounting resume examples and tips for you to keep in mind to land the job of your dreams.
Entry Level Accounting Resume
Being a recent graduate you most likely don't have enough or any work experience so far. It makes it more challenging to define what relevant information you should include in your accounting assistant resume.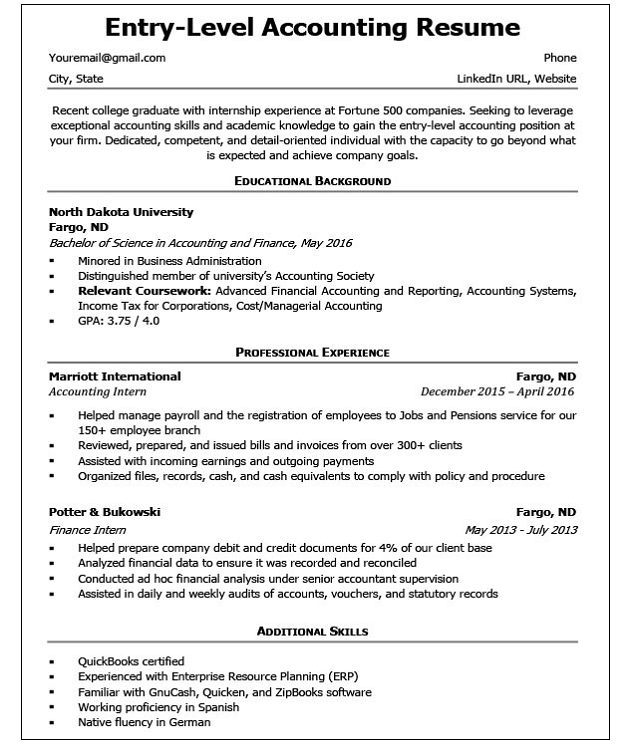 Even though your career is just about to begin, you can highlight your skills and education section. Telling about your education and any certifications you've acquired will demonstrate your related skills. Also, any relevant extracurricular activities will support your application and make your accounting student resume more attractive.

If you are willing to add depth to your accounting manager resume or include specificity and clarity to your accounting intern resume, using key action verbs will definitely help you grab the attention of HR managers. Such action verbs can be included in the work experience section together with bullet points or mentioned in cover letters.
For instance, you may use such action verbs as accelerated, facilitated, managed, maintained, scheduled, calculated, raised, decided, gathered, launched, obtained, undertook, and others. Find more action verbs for an accounting clerk's resume online and make sure to add the most relevant ones.

The career objective at the beginning of your accounting executive resume should have a strong argument in it to attract attention and help your application get noticed. You need to focus on the following three pieces of information which should be highlighted in bold in your objective for accounting resume:
Your work experience in years as well as your main duties;
Your certifications and the highest degree you've obtained;
What position you are looking for and what makes you a perfect fit.

Once you've filled in your accounting resume objectives it's time to focus on your most relevant skills and abilities. Don't tell me about your interests and hobbies. Be precise and accurate. Showcase your key strengths and major abilities.
If you concentrate on your achievements and hard skills you will present more value to potential recruiters. Talk about your top certifications in this section of your accounting skills resume: Certified Management Accountant (CMA), Certified Public Accountant (CPA) as well as other memberships, such as the American Institute of Certified Public Accountants.
The technical skills on your accounting internship resume may include software skills such as Oracle, SAP, Sage 300, Dynamics, etc. Mention that you are an expert with Microsoft Excel and the whole Microsoft Suite. More than that, the achievements in your resume for accounting needs to include the size of investments you've managed, the size of the budget you've managed, and the amount of money you've earned and saved with the help of accounting practices.

Whether you're crafting an accounting internship resume or an accounting specialist resume, prominently demonstrating your main certifications and licenses is significant if you want to have a successful job searching process. Getting a license will improve your chances of getting noticed by the dream companies and will help you land a decent job faster.
For instance, it's a great bonus to earn a CPA or any other certification in the niche fields.
It will highlight your relevant experience in the accounting resume skills summary and help you to apply for the positions of controller, corporate banker, or treasurer. Besides, it's essential to earn the related certification if you want to land a job outside your specialty as it will tell the HR managers that you will be capable of doing the job right.
Extra Points
An accounting student's resume and an application document for an experienced professional should both be free of errors and have the right formatting. Make sure you proofread the document and edit it to correct any misspellings. If you are not sure if you've mentioned only relevant information, ask your colleagues or friends to reread it for you.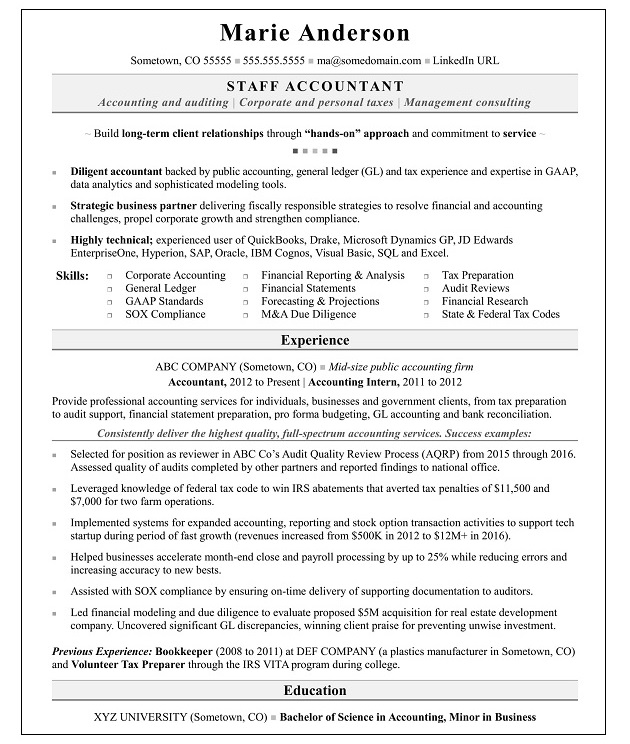 All in all, an accounting resume differs from a regular resume. Keep in mind these professional tips and craft your own outstanding self-marketing document. And we have recently started providing accounting resume help for everyone who needs assistance with their accounting resumes!