CIO, CTO, CSO Resume Writing Services
Looking for professional executive resume writing services?

We are ResumeWritingLab — a comprehensive, all-in-one CIO resume writing service for ambitious job seekers. We offer expertly-crafted C-level resumes from professional writers who translate your achievements on paper to land you the desired job.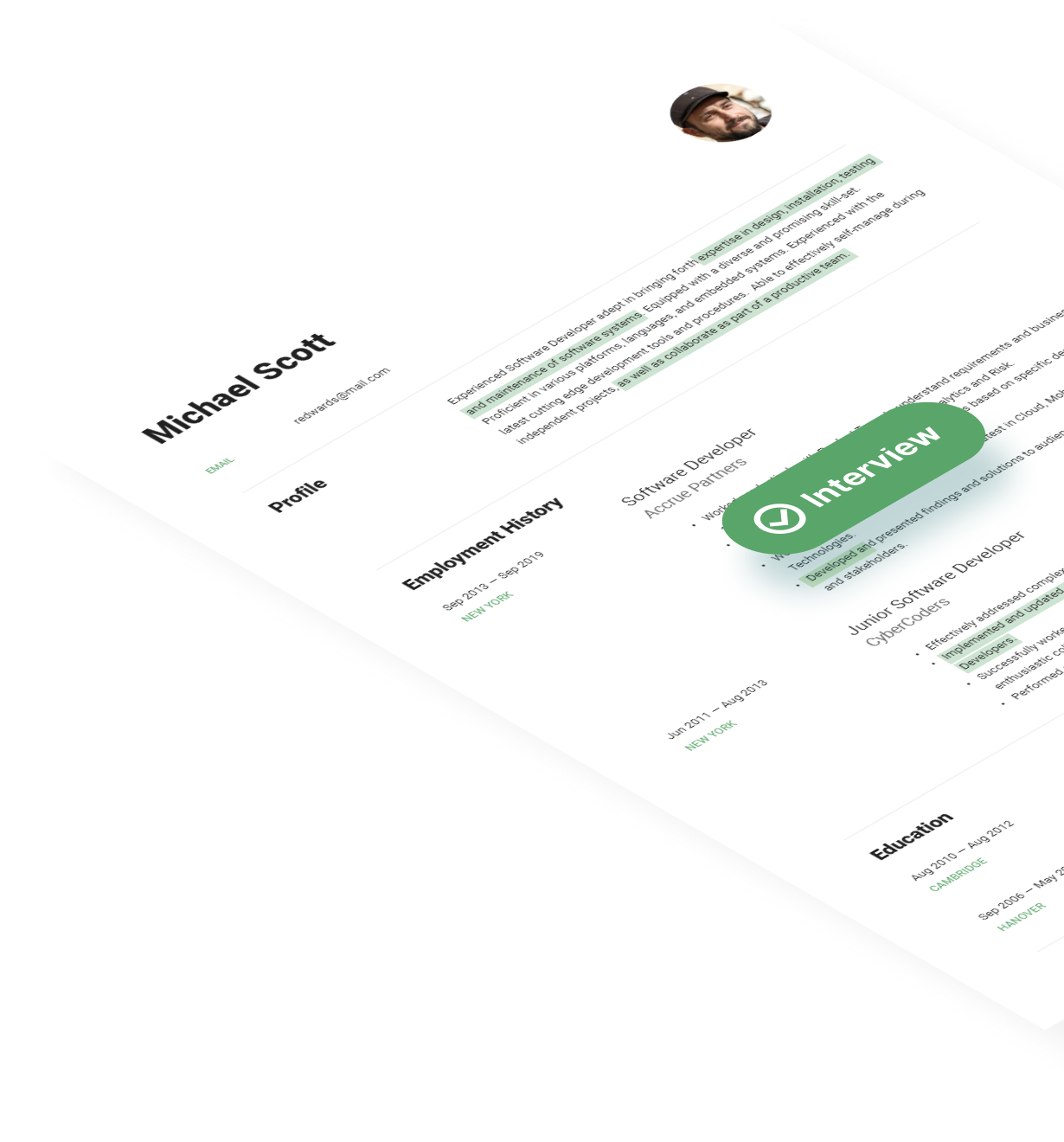 Choose a career level
Basic
Resume + Cover Letter
$179.99
One time fee
Order Now
A dedicated writer and unlimited revisions
ATS optimized resume to pass the recruiters' scoring
Stylish formatting to grab employers attention
Cover Letter to increase your chances of landing interview

---

LinkedIn profile makeover to boost your digital presence

---

Career Coaching and 24/7 support
Thank you letter
Optimal
Popular
Basic + LinkedIn + Distribution
$229.99
One time fee
Order Now
A dedicated writer and unlimited revisions
ATS optimized resume to pass the recruiters' scoring
Stylish formatting to grab employers attention
Cover Letter to increase your chances of landing interview

---

LinkedIn profile makeover to boost your digital presence

---

Career Coaching and 24/7 support
Thank you letter
All-In-One
Optimal + Interview Coaching
$399.99
One time fee
Order Now
A dedicated writer and unlimited revisions
ATS optimized resume to pass the recruiters' scoring
Stylish formatting to grab employers attention
Cover Letter to increase your chances of landing interview

---

LinkedIn profile makeover to boost your digital presence

---

Career Coaching and 24/7 support
Thank you letter
Resume Writing Service Benefits
An effective job-search strategy paired with a CIO resume writing service can make you stand out from the competition and land you the interview of your dreams. Below are some more advantages of hiring one of our resume writers to create your CV:
1
Make a Good First Impression
A CMO resume writing service can craft a perfectly-balanced candidate profile for executive positions. They will present your career experience in an informative but concise overview for a killer first impression.
2
Time Is Precious, and We'll Save Yours
Instead of blankly staring at an empty page, let a CIO resume writer create a flawlessly structured executive CV. They will personalize it to catch the recruiter's attention, and all this within a timely manner.
3
Reduce Job Search Anxiety
Navigating the labor market and reducing job applicants' stress is our specialty. Our clients get offered higher starting positions than other candidates competing for the same job due to our insider knowledge of the hiring practices.
4
Gain Confidence in Your Abilities
Land better and higher positions and negotiate salary packages that exceed your expectations. Have the confidence to switch industries and become the next CTO thanks to a professional CTO resume writing service.
FAQs
Do I Need a Cover Letter and an Optimized LinkedIn Profile?
In most cases, a cover letter should go hand-in-hand with your resume unless otherwise specified. Not many recruiters take the time to read it, but they will appreciate you sending one. It will boost your chances of being hired and distinguish you from other candidates.

An optimized LinkedIn profile is a must because it will show that you are a serious candidate. It helps your profile rank higher in LinkedIn searches and makes it easily discoverable by recruiters.
How Do We Work?
Select the required service to order an executive resume from Resume Writing Lab and then submit an order.

You will then fill out a form that will provide information about your career goals and ambitions. We will use this info to present your work history in a way that will appeal to employers.

Once connected with a writer, you will chat to ensure they have all the information they need to write the resume that will land you a new job. Once completed, we will mail the resume to you within the agreed timeframe.
How Much Does Hiring Resume Writing Lab Writers Cost?
To hire a Resume Writing Lab professional resume writer, you can choose one of the three packages we offer. The Basic ($379.99), Optimal ($449.99), and All-In-One ($629.99) pricing plans all include different perks to meet all of your corporate needs.
You may be good at your executive job, but preparing a selling resume is challenging work that requires a lot of effort.
Executives who wish to use the
professional executive resume writing services
of Resume Writing Lab can choose one of three packages. Each package includes the standard resume plus cover letter combo, and the additional perks increase with the price.
Consider the areas you think we should target most before you decide on the service, and then choose one of the following:
1. Basic Package – $379.99
This is a popular package for a new executive who only requires the essentials—a resume and a cover letter. Our diligent writers will prepare and revise an ATS-optimized resume that will not slip through the cracks.
Our CFO resume writing service will ensure the document is easily readable and scannable for keywords, as many recruiters use programs to narrow down the number of applicants.
The result will be a flawlessly-formatted and modern resume that swiftly sparks an employer's interest. The included cover letter will boost your chances of successfully landing an interview with a potential head person.
2. Optimal Package – $449.99
The Optimal Package includes all services of the Basic package with an upgrade. Your LinkedIn profile will receive a makeover to reflect your new and improved resume and, at the same time, boost your digital presence.
3. All-In-One Package – $629.99
The All-In-One Package is suitable for all high-end executives who want to take advantage of our services in full. With this pricing plan, you will receive career coaching plus 24/7 customer care.
Our CSO resume writer will also compose a 'Thank You' letter for you to send to the recruiter and score some extra points!
Are Executive Resume Writing Services Worth It?
Choosing an executive
resume writing service
will help you land high-ranking positions by preparing a cover letter and resume that targets the candidate's most desirable skills, goals, and achievements. Depending on the chosen package, Resume Writing Lab can even deliver your resume to recruiters and provide career coaching.
What Should Chief Officer Positions Put On Their Resume?
Chief Officer Positions require more sophisticated resumes highlighting the candidate's work skills. Focus on manager skills, leadership abilities, contributions, and achievements in the specific industry. Be sure to use relevant keywords included in the job description for the position you are applying for.
What a Resume Writing Service is?
Resumes and LinkedIn profiles open the doors to better career opportunities and higher salaries. And sometimes, an applicant needs that little boost to create a niche-specific CV that will set them apart from the bunch.
A CSO resume writing service is a professional team that creates superior CVs and resumes and gives an upper hand to aspiring executives.
At
ResumeWritingLab
, we do our best to show why our clients are the best candidates for a particular position. Our specialists create your stories from scratch, and clients know that we care for their careers and success.
Everyone needs help in getting noticed in the industry, even top-ranking executives. Whether a cover letter, a niche-specific resume, or a strong LinkedIn presence—our job market specialists make it happen.
What Are Some Popular Tips on Writing an Executive Resume?
IT resume writers
can craft a top-notch executive resume or CV for a client to perfection. They can make this gradual, step-by-step process appear effortless. But how do they do it?
To make sure that your resume is the best there is in the industry, simply follow these tips:


Perform thorough research to identify gaps at the company you want to work for. See if they have a current urgent matter to attend to that just so happens to be your specialty.


Letting them know you can solve their issue will likely land you the job. After all, no recruiter has the time to comb through resumes to identify which fits the position.


Address the recruiter directly to make it more personal when writing a summary. Always include relevant keywords that highlight your leadership style and professional approach.


Skillfully craft your resume and LinkedIn profile to establish yourself as a leader. Candidates applying for executive positions need to show what makes them stand out.


Always have an updated LinkedIn profile. However, do not just list previous job positions and completed projects.


Think of yourself as a product that needs to be sold and create the content of your LinkedIn profile accordingly. Using niche keywords will launch you to the top during LinkedIn searches.


Highlight the contribution you can make to the potential employer by listing actions you would take for improved company performance. This is helpful when preparing for an interview because you are creating a brand of yourself that can land you a high-salary job.


Steer clear from cliche resumes. Customizing the CV to catch the eye of the recruiter is infinitely better than simply following a template.


Do not crowd your resume with unnecessary information. Stick to strategic priorities, solutions for meeting target goals, role mandate, and scope.


Avoid repetitive job descriptions and overused phrases like "responsible for." Recruiters know the primary duties and responsibilities of the position. You are not like everyone else, so use carefully chosen strong action keywords to explain your expertise in the niche.


Ensure your resume is up to date. What mattered in the years when you started is old news now.


Include current and relevant software skills, and make sure the format is not outdated. Contact a CMO resume writing service for advice on the latest formatting trends.
Why Choose ResumeWritingLab?
Resume Writing Lab helps its clients to rank high on the job market. The 98% interview success rate proves that our clients have a strong chance of being contacted by recruiters.

In addition, using our CIO resume writing service is 100% confidential—you do not have to worry about stolen data or anyone finding your CV or resume on our page.

We offer over 200 professional resume writers specializing in different industries and types of resume writing. They know all about capturing the recruiter's attention.

To prove that we are sure of the quality of our writer's work, we offer a 14-day money-back guarantee and free revision of your resume within seven days of receiving it.

Our prices reflect our work ethic—try our services and see for yourself.