Fix My Resume Services
As any job seeker knows, crafting a first-class resume could be decisive for landing your dream job or languishing in obscurity. The question is, how do you create that stellar resume that helps you stand out? It is tougher than it sounds - unless you have the resume fixers on board!

If you are unhappy in your current position or want to make the most of every opportunity, the Resume Writing Lab team has the skills to help your resume sparkle and the knowledge to let you grab that absolute dream role.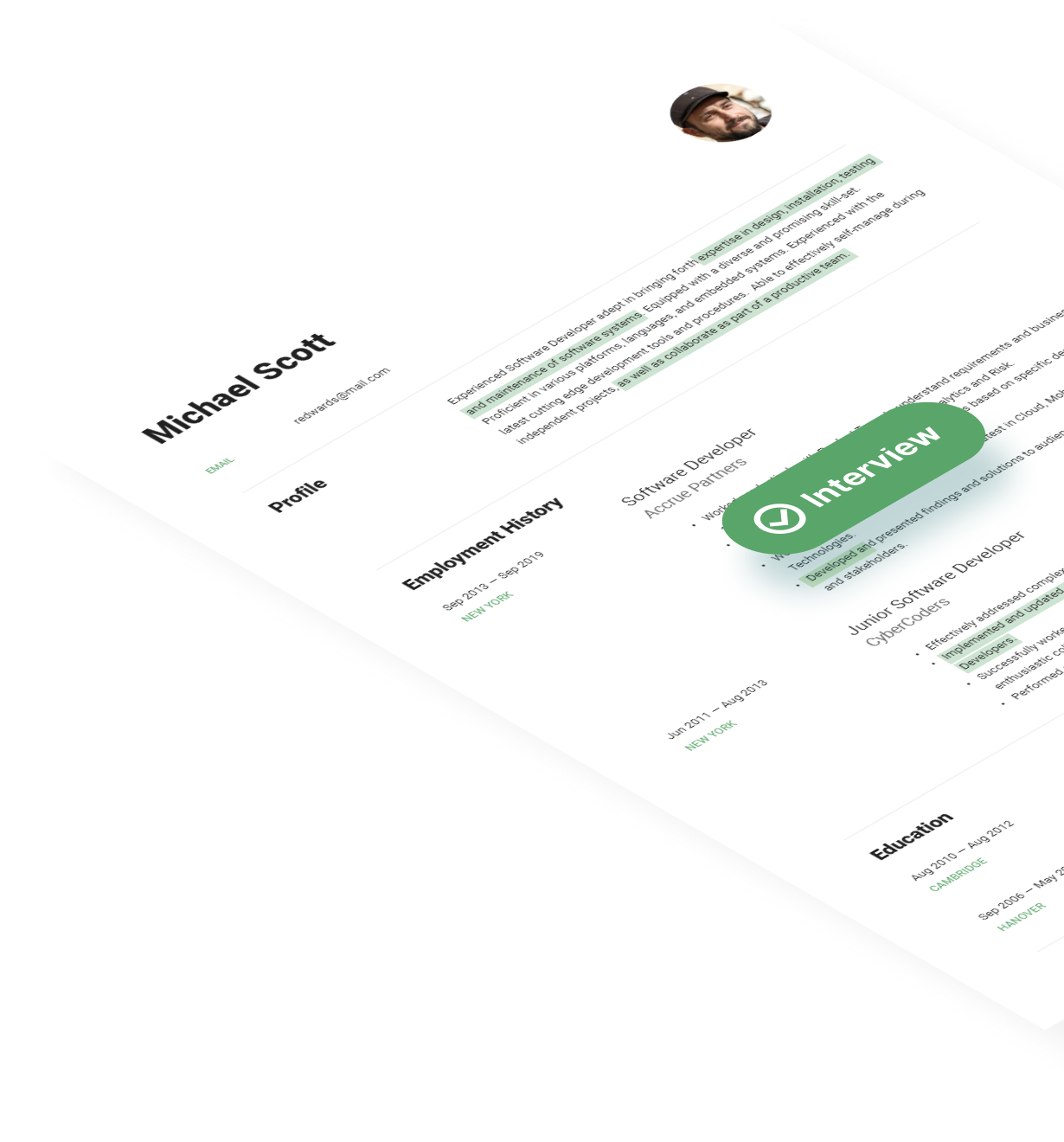 What Does An Online Resume Fixer Provide?
Our proven resume-writing process holds a 98% interview success rate
1
Quality Writers
A professional resume service gives you access to a top-quality writing team composed of hand-selected experts from across the globe - each of whom has an intimate knowledge of the world of employment, resumes, and the best hiring tips and tricks.
2
Plenty of Revisions
There is no need to worry; this is not a case of fixing your resume and sending you on your way. The service offers unlimited revisions, and the team will work hard to make sure that you are totally happy with your brand new CV before you walk away. All job hunters can enjoy totally unlimited revisions for up to 14 days following the original fix!
3
Real-Life Research
At Resume Writing Lab, you get far more than a mere resume fix. The team behind your new CV will use intense, in-house research combined with real-life experiments to understand how employers truly tick. They will get into the minds of business leaders worldwide to determine just what they are really looking for - and use this experience to bring your resume to life with useful, authentic attributes that will really help you stand out - even if you are in a crowded market.
4
Affordable Price
You need to present your career story in the best possible light, and so you want the best resume writers on your side. An online resume fixer helps you present the very best version of yourself and can help you gain an advantage over your opponent for an affordable price. Tempted? Head over and arrange your order, and take the first step on your journey to a whole new career.
FAQ
Why Use a Resume Fixing Service?
You may be questioning; what are the benefits of having someone fix my resume professionally? The truth is that crafting a quality CV is a skill - and so, a job best left to the experts. Our team at Resume Writing Lab can offer a wealth of skills and experience as well as insight into the techniques and styles most coveted by employers.
There are several common errors that all too often give away an amateur resume - don't let yourself fall into that trap. Some of the major issues include:
Many candidates will ignore the importance of their resume's visual appearance; after all, it is the content that counts, right? Well, not exactly. While nobody can deny the importance of strong content, the first impression counts - 90% of our perceptions occur through what we see.
Many candidates create resumes that are far too long and risk the employer becoming overwhelmed or bored before they can see your true potential. Alternatively, some job hunters will submit a single page - this seriously cuts down any chance you have to highlight your strengths.
As any expert will tell you: the first half page is crucial. This will be your only chance to make a strong impact, and so the visual aspect needs to pop. There needs to be enough space, but not too much space, the text should be readable, but not overly large, and the structure needs to look interesting, but easy to read.
There are a lot of aspects to consider. Using a professional resume fixer is imperative for ensuring that you tick every box.
As well as the visual aspect, a professional resume fixing service will have the skills to spot the language which will make an employer sit up - and the grammatical errors which will see your CV end up in the trash. They can also help you express your personality, vibe, and perfect fit for the job, helping to boost your chances of success.
Perhaps most importantly, a good CV fixer recognizes the power of proofreading - this can be the difference between embarrassment and a brand new opportunity.
You may assume that writing your CV yourself reduces the chances of inaccuracies - but this is not always the case. Many candidates find themselves overstating their achievements, including unnecessary details, or omitting key information altogether.
Online resume fixers could be the difference between a whole new career and another day of drudgery. Using a professional
resume preparation service
takes care of every detail and allows you to approach your new employer with total confidence. Whether you are wondering - "Where do I start to fix my resume?", or just looking for a touch-up, hiring a resume fixer online unlocks a host of services, including:
Who Can Fix Your Resume?
Wondering just who can fix my resume? Whether you are looking for resume formatting services, someone to fix resume online, or an expert to take care of the whole task, the Resume Writing Lab is the place you need to be.
With a clear process, incredible results, and real dedication to helping your CV be the best it can be, these guys are the team you need on your side - it could make all the difference. The Resume Writing Lab follow a clear structure to help ensure the very best results:
If you have been applying for numerous positions but are constantly receiving a rejection, this could be an indication that you need to update or transform your CV. In some cases, however, you may be crying out for someone to "Help me fix my resume!" or "
Write me a cover letter
which blows my new boss away!", but you may simply need to fine-tune your existing content.
When reading our own writing, it can be hard to find the good points - especially if you have already spent hours poring over the page! The team will start by determining whether you really do need someone to fix your resume or whether you can simply get away with a few alterations.
Once you have completed the required online form and sent off your original resume for the team to take a look at, the real fun begins. At this point, the team will select an experienced resume writer from their ranks, having determined the best fit for your particular requirements. The writer will then contact you via email and arrange a one-on-one telephone call to discuss your exact needs and requirements.
Unlike other 'fix my resume' and "
edit my CV
" services, we only assign each of our writers a maximum of 2 clients per week, allowing us to ensure that you will keep the same writer throughout the process and that they can really take their time and help you get incredible results - there is no rushing through the crafting of your resume. The initial call is part of this and offers a great chance to touch base and make sure they know exactly what you are looking for.
Depending on the contents of the initial call, your assigned writer will then go away and craft you a killer new CV or make the agreed edits to your existing content. You will then have 14 days from this initial draft to make unlimited changes - this is an important part of the process, as it allows you to craft and tailor your resume to your exact needs and requirements - this is so much more than simply asking someone to "fix my CV" and move on.
How Much Does It Cost To Fix My Resume?
We have good news for anyone looking to fix their resume and change their life - it won't break the bank. Resume fixing services at the Resume Writing Lab cost just $149, with a whole new rewrite starting at just $179. You can make your order with just the click of a button; this is a small price to pay for the potential of a whole new career.

So what are you waiting for? Head over to the 'Order' page on the site now, make your selection, and prepare to have your phone ring off the hook with interview invitations!