Formatting CV Online Services
Why is it essential to hold a well-edited resume every time you apply for a job? And, what's the advantage of availing CV formatting service?

We have mentioned that your resume is a marketing and advertising tool capable of giving you a better place in the competition. But, it's only possible when it is well written and perfectly formatted.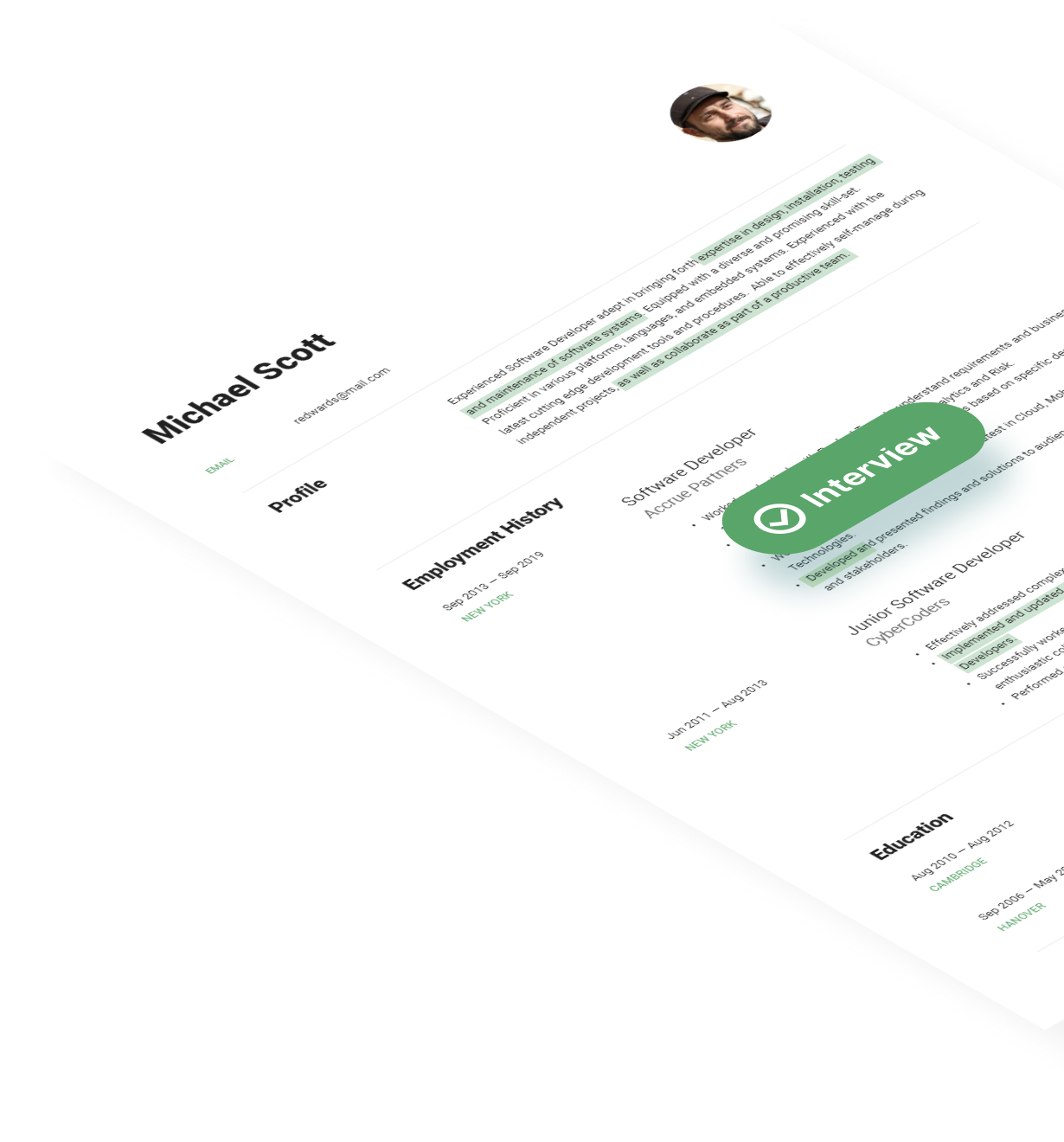 Benefits
We at Resume Writing Lab can come to your aid with our proficient curriculum vitae writers. To get your document formatted by us, all you need to do is place an order with your requirement details.
1
CV Experts
Our team of experts will format your resume to make it targeted towards your job requirements, correlating it with your career goals.
2
100% Unique
Your formatted CV is sure to have unique touches, which will make you stand apart from the crowd of applicants.
3
Industry Standards
While working, our writers follow the current industry standards, latest professional trends, and your requirements.
4
Top Formatting
Hence, as a result, you will have a resume exquisitely complementing your professional expertise along with being very contemporary.
5
Completely Safe
You will find our website safe with Comodo SSL encryption and reliable online transaction methods.
6
Proofreading
Our professional writers will minutely proofread the resumes you will provide for formatting. Hence, spelling, typos, punctuation, and grammatical mistakes will never be there when we provide you with the final copy.
FAQ
Why Do You Need Cost-Effective CV Formatting at Your Hand?
Galore of online service providers are available with a diverse range of formatting CV online services cost. While you may stumble upon some sites too expensive to be hired, some offer mediocre quality work at cheap rates.

However, we keep our beliefs catering to a larger customer base with more incredible quality services within moderate level price ranges. Consider yourself lucky! We are a site taking orders to format CV online services and deliver high-quality papers which would not cost you much.
Should I Order CV Formatting Service?
When applying for a job or appearing for an interview, your CV would be the only element from which your future employer will know about your worth for the job. Therefore, you need to make sure that you are using the right service that can deliver high-quality documents.

Providing our customers with premium quality formatting CV online services allows us to stand out from the competition. No matter which format you may need, our professional writers can provide you with high-quality service to increase your chances of getting the desired job.
What Are the Features of Your CV Formatting Services?
Here are some of the main features why Resume Writing Lab is the best option for those who seek high-quality CV formatting.


Our delivered documents do not contain any typos, grammatical errors and are always properly proofread.


Each document is nicely written and targets the industry it was formatted or written for.


None of our documents ever contain any weak words or sentences


We use the required keywords to make sure that the resulted document is applicant tracking system friendly.


So, if you are looking for a high-quality
CV editing service
online to increase your chances of getting your dream job, then Resume Writing Lab is the right place for you. But, if you decide to choose Resume Writing Lab, our expert writers will endow you with superior CV formatting services USA, keeping your eyes on all those aspects while putting an edge of uniqueness into it.
What Makes Us Different?
When you are at Resume Writing Lab to avail of CV formatting services, there are several reasons to admire. We have held our throne of supremacy in the
resume preparation service
since we love to cater to our clients in the most budget-friendly way possible.
You can comprehend our writers' and editors' efficiency and skillfulness as soon as you visit our sample page and go through any one of them. We have also mentioned a few Resume Writing Lab attributes, granting it a more significant edge over online competitors.
Connect with Us for your CV Formatting Needs
Don't need to spoil your impression because of a poor-quality resume as long as you contact Resume Writing Lab. Drop an order using the Order Now option and get a professional and tailor-made CV formatting service within few clicks.
How to Format a CV?
Usually, CVs format varies according to the sphere (academic or medicine) and your information (experience). Still, you will understand a general picture of the perfect CV format by using the following rules. Those, who don't know how to format a CV UK, must take into account:


Your contact information must contain a name, address, telephone, cell phone, and email.


Personal information section must include date and place of birth, citizenship, visa and material status, gender, sometimes spouse's name and children (but it's optional).


Employment history is usually presented in chronological order. You must mention work history, academic positions, research, and training.
Don't forget that if you face difficulties while writing a CV, you can complete it and use an online CV editing help from Resume Writing Lab professionals.


Education section covers dates, majors, details of degrees, training, and certification from the high school, university, graduate school, and post-doctoral training.


Professional qualifications are different kinds of certifications and accreditations.


Along with it, you must mention computer skills, awards, publications, books, professional memberships, and interests.
Every section must be uniform. If you use bold font for the names of organizations, all terms of organizations must be written boldly.
CV summary, as well as a good resume summary, is situated at the beginning of the paper and mustn't be more than 2-3 sentences.
Make bullet lists for your awards, grants, fellowships, and other accomplishments. This way, information will look organized and be readable.
Of course, don't forget to check your CV out on different types of errors. The best CV can turn into the worst if it contains errors. If you still ask yourself a question
what CV stands for
and "How to write a CV European format?", it's better to turn to our professionals.