Medical Resume Writing Service
If you're looking for a medical resume writing service, you've come to the right place.

In the United States, the healthcare industry employs over 14 million people. So, if you're seeking a rewarding career in this competitive field, it's a good idea to have a top-quality CV.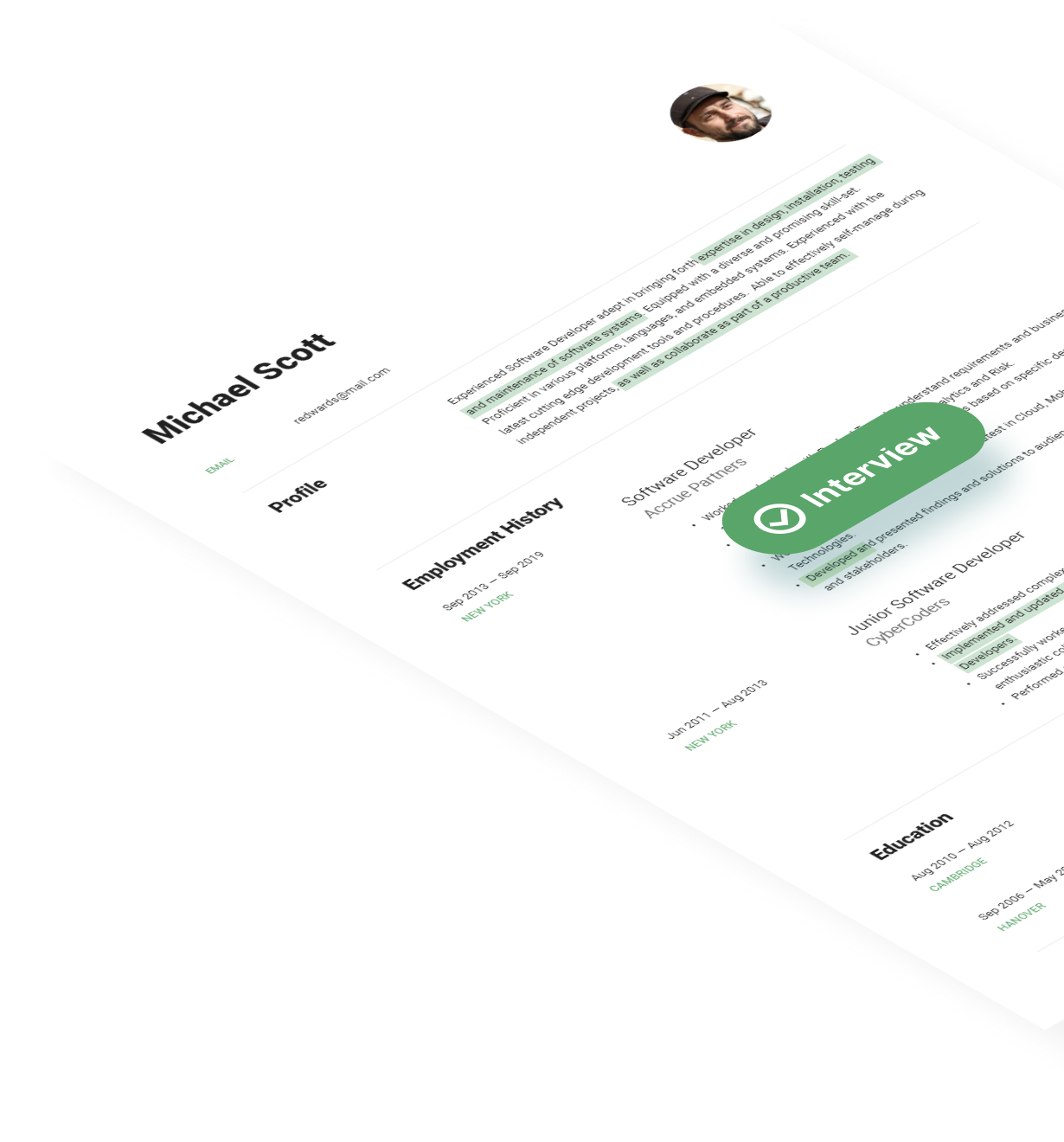 Choose a career level
Basic
Resume + Cover Letter
$179.99
One time fee
Order Now
A dedicated writer and unlimited revisions
ATS optimized resume to pass the recruiters' scoring
Stylish formatting to grab employers attention
Cover Letter to increase your chances of landing interview

---

LinkedIn profile makeover to boost your digital presence

---

Career Coaching and 24/7 support
Thank you letter
Optimal
Popular
Basic + LinkedIn + Distribution
$229.99
One time fee
Order Now
A dedicated writer and unlimited revisions
ATS optimized resume to pass the recruiters' scoring
Stylish formatting to grab employers attention
Cover Letter to increase your chances of landing interview

---

LinkedIn profile makeover to boost your digital presence

---

Career Coaching and 24/7 support
Thank you letter
All-In-One
Optimal + Interview Coaching
$399.99
One time fee
Order Now
A dedicated writer and unlimited revisions
ATS optimized resume to pass the recruiters' scoring
Stylish formatting to grab employers attention
Cover Letter to increase your chances of landing interview

---

LinkedIn profile makeover to boost your digital presence

---

Career Coaching and 24/7 support
Thank you letter
Benefits of Medical Resume Writing Services for Healthcare Professionals
The resume writing company is extremely successful in gaining interviews for medical clients, whether at private or public hospitals. It has also helped many graduate medical candidates to secure their very first interview.
1
Project an overview
Some individuals find it hard to take an objective look at their career, knowledge, education, and skills. Knowing what to add to your cv can be challenging. But a CV medical services can go through your work history and limit it to what matters to the prospective employers.
2
Saves your time and effort
Most individuals spend weeks and even months trying to perfect their bibliography. But instead of wasting time, you can simply hire a resume writing consultant for healthcare professionals and get your document done within days. Therefore, you won't have to delay the beginning of your job hunt and even the start of your new job.
3
Looks professional
Nothing turns off a hiring manager that a poorly structure curriculum vitae. It not only shows a lack of seriousness but also a negative attitude towards building a well-set profession. Medical writing CV services employ expert writers who deliver crisp copies that look clean, precise, polished, and professional. Furthermore, your document will be free from grammatical errors.
4
Saves you money
The job-hunting process can cost you money in addition to the lost income when you're unemployed. Avoid this by paying for bio writing for high-level healthcare professionals. It's a worthwhile investment. In summary, hiring a professional medical CV writing service can be money well spent. They ensure your CV portrays your experience, skills, goals, career objectives, and how you can add value to your desired workspace.
5
Keep up with trends in the industry
Writing companies tend to keep up with the latest trends in the healthcare and recruiting landscape. This in turn helps them to curate documents that are relevant and appealing to hiring managers.  
6
Competitive pricing
Not every individual can afford to pay +$1000 that some companies charge for resume editing. Look at your finances and determine the type of help you're looking for and how much you're comfortable spending.
FAQ
Do I Need Professional Nursing Resume Services and Why?
Anyone applying for a job or promotion should have a visually appealing and inspiring resume. We know that CVs often look identical, which is why the idea is to stand out from the competition. It's why top
healthcare executive resume writers
don't hesitate to talk to you to get the right information. They'll ask you about your special skills – is it teamwork or working under pressure? Do you have knowledge and experience on how to prioritize patient care? Can your interventions and skills be a factor in saving lives in critical situations?
Apart from basic information, you want to leave a memorable first impression with the resume. That's what will help you land that job interview and prove to them you are the best applicant for that position.
Check out the nursing professionals who often contact us to create them a stunning CV:


Student nurses


Registered nurses


Directors of nursing


Nurse practitioners


Nursing assistants


Nurses in pediatrics, midwifery, neonatal care, oncology, etc.


If you are among those who need a
registered nurse resume or a nursing CV
to apply for a job, don't hesitate to contact us right away!
What's the Importance of Resume Writing for Healthcare Professional?
Healthcare workers help injured and disabled patients as well as those with various ailments in settings such as nursing homes, hospitals, clinics, living centers, and sometimes client's homes.

Ideal healthcare professionals require a curriculum vitae to secure a job in such fields. A top-quality CV will not only show that you're a qualified medical professional, but it will also convey that you're motivated, dedicated, and you possess the ability to handle pressure even in a fast-paced healthcare environment.

Recruiters or Hiring managers spend 15 to 30 seconds reviewing a resume and, in that short period, determine if you're qualified. This means that your document needs to stand out and attract the attention of the hiring manager so you can be considered for the job.
Why Healthcare Workers Need a CV?
In your CV, you need to present your recruiters with tangible details of your training and experience. Also, you have to prove that you are truly passionate about the profession you're applying for.
As a result, your document won't end up in a bin, and you will be able to make an impression and increase your chance of being invited over for an interview.
Besides, you must deliver the information in a clear, concise, and appealing format. A format that's widely recognized and accepted in the healthcare industry.
Sometimes you might not have enough work experience, or your education is not complete. If that's the case, a
reputable pharmaceutical resume writing service
like ResumeWritingLab will come in handy.
Professional CV writers will highlight your strong side and filter out any imperfection. As such, your resume will appear competitive, and you might even secure that high-paying medical job.
Keep in mind your CV is your introduction to a potential employer. It's your opportunity to make a memorable first impression and to capture the attention of hiring managers.
If you want a document that stands out, consider the help of ResumeWritingLab. It's the best medical resume writing service on the market.
Should I Get the Best Medical Resume Writing Service for Medical Professionals?
If you've decided to invest your medical career with a professionally written bio, then you need to find a reputable and trustworthy company that offers CV writing for healthcare professionals. The factors below will ensure you don't give your hard-earned money to scammers.
Reputability and Trustworthiness
Check how long the organization has been in the writing business. Does it have an excellent reputation?
Go through things like testimonials and customer success stories that describe the work the company is capable of.
Through the About US, Company History, testimonials, and reviews, you can get a sense of the experience within the industry.
Experience and knowledge
Ensure the writer who will work on your curriculum vitae has the experience to write professional medical documents. Also, be on the lookout who writers who've worked in the industry since they understand what hiring managers want from job seekers.
If they're providing a medical CV writing service, they should be informed on the latest trends in the industry. So, they can curate a document that's in line with the trends.
Familiar with keywords
Just like any other profession, healthcare has its own set of acronyms, jargon, certifications, and skills that describe the industry.
Most employers have Applicant Tracking System (ATS) to look for these acronyms and jargon on a CV. If your medical CV has such details, you will rank higher and secure the job.
Good pharmaceutical sales resume writing services
such as ResumeWritingLab understand how the applicant tracking system works and will optimize your bio with the relevant keywords so you can rank higher.
Guarantees
Most medical CV services will not offer you any guarantees since it's hard to guarantee an individual a job offer. Usually, there are so many variable writers can't control once they have to offer you the final draft of your document.
However, some medical curriculum vitae marketing services will offer you
free resume review
if you don't receive 2X more interviews within 60 days of getting your final copy.
What's the Cost for Resume Writing for High-level Healthcare Professionals?
Writing your own bibliography is impossible sometimes. Something is discouraging about finding the right words to land you your dream job.

That's why most people often seek the help of professional writers who can shape their copies based on the highest standards of their targeted field. But how much do they charge?

The cost of the service will vary depending on various factors. As a rule of thumb, the complex the document is, the higher the writing rate will be. Pricing is often based on the experience of the writing company or writer.

The amount of time the writer will take to write your copy will also affect the cost. Higher job levels often demand more complex client experience, meaning more time and expertise are needed to custom-curate an effective CV.

Entry-level positions resume can cost between $150 to $250. It's the ideal document for recent graduates or individuals with more the three years of work experience.

A professional-level position curriculum vitae can cost between $259 to$350. It's ideal for individuals in mid-career development.

Executive-level position CVs can cost between $359 and above. This is where most healthcare workers like doctors fall.

Specialized knowledge, reputation, work history, certifications, time of delivery, and the process of the writing company can also affect the cost of the project.
Why Are We the Best Medical Writing Service?
To ensure career success in the medical industry, you must be ready to invest. Thus, hiring a credible medical CV writing service that will influence your job search. That service is ResumeWritingLab.
ResumeWritingLab has a team of skilled writers, reviewers, editors, and career experts who're genuinely committed to offering the best result. This service knows exactly what employers are looking for and goes beyond miles to help you.
The company promises to deliver your copy within time and has a competitive price range. Besides that, you can contact your writer and work out the details that should be included in your document.
With ResumeWritingLab, you will receive a completed, proofread curriculum vitae with a unique professional design that will make you stand out from the crowd for all the right reasons.
For the best medical writing services or
resume marketing services
, contact ResumeWritingLab.