Best Resume Services in Denver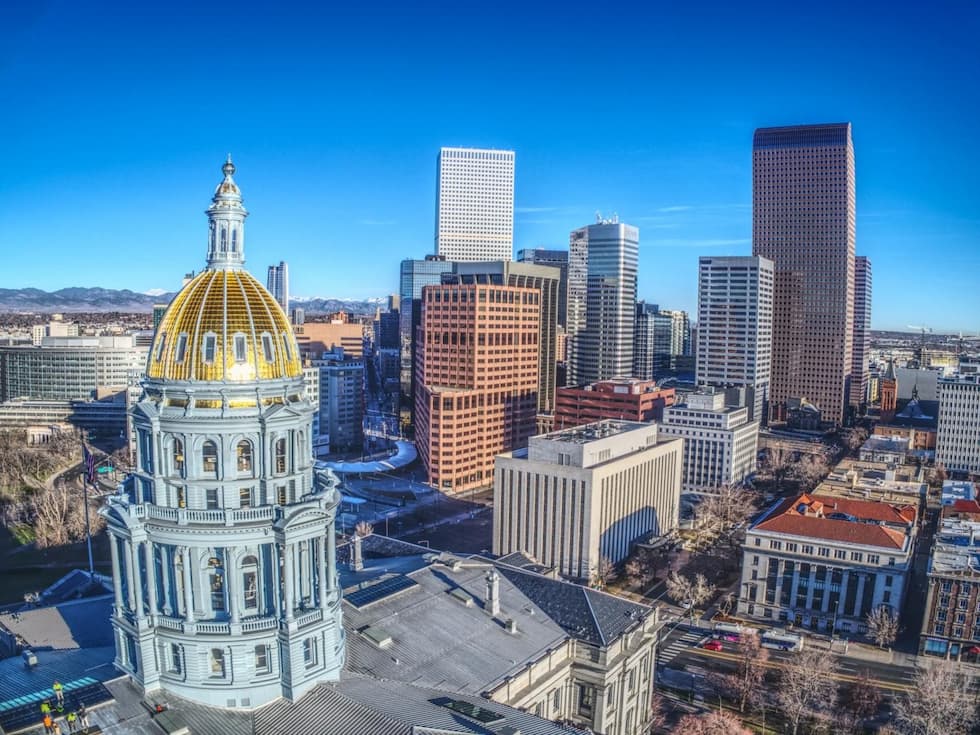 There are several reasons why Denver is regarded as one of the most beautiful cities in America. The Mile High City is known for its lovely blue skies that remain sunny 300 days a year and the panoramic mountain views make everything even better. So, it is clear to see why it is one of the fastest-growing cities in the country.
Another great thing about the city is that there are so many fun things to do. It is the perfect place for adventure seekers interested in exciting mountain peaks and valleys. There are also several day trips for families that want to have a taste of the outdoor life.
If you are a sports fan, you will be pleased to know that Denver has six professional sports teams ranging from baseball to football and basketball. The city has 90 golf courses.
Additionally, the population of the city has increased by almost 20% over the last decade. This means that the economy is currently booming and there is a long list of job seekers. So, you will need the help of professional resume writers in Denver if you are to get ahead of the competition.
However, finding reputable Denver resume writing services isn't an easy task and this is why we have decided to simplify things for you.
In this guide, we will be reviewing the top 10 professional resume services in Denver.
| | | | |
| --- | --- | --- | --- |
| Writing Services | Prices | Turnaround Time | Rating |
| Resume Writing Lab | $179.99 – $729.99 | 3 – 5 business days | 5 |
| Resume Writing Service | $115 – $165 | 2 – 14 days | 5 |
| Resume Writers | $169.95 – $299.95 | 3 days | 5 |
| Resume101 | $99 – $209 | 1 – 5 days | 4.5 |
| ResumeRabbit | $59.95 |   — | 5 |
| Cheery Creek Resumes and Career Services | N/A | N/A | |
| Colorado Careers | N/A | N/A | |
| Career Magic | $150 – $525 | N/A | |
| Advance Your Career Resume | $600 – $2,240 | Usually between 4 to 5 days | |
| Expert Resume Pros | $189 – $409 | 3 – 5 days | |
1.  Resume Writing Lab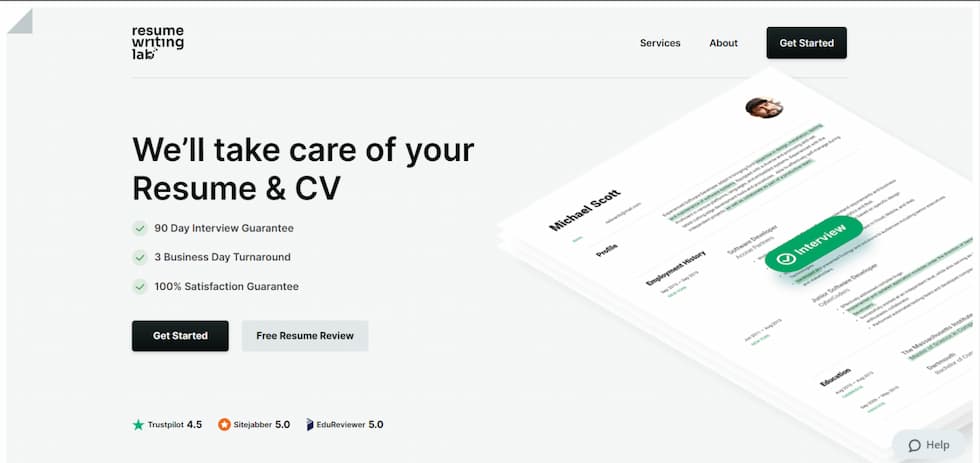 We are the right platform for you if you are searching for the best resume writers in Denver, Colorado. The company was established in 2014 and since then we have strived to provide job seekers in the city with high-quality resumes and CVs. We have also grabbed several accolades along the way.
As a job seeker, you can hire us for different types of tasks without breaking the bank. We even offer our new customers 10% discounts. That said, the cost of our services varies depending on the service you need. The packages that offer include:
Entry
Professional
Executive
Federal
Additionally, the reviews of our platform on forums such as Sitejabber (5.0) and Edureviewer (5) show we always satisfy our clients. We don't have a physical office in the city yet but this won't be a problem. You will be able to place your order and chat with your writer online. Once that is done, you will have your document between 3 to 5 working days.
If you ever need to get in touch with our customer support team, you will be able to choose between different options like phone calls, live chat, and email. Our website was specifically designed to guarantee usability. So, you don't have to be tech-savvy to find your way around it. Finally, satisfaction and confidentiality are 100% guaranteed when you choose us.
Advantages
Easy to use
100% privacy
Three rounds of free revision
Free salary calculator
Customized documents
Satisfaction guaranteed
Disadvantages
Urgent orders aren't accepted
Online support is only available during durable working hours
Ratings
Sitejabber: 5 stars from 9 reviews
EduReviewer: 5.0
2.   Resume Writing Service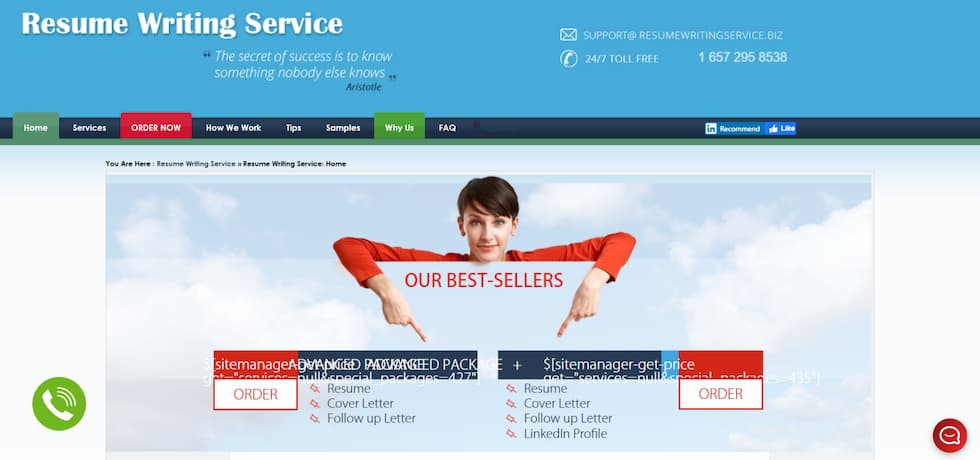 This is another excellent resume service in Denver. They create and edit all kinds of vital documents for job seekers including resumes, CVs, cover letters, thank you letters, reference letters, and follow-up letters. All documents are written with perfect grammar and excellent formatting to ensure that your resume stands out.
However, their website isn't exactly easy to use or beautifully designed and they don't display the prices of their services on their homepage. The good thing is that their prices are reasonable and they even offer a 20% discount. What you pay to get your document written will depend on the deadline you choose. Their turnaround time ranges between 2 to 14 days.
Additionally, your personal information and banking details won't be accessible to third parties because you will be paying through your bank. Their phone lines are toll-free and you can also reach them via mail when you need support. However, they don't have an office in Denver.
Advantages
Samples are available
Only hires professional writers
100% money-back guarantee
Discounts
Phone call with writer
Disadvantages
Poor website design
No live chat
Rating
Sitejabber: 3 stars from 2 reviews
EduReviewer: 4 stars
3.   Resume Writers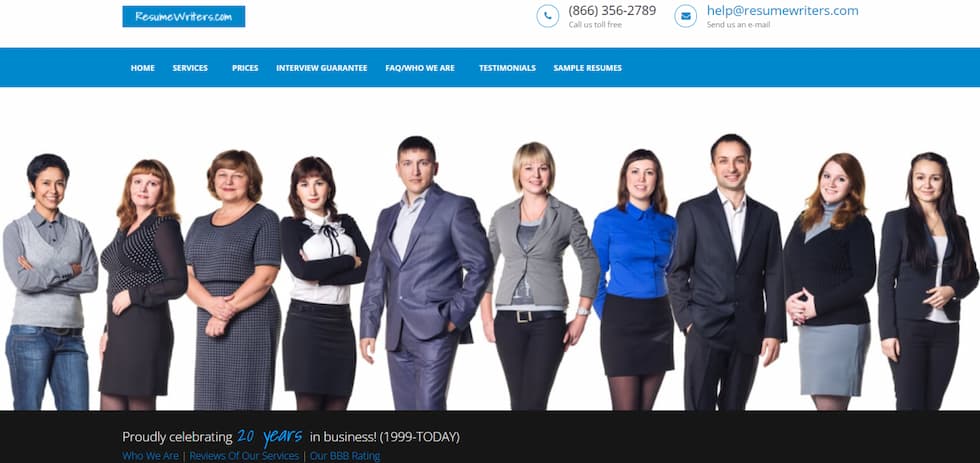 This service was rated as the Top Resume Maker of 2017 and today, it remains of the best professional resume writers in Denver. So, it takes the third spot on our list.
The first thing most people check out when hiring resume writers in Denver is pricing and to be honest, this platform isn't the cheapest. For $169, you can get the lowest-priced package (students) and it should cover most of the things you need. The regular turnaround time is 72 hours but you can speed up the delivery time to 24 hours. Their pricier packages include Professional ($199.95), Executive($299.95), and Career Change ($249.95).
Additionally, the platform makes use of certified writers and this is evident in the quality of their work. The majority of the reviews from users showed a good level of satisfaction. We also found the website easy to use with the FAQ section being particularly helpful despite its shortness. Though they don't have an office in the city, you will be able to get all the help you need via phone or email.
Advantages
Helpful customer service
High-quality documents
Availability of samples
Interview guarantee
Disadvantages
No live chat feature
The FAQ section could be broader
Some users have complained about the cost
Rating
4.   Resume 101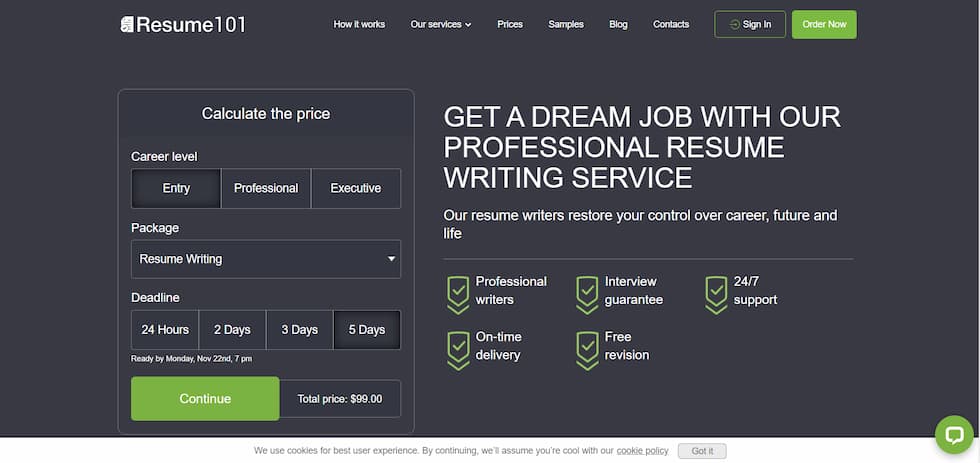 You will have some good options to choose from when in need of resume help in Denver and this writing service is one of them. The document that we got from the platform was well-formatted and free of grammatical errors. This shows that quality is prioritized on the platform and the various positive online reviews were further proof of this.
However, what makes this service even better is how affordable it is. You can get a high-quality resume from them for as low as $99. The different packages on offer include Entry level, Professional, and Executive. Also, you can get your first draft between 1 to 5 days but the shorter the deadline, the higher the price. We believe that there should be discounts too.
Another great thing about this service is the customer support. They are available 24/7 and you can reach them via phone, email, live chat, or Facebook. Finally, their website is well designed and anyone should be able to find their way around it easily.
Advantages
Excellent customer service
Affordable prices
You can pay later
Free samples
Disadvantages
24-hour deadlines are quite costly
Limited career levels
No discounts
Ratings
Sitejabber: 4.69 stars from 45 reviews
Trustpilot: 4 stars from 48 reviews
EduReviewer: 4.2 stars
5.   Resume Rabbit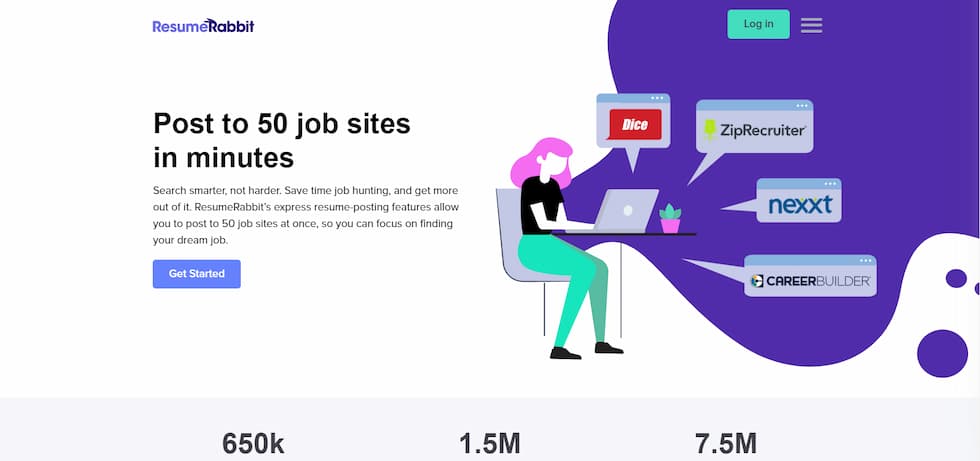 ResumeRabbit is quite different from other resume writing services in Denver on this list. This is because the company offers resume posting services to other job seekers. When you choose them, you will get your document posted on up to 60 websites at once.
Additionally, the pricing system is very clear and free of hidden charges. You will only have to make a one-time payment of $59.55. This will get you all the exposure you need. What's more, the entire process is completely confidential so you don't have to worry about your current boss learning about your job search.
As for customer service, you can get support by dialing their phone number or sending them an email during working hours. There is no live chat feature but you will be able to track the progress of your task via the Real-Time Posting Report. The website's interface is smooth and simple to use.
Advantages
Saves lots of time and energy
Superfast posting
100% confidentiality
Well designed website
You can be messaged by recruiters on your Rabbit account
Disadvantages
They don't write or edit documents
No customer support on weekends
No live chat feature
It's quite pricey
Ratings
ResumeRabbit: 2.6 stars from 4 reviews
EduReviewer: 3.3 stars
6.   Cherry Creek Resume and Career Services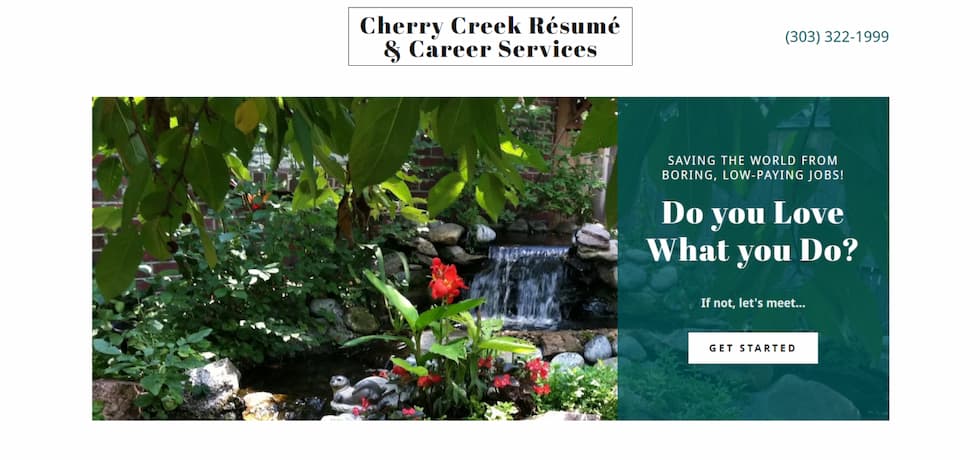 This writing company is owned and run by Teri O'Sullivan. She claims to have written over 25,000 resumes with a success rate of 98%. The major advantage of choosing her is that you will receive a document that suits your unique needs and situation.
In addition to writing and editing resumes, she works on LinkedIn profiles, and cover letters, and also assists with interview practice and career strategy. If you are currently in Denver, you will be pleased to know that you can walk into her office for a one-on-one consultation.
On the downside, you won't be able to find any information on pricing or turnaround time on the website. There are also no samples. So, you will have to visit her office before getting these essential pieces of information.
Advantages
One-on-one meeting
Personalized Solutions
A writer with decades of experience
Physical office in Denver
Disadvantages
No samples
No information on pricing or turnaround time
Only one writer
Ratings
Yelp: 3 stars from 12 reviews
7.   Colorado Careers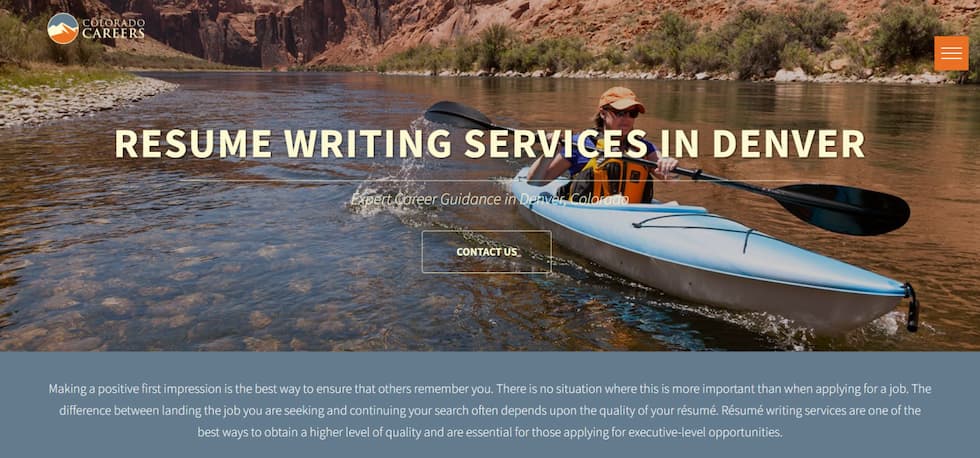 Colorado Careers is more than just a place to find professional resume writers in Denver, CO. The company assists both executives and professionals in career transitions. It was established by Owen Jones, a man who is highly experienced in executive development. The company claims to have more than 120 years' worth of experience.
Additionally, the packages that are offered by the company include Executive, Professional, and Relocation. So, you should have no problem finding a package that suits your needs. However, the prices of these services aren't available.
To get in touch with the company, you may visit their location in the city or contact them via phone, email, or fax. Colorado Careers works with job seekers to create a brand for them rather than just submitting resumes.
Advantages
Complimentary session
Widest network of connections in the area
Decades worth of experience
Disadvantages
No information on the pricing
Very few online reviews
Slow response
Ratings
BBB: 5 Stars from 4 reviews
Google: 5 stars from 5 reviews
8.   Career Magic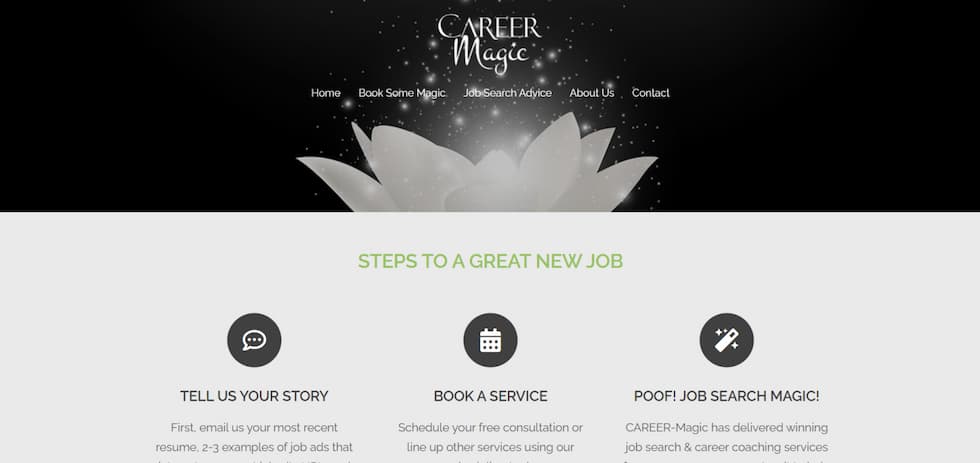 Career Magic was founded by Tracy Laswell, the leading resume writer in Denver. Over the last two decades, she has offered her services to both individuals and countries across the country. She also has experience as a corporate and contract recruiter and her other services include job search coaching and LinkedIn makeover.
We couldn't find enough customer reviews on Career Magic but the writing service has 5-star reviews on both Facebook and Yelp. To hire Tracy, you have to start by sending her an email including a recent resume, your LinkedIn profile, examples of job ads, and any other information. You will then be able to schedule a call to discuss your needs.
The platform offers free revisions to customers who fail to get an interview after 30 days. However, there is no money-back guarantee. Tracy also claims to be one of the fastest writers in the city but we found nothing on turnaround times on her website.
Pros
Personalized services
Career help
Confidentiality
A certified and experienced writer
Cons
No money-back guarantee
Not enough online reviews
No information on turnaround time
Quite pricey
Ratings
Facebook: 5 stars from 29 reviews
Yelp: 5 stars from 17 reviews
9.   Advance Your Career Resume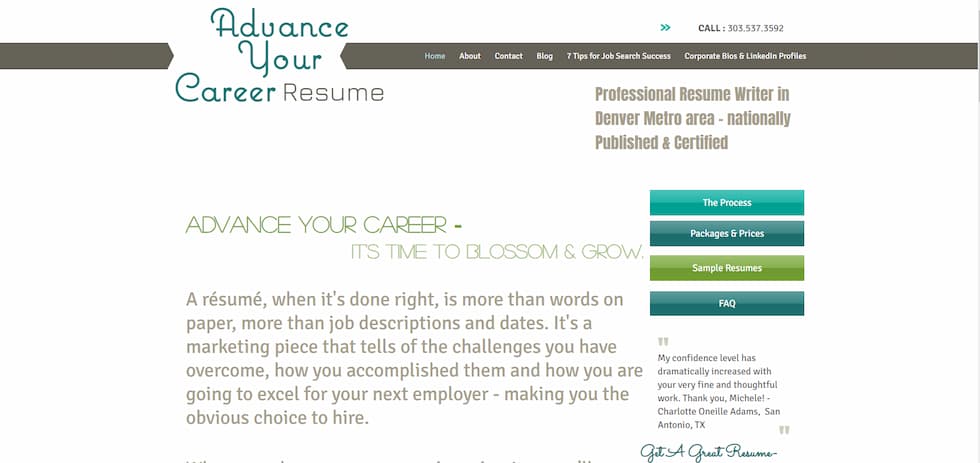 Just as its name suggests, this company is all about providing Denver resume services that help clients advance in their careers. The principal writer goes by the name Michele Angelo and he has been in the business of writing resumes since 2000. He is also a certified professional resume writer and has several other certifications.
But before you get too excited, you should know that his services don't come cheap. You will have to pay at least $600 to get a resume and cover letter from him while his most expensive package costs a whopping $2,240. However, he allows clients who can't pay upfront to pay later.
Though the website isn't the most well-designed, it is quite easy to use. He communicates with his clients via phone calls and emails, there is no live chat function. Finally, the turnaround time is between 4 – 5 days and we found no money-back guarantee.
Advantages
He's a member of the National Resume Writers Association
He's a well-published writer
Free quote and strategy session
Free revisions
Disadvantages
High cost
No money-back guarantee
Slow turnaround time
Ratings
Yelp: 5 stars from 1 review
10. Expert Resume Pros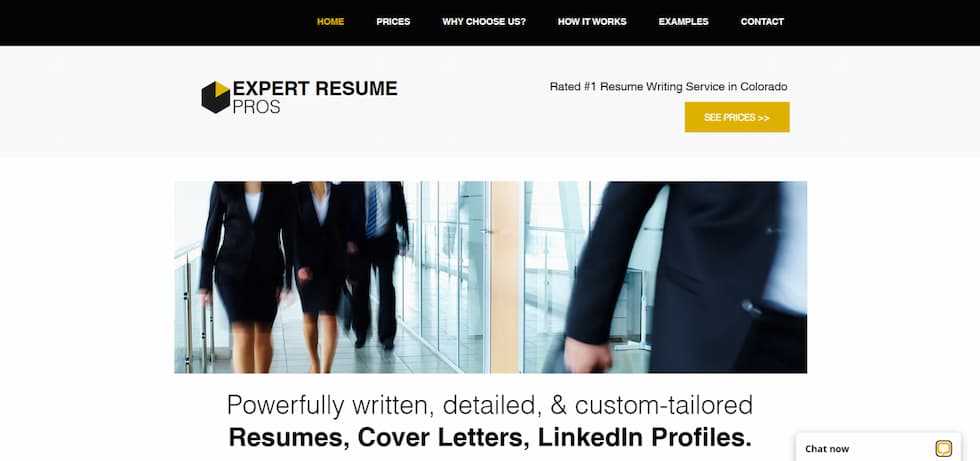 Here is another platform where you can find the best Denver resume writers. They have offices in four locations across Colorado and a writing team that consists of 22 professional writers. Each of these writers is certified and well-experienced.
The website has a smooth and simple interface, so you should be able to find the service you need. Their services and packages are listed on the "Prices" page and after you select your choice, you will get a writer.  You may communicate with their writer via phone call, email, or in person.
The prices of their packages range between $189 – $409 while the turnaround time is between 3 – 5 days. We found a live chat feature on their website.
Advantages
Simple website
Physical location
One-on-one interviews
Live chat feature
Disadvantages
Free revisions are only available for 14 days
There is no detailed information about the writers
Ratings
Yelp: 4 stars from 27 reviews
Facebook: 5 stars from 83 reviews
BBB: 4.7 stars from 47 reviews
FAQ
Is it bad to pay someone to write your resume?
No. Instead, it is always a good idea to hire someone to write or edit your resume for you. However, you should first ensure that the writer that you are hiring is certified. The best resume services in Denver are available at Resume Writing Lab.
What are the benefits of a professionally written resume?
A professionally written resume is more than just a document. By hiring a certified writer, you will be investing in your career and improving your chances of landing your real job significantly. The document will show your experience and best skills to show the hiring manager that you are suitable for the role.
Conclusion
Denver is fast becoming an economic hub and now is the time to secure a role in the ever-growing industry. The most effective way to get the attention of recruiters is to hire a Denver resume writer. This is because professional writers have been trained to draft documents that hiring managers just can't ignore. Though there are several resume writers in Denver Colorado, the very best of them can be found at Resume Writing Lab, Resume Writing Service, and Resume Writers.