Interview Checklist with Useful Infographic
Job Interview… Sounds scary? Everything depends on your attitude and of course preparation. First of all, it is necessary to realize that is not an ordeal, but an excellent opportunity to get a new job, meet new people and even change a life. Though sometimes even really positive people fail and we all know about it.

As a rule, it happens because they are not ready for the interview. Ok, now let's discuss what to start with and how to do everything possible to create an indelible impression on the employer.
Check Your Resume
Probably, if have been already invited to the interview, your application documents are quite convincing. Though, sometimes hirers read your resume really attentively during the meeting. If you have even the slightest doubts, better ask the executive resume writer to review your cover letter and resume to be 100% confident in success.
Look through Your Social Profiles
Any experienced recruiter will try to learn more about your personality by trying to track your online activity. It is high time to delete unsuitable photos from your Facebook account and improve your LinkedIn profile. Some details and any proves of your professional can help you to win a desirable job.
Actually, there are many other tips and articles that will help you to get ready for a job interview. Though, if you don't have much time for reading, just spend several minutes and learn about the most important things that will help you to get hired from this infographic.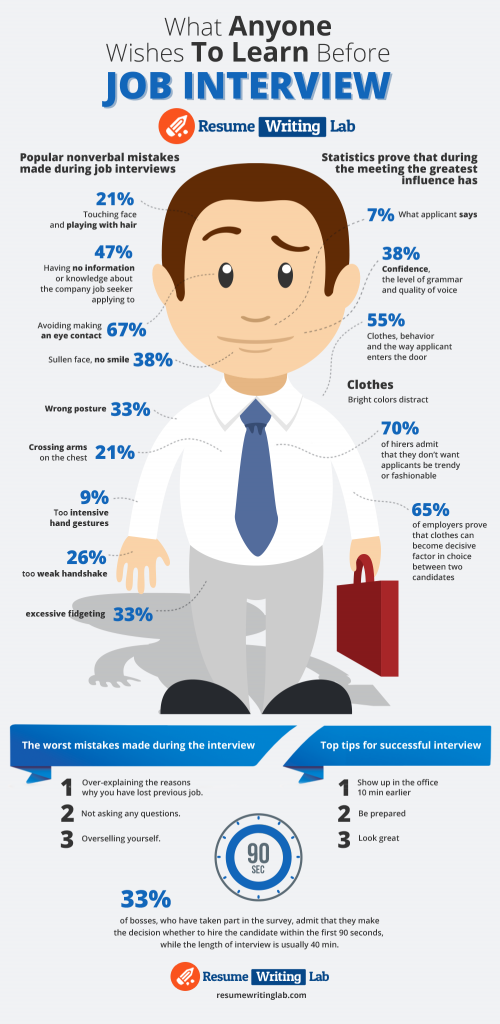 As you see, there are numerous aspects of proper preparation for a successful interview gathered in this infographic created by Resume Writing Lab. You can save this picture and use it prompt right before the interview. Good luck!