Best Resume Services in Tampa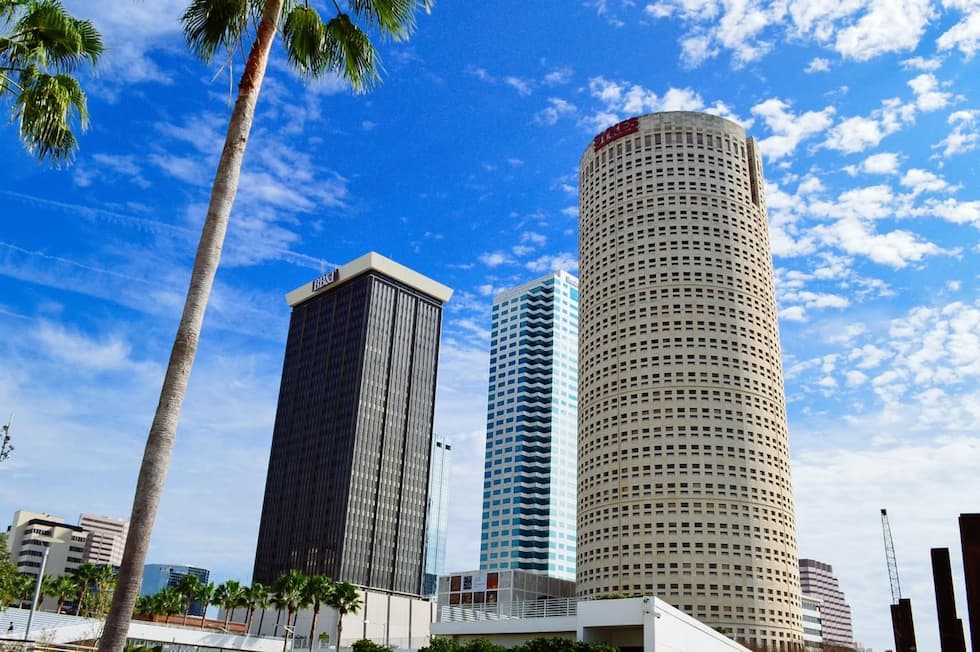 Tampa is one of the best locations in Florida for anyone to reside and for good reasons. It is the economic hotspot of western Florida and residents enjoy a blend of urban-suburban life. So, it is no surprise that its population is close to 400,000.
Additionally, The Big Guava is filled with amazing attractions such as theme parks, beaches, aquariums, museums, zoos, and more. The Busch Gardens and The Florida Aquarium are just two of the most popular destinations for people in the city.
What's more, residents of Tampa don't pay state income tax and estate. Young families will be pleased to know that the city has a great selection of schools and colleges. However, the competition for jobs in the city is high so you have to bring your A-game if you're job hunting.
To get ahead of the competition, it is best to hire the best professional resume writers Tampa FL. These writers know the right way to put your skills and experience on paper to help you land your dream job. Though there aren't many excellent writers in the city, you will be able to find the required services via our list regardless of your location.
Go through our guide to find the best resume writing services in Tampa FL.
| | | | |
| --- | --- | --- | --- |
| Writing Services | Prices | Turnaround Time | Rating |
| Resume Writing Lab | $179.99 – $729.99 | 3 – 5 business days | 5 |
| Resume Spice | $449 – $689 | 2 business days | 4.95 |
| Resume Zest | $179 – $379 | 3 – 5 business days | 4.9 |
| Find my Profession | $395 – $1,295 | 3 – 5 business days | 4.8 |
| Craft Resumes | $139 – $629.99 | 5 business days | 4.8 |
| Top Resume | $149 – $349 | 3 – 5 business days | 4.78 |
| Tampa Bay Career Counseling | $75 – $150 | 24 hours | 4.70 |
| The Writing Master | $399 – $599 | 7 – 14 business days | 4.65 |
| Vita Express | N/A | N/A | 4.6 |
| Darin Career Services | N/A | 24 hours | 4.5 |
1.   Resume Writing Lab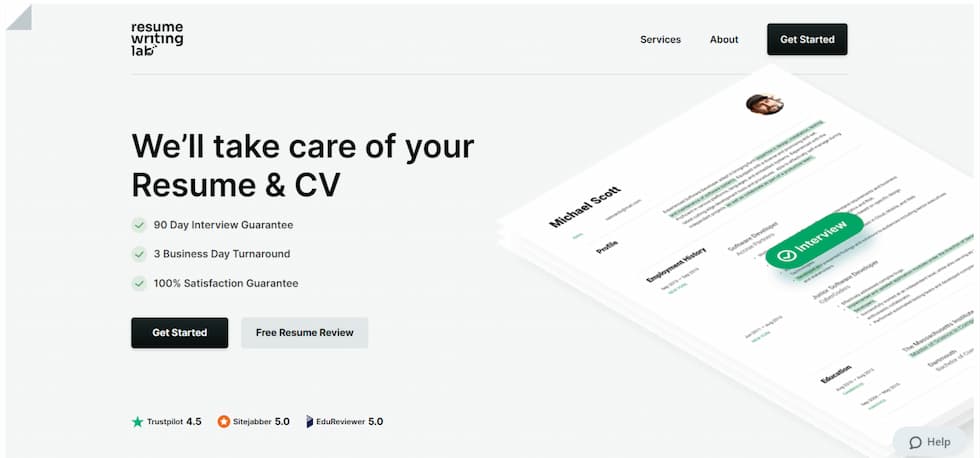 At our company, we strive to be more than just resume writers. Each resume that we handle isn't just another task to our writers because we truly care about our clients. If you are in search of a resume writer in Tampa that will ensure that you get noticed, you should look no further than our certified resume writers.
Our website has an easy-to-use interface so that you can find the service you need without fuss. We have packages for students, professionals, executives, and people looking to secure federal positions. Also, the prices of our services are pocket-friendly and they start from $199. The services that we offer include:
Resume Writing
Resume Editing
Linkedin Profile Writing
CV Writing
CV Editing
Cover Letter Writing
Additionally, we deliver well-written resumes within 3 – 5 business days and even faster sometimes. We don't have an office in Tampa but it isn't an issue at all since you will be able to place orders and chat with your writer online. What's more, we offer a 14-day money-back guarantee and a 7-day free revision to show our clients how much we care about their success.
You can always use our FAQ section when you have questions. Though we don't have a phone service, we have a live chat feature that is just as good. Finally, you can be assured of 100% confidentiality and security when you use our resume writing services in Tampa FL thanks to our Comodo SSL certification.
Advantages
100% confidentiality
Easy to use website
Money-back guarantee
Bonuses such as salary calculator and blog
Discounts
Disadvantages
Not physically available
No phone service
No 24/7 support
Ratings
Sitejabber: 5 stars from 9 reviews
Edureviewer: 5.0
2.   Resume Spice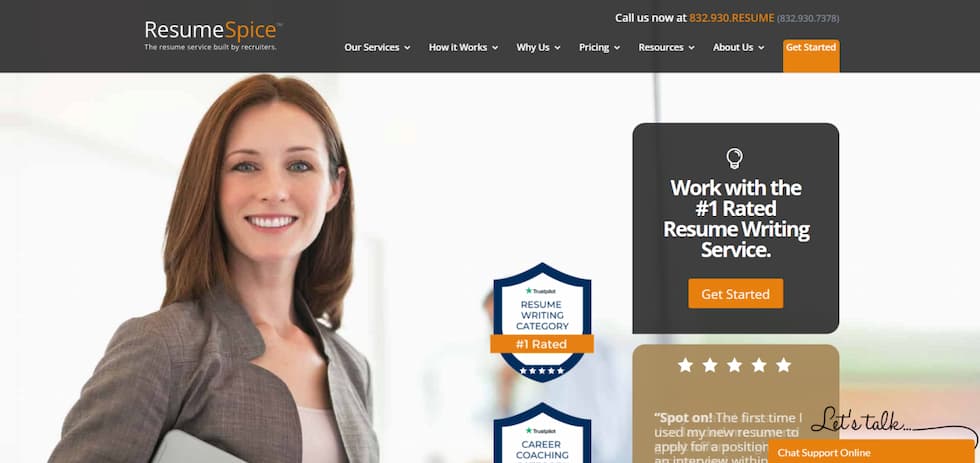 Resume Spice is a young service provider that has quickly become one of the best Tampa resume writing services. What makes this service stand out is that its founders have a background in the recruiting business.
You will find all the information you will need to use the service on the website. The turnaround time of Resume Spice is one of the fastest around as you will get your document within two days. However, they can only take a limited number of orders at the moment because they are still a small company.
Additionally, the majority of job seekers that have used this service were satisfied with the resume they received. The packages available include Entry Level, Professional, and Executive Resumes with prices ranging from $449 to $689. However, you will only be able to communicate with your writer online.
Another great thing about this service is its customer service. You can contact the customer support team via phone, email, or live chat. The service maintains a good level of confidentiality and a 60-day interview guarantee.
Advantages
High-quality resumes
Fast turnaround time
Strong recruitment background
Encouraging online reviews
Disadvantages
No discounts
Not physically available
Ratings
Trustpilot: 4.9 stars from 662 reviews
Google: 5 stars from 73 reviews
3.   Resume Zest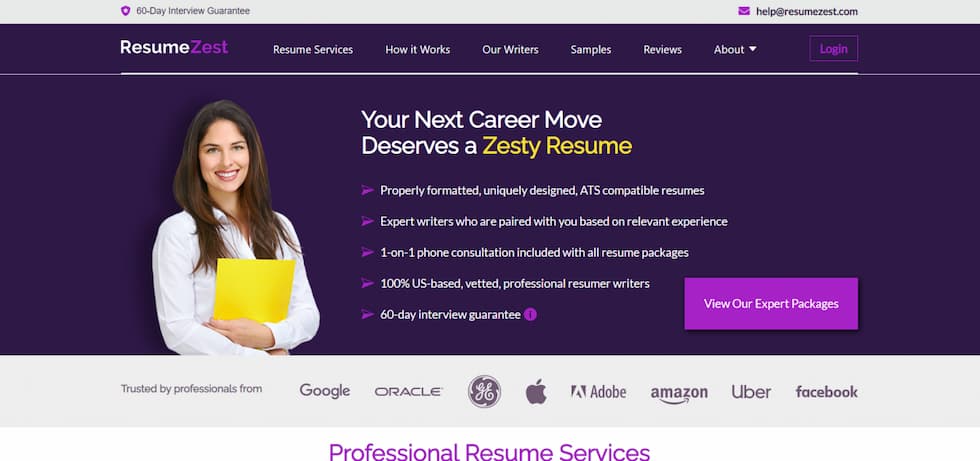 Founded in 2020, Resume Zest is a fast-rising platform housing some of the most trusted resume writers in Tampa, Florida. In addition to resumes, the company helps several clients in creating cover letters, Linkedin profiles, professional bios, and thank you letters.
If you are in search of an affordable writing service, then this is a service that you shouldn't overlook. Entry-level resumes cost $179 while professional and executive resumes cost $279 and $379 respectively. Also, you can pay an extra fee of $99 if you want your document to be ready within a short time.
We found positive reviews about the platform on the most trusted third-party websites like Sitejabber, Trustpilot, and Google. This shows just how happy their customers are. But while the quality of their work seems to be high, they have a small team.
Furthermore, the website is easy to navigate and compatible with big PCs and mobile devices. The customer service team is always available to respond to your calls during normal business hours.
Advantages
1 on 1 phone consultation
60-day interview guarantee
Well formatted and customized ATS compatible resumes
100% US-based writers
Disadvantages
No discounts
Not all writers are certified
Just one phone conversation with your writer
Ratings
Trustpilot: 4.8 stars from 50 reviews
Sitejabber: 4.8 stars from 55 reviews
4.   Find My Profession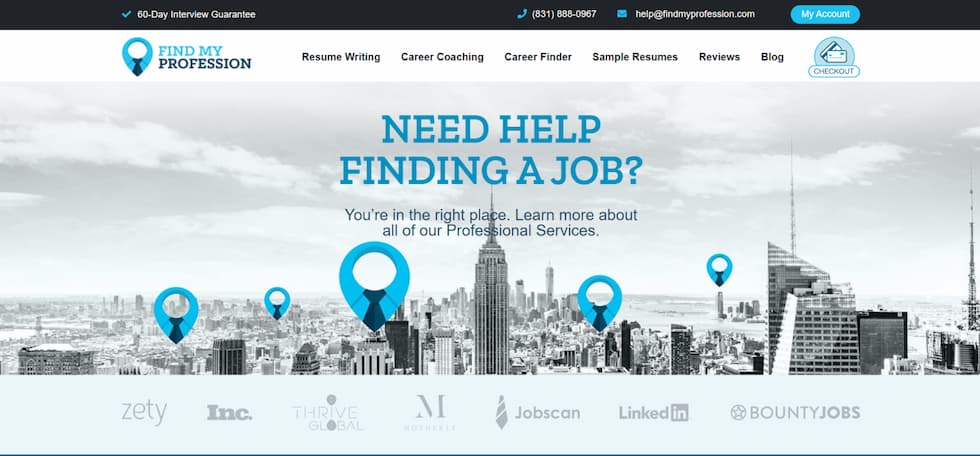 Find My Profession offers much more value than average resume services in Tampa, Fl. The company's writers have gathered experience in over 85 industries, so you won't have a problem finding a writer that can satisfy your unique needs.
It costs between $395 to $1,295 to order a resume from the platform and it will be available between 3 to 5 business days. But if you want it to be delivered earlier, you will have to pay an extra $149. We will like to note some users think the service should be cheaper.
Our research on reliable third-party sites like Trustpilot, Glassdoor, and Sitejabber revealed an average user of 4.8 stars. Whenever you need assistance, you can get in touch with the customer service team via phone call, live chat, or email.
Advantages
Only professional writers
Timely delivery
Work one on one with a certified US writer
A wide array of services
Disadvantages
It is a virtual company
No guarantees
Ratings
Sitejabber: 4.81 stars from 281 reviews
Trustpilot: 5 stars from 298 reviews
Facebook: 5 stars from 5 reviews
Glassdoor: 4.8 Stars from 27 reviews
5.   Craft Resumes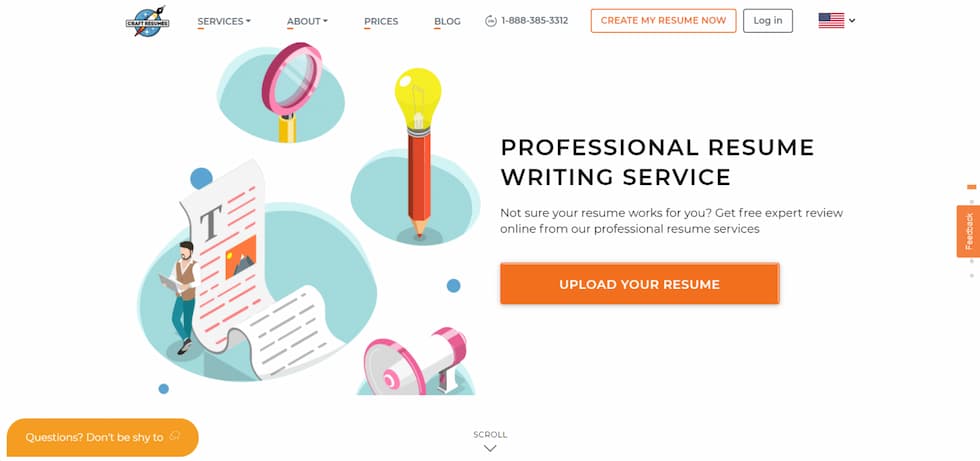 This writing service has been providing job seekers with quality resumes for several years. The company has also built a reputation for hiring certified writers.
Getting a resume from this platform will cost you $139 but there are other packages that you can go for. Career Start costs $129.99 while Career Growth and Executive cost $299.99 and $439.99 respectively. There are discounts and bonuses for you to enjoy.
Additionally, the quality of the work delivered by writers on the platform is satisfactory. This is partly thanks to the fact that clients get to communicate properly with their writers. As for the website, it is well designed so you shouldn't have a tough time finding your way around it. The customer service isn't bad but it isn't excellent either.
Advantages
User-friendly website
Several years of experience in the writing market
A wealth of professional writers
Fast online support
Disadvantages
Online chat isn't always available
Only a limited number of tasks can be handled here
Ratings
Trustpilot: 2.7 stars from 10 reviews
6.   Top Resume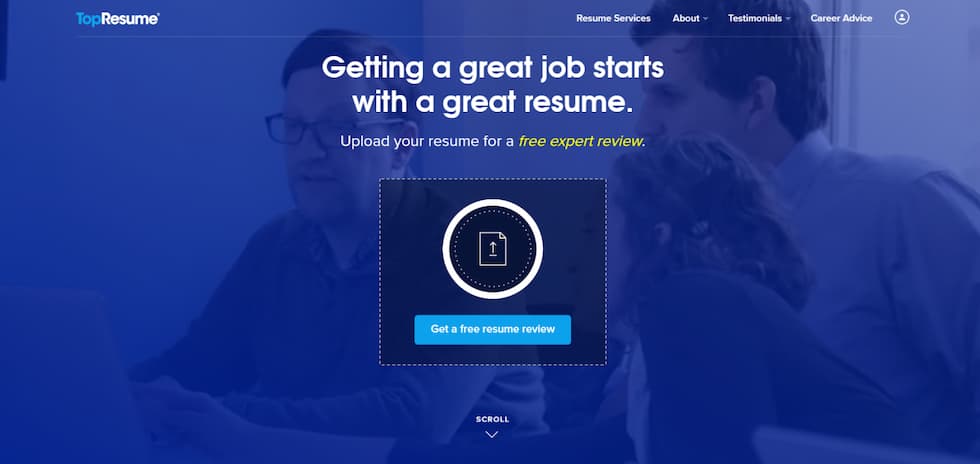 Top Resume is another platform where you can find a professional resume writers in Tampa, Florida. However, it isn't one of the cheapest services around. The service charges $179 for just a resume and $349 for an executive resume, cover letter, interview guarantee, and Linkedin profile edit.
However, the quality of the service is lower than other professional resume writers in Tampa that we have reviewed so far. This is evident in its rating on forums like Trustpilot (4.3 stars) and Sitejabber (4.45 stars). You will be able to stay in touch with your chosen writer and you should have your first draft within a week.
Additionally, the platform offers no refunds or money-back guarantees because they believe that you will be satisfied with the service you get. Their phone lines are only open during working hours and it may take up to 24 hours for them to reply to your mail.
Finally, the website is beautifully designed and easy to use.
Advantages
Free resume checker
Solid reputation
Excellent user experience
Convenient payment plans
Disadvantages
No 24/7 support
No money-back guarantee
Only two free revisions are allowed
Ratings
Sitejabber: 4.45 stars from 4,534 reviews
Trustpilot: 4.3 stars from 10,867 reviews
7.   Tampa Bay Career Counseling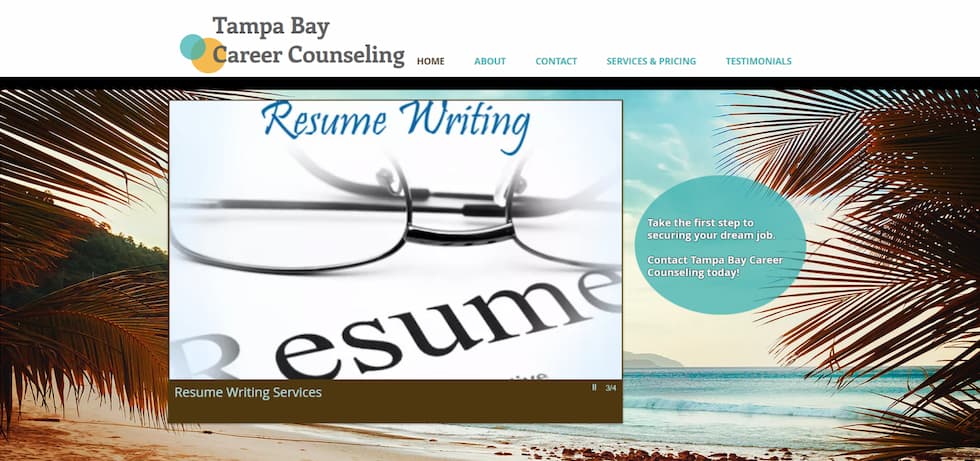 Tampa Bay Career Counseling is quite different from other writing services in this article. This is mainly because the business has an office in Tampa. So, you should opt for it if you will prefer to have a physical consultation with the person handling your resume.
The company is owned by Kelly G. Sedlak, an expert who has helped thousands of job seekers find jobs in the last two decades. If you aren't in Tampa presently, you can book an in-person appointment. Your resume will be available 24 hours after your first consultation. This is an incredible turnaround time.
Additionally, the company doesn't offer lots of packages and its services are limited to resume writing, cover letter services, and interview prep. The cost of the writing service ranges between $75 to $150. Finally, the website is easy to navigate and you can contact them via phone call and email.
Advantages
Affordability
Superfast turnaround
Excellent choice for entry-level job seekers
Disadvantages
Samples aren't available
Absence of certified resume writers
Ratings
Facebook: 4.9 stars from 52 reviews
Google: 5 stars
Yelp: 5 Stars from 1 review
8.   The Writing Master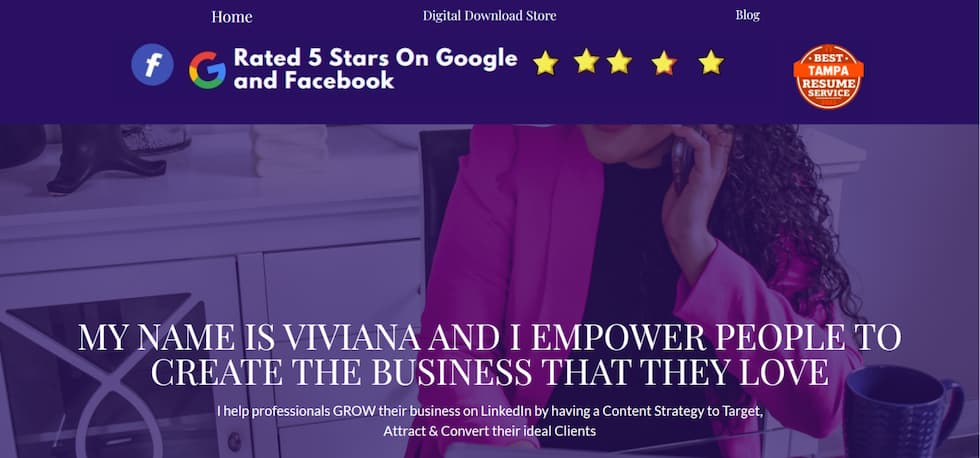 The Writing Master is run by Viviana and you can hire her for your resume writing in Tampa. There are several reasons why you should consider this service. Viviana creates properly optimized resumes that are guaranteed to pass the ATS. She also scans all documents via Jobscan.
After your initial conversation with Viviana, she will send you some questions to obtain more information about your situation. She will then use your response as a reference for her research. The first draft of your resume will be ready in less than two weeks. As for pricing, it ranges between $399 to $599.
Pros
Documents are scanned via Jobscan
Satisfaction guaranteed
Career assistance
Proper communication
Cons
The first draft may take up to two weeks
Ratings
Google: 5 stars
Facebook: 5 stars
9.   Vitae Express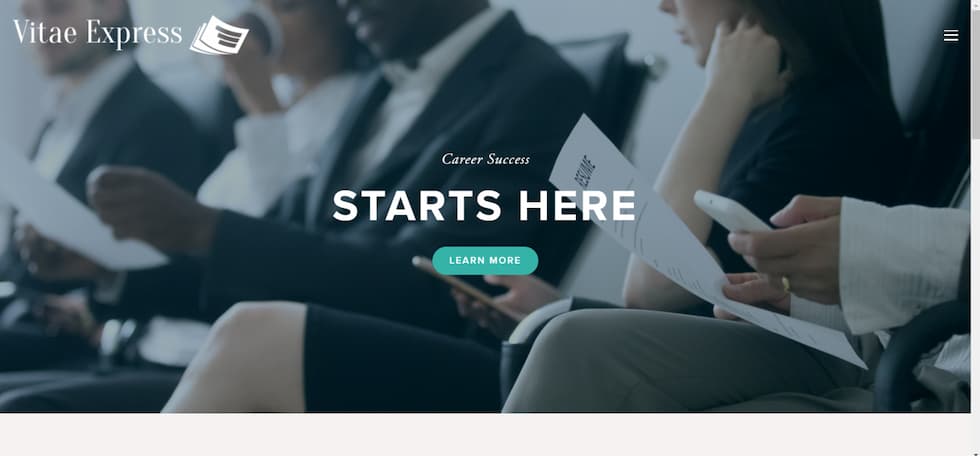 Vitae Express is one of the most reliable Tampa resume services. It is run by Scott Gardener, a man who has a solid background in employee recruitment and client management.
We couldn't find any information on turnaround time and pricing. However, the packages available include Graduating Student, Entry-Level Professional, Experienced Professional, and Executive Level Professional.
Advantages
He is a Certified Professional Resume Writer
Samples are available
Physical meetings are possible
Disadvantages
Lack of interviews or satisfaction guarantees
We don't know who writes the resumes
Ratings
Google: 5 stars from 58 reviews
Facebook: 5 stars from 2 reviews
Thumbtack: 4.9 stars from 220 reviews
10.                  Darin Career Services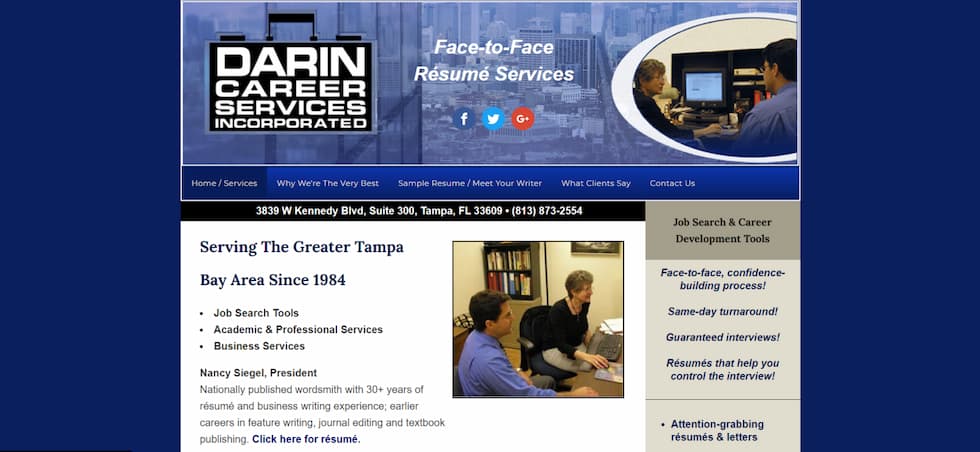 Darin Career Services has been present in Tampa since 1984 and it is one of the company's offering professional resume services in Tampa. The company offers its services at hourly rates.
It is owned by Nancy Siegel and she is always ready to work hand-in-hand with our clients to create the perfect resume right in her office. What's more, the task is usually completed in a day. You are free to give Nancy a phone call during working hours.
Advantages
Same-day turnaround
Customized resume
Error-free documents
Face to face consultation
Disadvantages
Rating
Yelp: 5 stars from 1 review
Indeed: 4.4 stars from 8 reviews
FAQ
What makes a really good resume?
A good resume should tell your prospective employer about your education, work history, and skills. It should also show the recruiter that you are a good fit for the open role. The various elements that can make your document stand out include power words, keywords, essential skills, confidence, simplicity, and proper formatting.
What is the best resume style for 2021?
The best resume style for 2021 is the reverse-chronological format. Not only is it easily readable, but it also shows your work experience in a logical order.
What's more, most recruiters understand this format better and easily locate what they need it. However, this doesn't mean that it is the right option for everyone.
Conclusion
Tampa, Florida is a great place to work and live and as a result, lots of job seekers are drawn to the city. To give yourself an edge, the best step that you can take is to hire resume services in Tampa, FL.
You can rely on the best resume writers in Tampa, Florida to help you put your work history, qualifications, and skills in writing perfectly. That said, the very best writing services in the city are Resume Writing Lab, Resume Spice, and Resume Zest.