How to Explain: Why Are You Applying For This Position?
Why do you want to have this job? It's challenging to answer this kind of question during the interview for the first time, therefore preparing the answer in advance is a very good idea.
So, How to Explain That?
In order to come up with a perfect answer that will describe why you are applying for this position, follow these steps:
Make detailed research about the company. Showing your potential knowledge about the company and its activity can be very beneficial. First, it shows the interviewer that you have done research about the company's job and projects and therefore have a certain idea about its current goals and perspectives. You can use this to describe the most appealing aspects to you.
Tell the employer why you qualify for the company and this job position. To be as specific as possible, mention all the skills and experience you have that are necessary for the position. Also, don't forget about unique qualifications that differentiate you from other applicants and herewith make you a more valuable candidate.
Don't emphasize why the job in this particular company benefits you. Even if you do really apply for the position because of a high salary, flexible working hours, the job's location, etc. you don't want to tell that to the interviewer directly. You should focus more on what you can do for the company and not the other way around.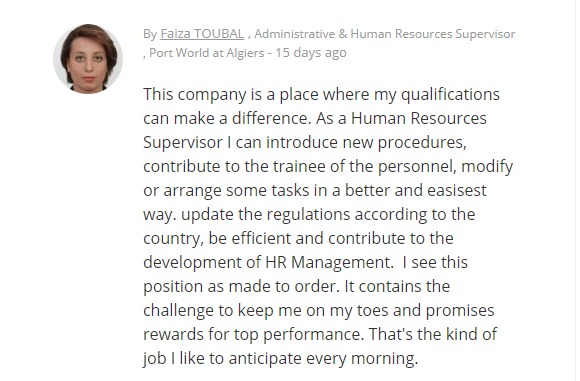 At Resume Writing Lab you can get answers to all frequently asked questions by job seekers. For instance, by clicking this link you can get help with optimizing your LinkedIn profile.
By the way, your resume should also include a section with a basic resume objective to show the employer you are aware of the job field you're applying for.