Online Cover Letter Editing Service
Resume Writing Lab offers professional resume and cover letter editing services to clients across the world for an affordable price. We are conscious of customer satisfaction and offer security guarantees to prove our authenticity. Find out more about the best cover letter editing service now!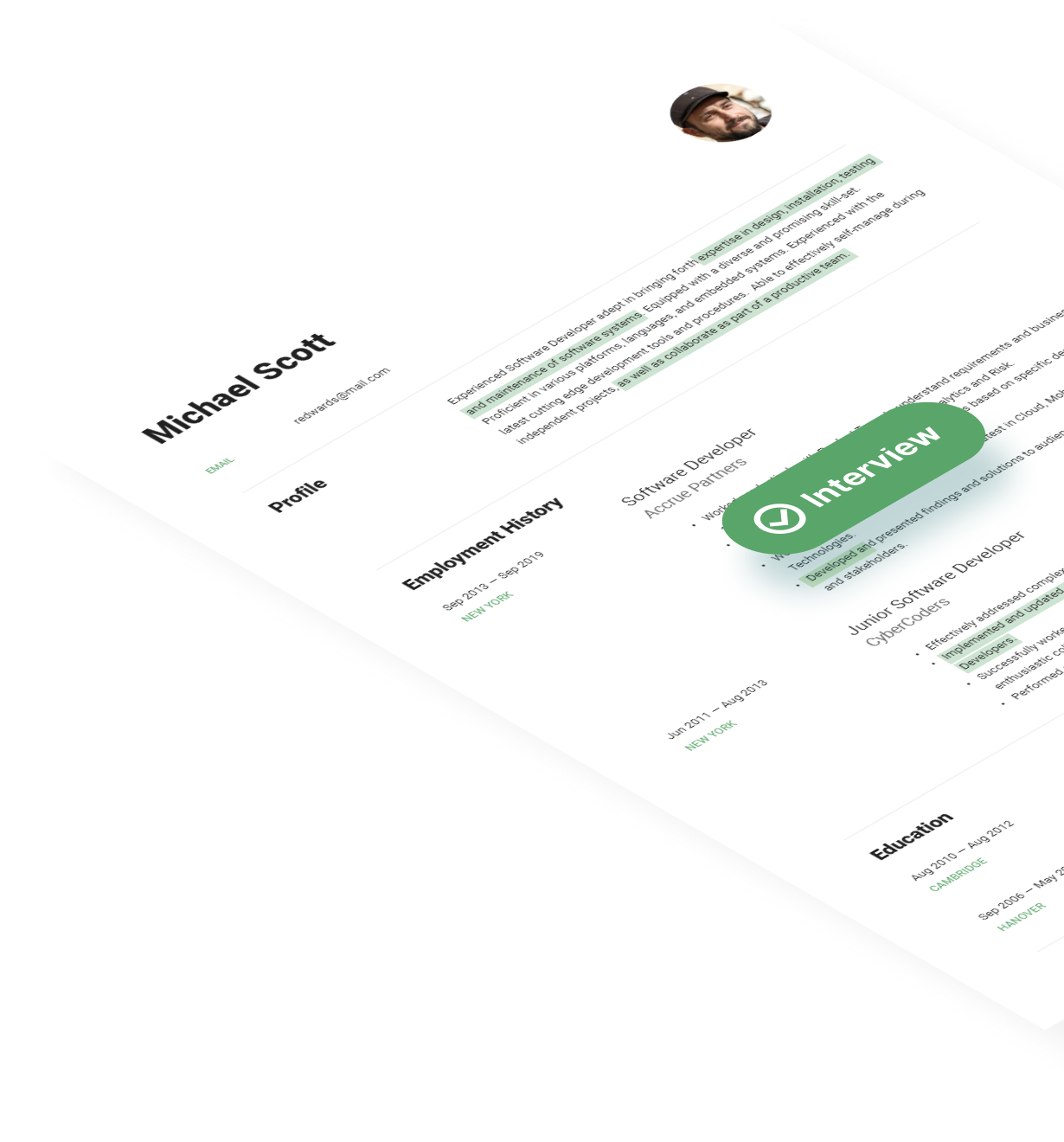 Advantages of Using Editing Services
There are thousands of online writing platforms, so you're probably wondering why you should choose ResumeWritingLab for your cover letter services. Below, we will explain the benefits of our platform and what you stand to gain when using any of these:
1
Uniqueness:
We don't just write; we study our clients and ask in-depth questions about their academic backgrounds and work experiences; this helps us craft the best cover letter that is unique to you alone.
2
Well Researched:
We don't use a template to write for our clients to avoid repetition. We take time to do research and understand the employer's needs. This would show them that you are keen to join their team.
3
Experience:
Regardless of the job you are applying for, we can fine-tune your soft and hard skills in a way that fits the description of the role you are trying to get. We do this by highlighting your value.
4
Grammar Check:
At ResumeWritingLab, we always edit and proofread the resumes and cover letters after writing. Nothing says unserious and inexperienced like a spelling or grammatical error in your cover. We ensure to avoid these.
FAQ
How much does it cost to have a cover letter professionally written?
On ResumeWritingLab, you can get a cover letter professionally written for $59.00. You can also get a follow-up letter for an additional $49.00. For such an affordable price, you are getting more than quality service.

How to write cover letters properly?
As we said, professional covers increase your chances of getting your dream job. If you're confused about how to write it or how to tell the difference between a cover letter and a resume,
here are a few tips
.
Make it Easy to Read
A recruiter or hiring manager is going through hundreds of applications per day; you already know if he comes across a cover that is hard to read, chances are high that he isn't going to waste his time. You want to ensure your cover letter is properly written in a way that makes it easy to read.
Remember to pick professional cover fonts like Helvetica or Arial. Set the font size between 10.5 and 12 points. You want to make your cover as business-like and conservative as possible; also, ensure the fonts and style match your resume.
Mention your Current Job and Why Нou Want to Leave
Your recruiter will ask if you are currently employed, so you can save each other the stress by outlining it if you do. If you mention it, you want to ensure you remain polite and calm.
Mention your current job description and explain why you want to leave, probably due to career progression, a need for new interests, etc. Don't badmouth your employer in a bid to praise the new one; this will only backfire, and they won't be able to trust you.
Keep Нour Writing Short
As much as you want to write out all your skills and toot your horn, you also want to keep your cover letter short, or you'll bore the recruiter. This is the
difference between cover and application letters
.
Your application can carry all your skills and achievements because it is expected to contain in-depth information about candidate skills and qualities, while cover letters can omit all these details but still show proof of who you are and why you're the best fit for the job. Your cover letter should not be more than a page, covering only three paragraphs.
Avoid Clichés
Clichés will only make your cover letter look redundant and inexperienced. It tells the recruiter you didn't do your research and that you're probably lying about the skills you put down in your letter.
These are common clichés like "I'm a go-getter", "I'm a team worker", and "I'm a problem solver". There are a lot of overused phrases people normally include in their letters, and these recruiters have seen enough. Make sure you go over your letter as many times as possible to catch these phrases and change them before sending them out.
Cover Letter Spacing
You have to keep your cover letter
spaced perfectly and formatted
for an easy read. Single-space your cover letter. The line spacing should be 1.5. Anything shorter would be hard to read, and anything longer would look too simple.
Cover letter margins are 1". That's the universal business letter margin standard. Some experts say to tighten margins on a cover letter to fit your text on one page. That doesn't seem right. If your cover letter doesn't fit one page with 1" margins, it's too long.
Why Resume Writing Lab?
ResumeWritingLab is an online writing platform that takes immense satisfaction in clients' happiness and security. This means we think less about the price and more about the value we offer. We provide professional writers with years of experience advanced degrees and skills on getting you that dream job.
An Overview of the Services We Provide at Resume Writing Lab
We are a writing platform that works tirelessly to help our job-seeking clients put their best foot forward. We understand that the market and business industry is saturated with thousands of candidates, and you need to prove that you are better than the next person.
To do this, you need to work more with your professional documents to make a killer first impression and stand out from the others.
Not everyone can write the perfect resume or cover, and not everyone can give themselves the professional facelift their social media page deserves. That is why we created ResumeWritingLab; to help our clients professionally finesse these documents and give them a new story.
Here is a general overview of all the services we provide:







Why ResumeWritingLab is the Best Place for That?


We are the best writing platform in the country. Job-seeking clients can trust us to put them forward and arrange their cover letters most advantageously. Here's what we offer:


100% Confidentiality: At Resume Writing Lab, we protect your privacy. Your personal, banking, and academic information are safe. This is the assurance we are giving you on privacy and protection.


Zero Fees: Simply choose the service you want, fill out the form, and make payment. There are no hidden charges or hidden fees. What you will pay is exactly what you are shown on your tab.


Professional Writers: At ResumeWritingLab, our writers have advanced degrees and years of business experience, so we assure you of only premium quality documents and job security at the end of the day.


Can I pay someone to write my cover letter?
Of course. In this age of science and technology, there are so many platforms now that exist to help people make their work easier and offer assistance in every way possible. You can always pay someone to write your cover letter, and in ResumeWritingLab, you don't have to break the bank.
How do you edit a cover letter?
You can edit a cover letter by hiring a professional to do it for you. They have experience in this type of business, so you can be assured of getting premium quality.
Should you tailor your cover letter to the job?
Of course. You have to tailor your cover letter to the job so the recruiter would know you have done enough research and have enough interest in the job.