Investment Banking Cover Letter Guideline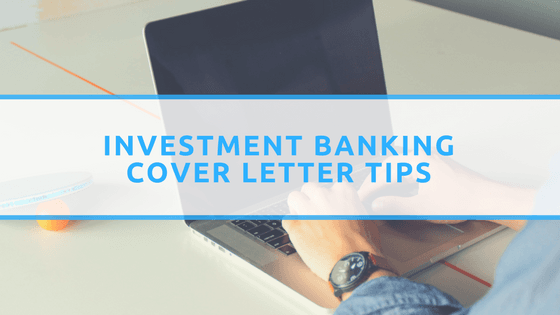 It is hard to write a perfect cover letter for investment banking. This is why a professional cover letter writing service is here to help you.
If you follow the steps below, we will describe to you how to write a cover letter for the investment banking sphere that will help you get the results depending on what career stage you are.

Does Cover Letter Investment Banking Really Matter?
The majority of investment banks barely read cover letters. Your resume is more important to them.
The first filters are school and GPA. If you visited a good school and your GPA is strong, the recruiters will read your resume in greater detail and skim your cover letter. This is also one of the key points while writing quality information technology cover letter.
Applicants expect cover letters to impress recruiters. Yet, they can lead to a mistake. Try your best to write a short cover letter, and avoid mistakes and daring phrases.
If you can say something unique, cover letter investment banking is the best tool to do it.
How to Write an Investment Banking Cover Letter
As a rule, such cover letters are quite formulaic. Read the information below to discover what sections should be included and what they should inform about.
This cover letter type usually consists of three main components:
Introduction (1 paragraph)
This is the best part to grab the attention of the reader. You may be a humble person, but your investment banking resume and cover letter are created to showcase all your achievements.
Additionally, the reader wants to have only two questions answered: who you are and why you should be interesting to them.
In case you write an investment banking internship cover letter, it should be really appealing. Make sure you know how to address a cover letter.
The introduction should contain information about your school, major, and GPA.
It is also important to explain how you found this position. The information about why the readers should care is essential. Write something demonstrating that you tried your best to find this vacancy.
Experience & Fit (2 paragraphs)
In this section, you should describe all the relevant experiences showing that you are the best candidate. It can be university associations/clubs, work experience, the CFA, and so on.
Try to connect this experience with the investment banking skills like valuation or financial modeling.  It is one of the cover letter basics to prove that you are a good candidate in terms of the company culture.
While writing an investment banking analyst cover letter, you should demonstrate excellent interpersonal and communication skills, persuasion, and presentation skills.
If you want to check whether you are a good fit, you can network with the bank workers and discover what the company culture looks like first-hand. If you already know what it looks like, assess honestly whether you are a good fit.
Conclusion (1 paragraph)
In the end, repeat how much you want to be a part of investment banking, why you are the best fit, and point out that you attached your resume and recruiters can reach you at your contact information.
The conclusion is not a place to include the new information. This is almost a pure formula. The first two paragraphs should tie all the things you said before.
If you want to write an investment banking cover letter with no experience, it is especially important for you to follow the structure we exposed before.
---
Also, such helpful tools as a job interview dressing guide can help your appearance suits your cover letter!
---
Proofreading
Be 100% sure that your cover letter does not contain any grammatical or spelling errors. An error can result in a failure. To work in investment banking, you should pay attention to details.
An error can be a reason for a recruiter to pass on to the next candidate. Better ask someone to proofread your cover letter.
We hope that this guideline will help you create the best investment banking cover letter.