Best Resume Writers in San Francisco (Bay Area)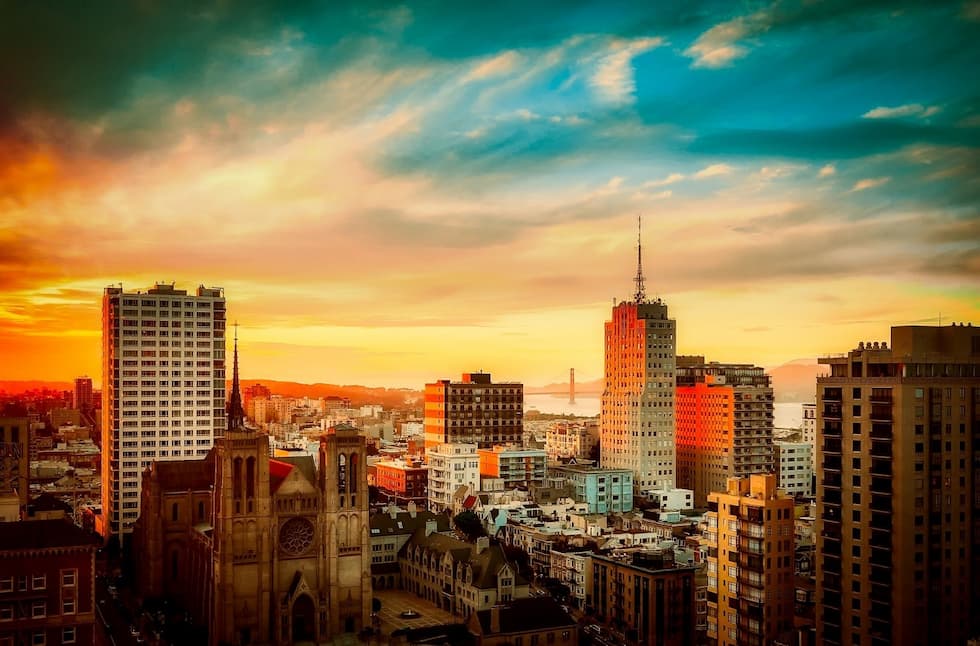 You may think you've written the perfect resume, but you're biased. And it's not you that the document needs to impress within 6-10 seconds. It's why many bay area job seekers now turn to the online and San Francisco resume service providers for help.
Selling oneself in the written form requires knowledge and skill. It takes much more than a good-looking, grammatically perfect written application, too. The online and locally-based resume writing services in San Francisco exist for good reason. They know how to bypass Applicant Tracking System (ATS) and reach the hiring manager's desk.
Don't worry if you can't match a local resume writing service in San Francisco with your needs. Some of the best writers are far from the Bay Area but still very accessible.
Ten National and SF Area Expert Writing Services
This table lists our 10 carefully curated online and San Francisco resume services.
10 Best Resume Writers for San Francisco and Beyond
Company Name
Cost From/To
Avg. Turnaround
Avg. Rating
#1 ResumeWritingLab
$179.99–$479.99
3–5 business days
4.9
#2 ZipJob Resume
$139–$299
3–7 business days
4.0
#3 Find My Profession
$395–$1395
3–5 business days
4.8
Resumeble
$149–$339
5–7 calendar days
4.9
Craft Resumes
$139–$629.99
5 business days
3.9
LinkedIn Resume Writers
N/A
N/A
N/A
The Resume Studio
$1950+
4+ weeks
Insufficient data
Ward Resumes
Varies
5-7 business days
4.9
Bright Side Resumes
$525–$1675
5-7 business days
4.5
Klaxos LinkedIn CV Writer
$599–$2199
4 business days
4.6
The information listed in our resume writing San Francisco table is subject to change.
ResumeWritingLab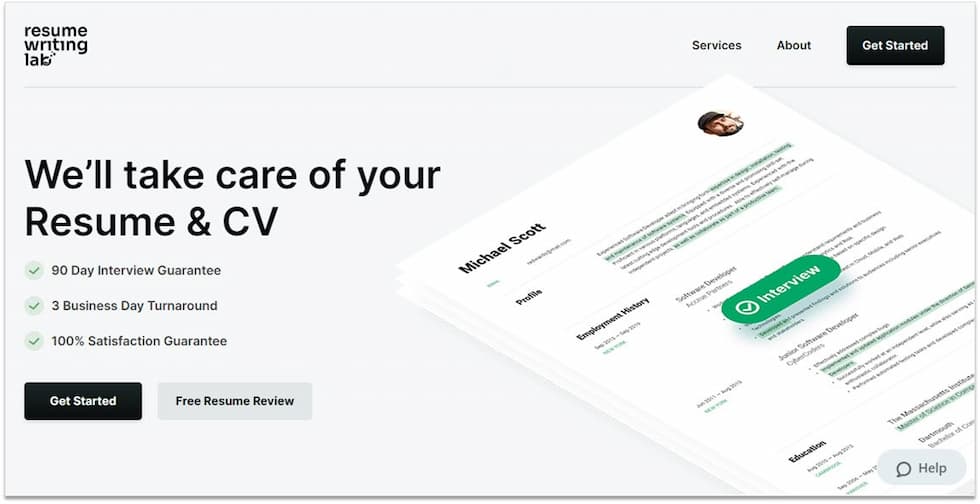 ResumeWritingLab has featured in USA Today, CNBC, CNN, Forbes, the BBC, and INSIDER. Our expert bay area resume writers also offer editing and CV services to a global clientele. Moreover, we have a reputation for securing ATS-optimized documents in any career field, helping thousands of job applicants secure interviews.
Prices & Packages
We cater to Entry-level, Professional, Executive, and Federal jobseekers. Each client can choose services from our three packages. They include Basic, Optimal, and All-in-One, with competitive prices that range from $179.99–$479.99.
Turnaround Times
The average turnaround time is only three business days or even sooner with smaller jobs. Processing is the same with either a national or local bay area resume writer.
Feedback & Reviews
Satisfied clients have rated our highly talented online and bay area resume writers with 4.9/5-stars. Ratings are averaged across popular review sites like Trustpilot, EduReviewer, and Sitejabber.
Website Interface & Usability
New users who navigate and interact with our intuitive website find the experience fast and painless. Thus, it's easy to find a service that meets your needs within seconds.
Contact & Support
Our customer service is contactable by phone, online form, email, and social media. Call us at 1-888-385-3312 or email: [email protected].
Company Guarantees
We promise highly-qualified resume services for San Francisco and elsewhere. Every new client has the option of a free review for an existing document. Other assurances include a 90-day interview pledge, fast turnaround, and a 100% satisfaction guarantee.
Pros: Excellent reputation, personal service, user-friendly website, clear packages with no hidden extras, 100% confidentiality, refunds on canceled orders.
Cons: No options currently to fast-track orders.
Visit: Resume Writing Lab
ZipJob

ZipJob boasts a pool of expert writers who produce highly polished ATS optimized documents. The company's motto—and pledge—is 'Resumes that Get You Hired.'
Prices & Packages
ZipJob offers three packages for its global and resume writing service in San Francisco. They include Launch, Fast Track, and Premium, ranging from $139–$299.
Turnaround Times
Turnaround is between 3–7 business days or sooner, but never later.
Feedback & Reviews
ZipJob enjoys a constant stream of positive feedback from satisfied customers with 800+ 5-star reviews on Trustpilot alone.
Website Interface & Usability
The website has clean, uncluttered pages. The entire site is easy to navigate and straightforward to use on mobile devices and desktop computers.
Contact & Support
Contact ZipJob support via live chat (1 min) Monday–Friday during business hours, by phone (2 mins), or send a message (45 mins).
ZipJob Guarantees
ZipJob offers free reviews and matches you with the ideal writer. It guarantees to double your interview invitations within 60 days (Fast Track & Premium packages).
Pros: Modern website design, competitively priced, flexible payment system, ATS screening, 60-day interview guarantee, unlimited revisions.
Cons: Doesn't offer coupon codes or discounts.
Visit: ZipJob
Find My Profession

Founded in 2015, Find My Profession is more popular today than ever. It's a virtual business, so you're not restricted to resume writers in bay area only. Several companies have featured Find My Profession, including Forbes, Inc, BOUNTYJOBS, Zety, and others.
Prices & Packages
There are three packages, i.e., Standard, Premium, and VIP Gold. The prices range from $395–$1395, depending on the service chosen and any addons.
Turnaround Times
This Resume service for San Francisco and national job seekers take 3–5 days max, with a 48-hour fast-track option.
Feedback & Reviews
The company enjoys an average 4.8-star rating on popular review sites like Sitejabber, Edu Reviewer, and others.
Website Interface & Usability
Find My Profession's site is fast and neat, with a logical layout that's easy to navigate.
Contact & Support
Many reviewers praise the company's customer service. You can contact its support staff by phone, email, or social media.
Find My Profession Guarantees
All orders come with a 60-day interview guarantee, or the company will rewrite your document for free.
Pros: On-time delivery, interview guarantee, responsive writers, lots of positive feedback from clients.
Cons: Lowest plans are still quite expensive compared to some rival services.
Visit: Find My Profession
Resumeble

Resumeble offers a virtual resume writing service for the bay area, SF, and North America. You can upload an existing document for a 100% free review and ATS scoring.
Prices & Packages
There are three packages, Career Pro/Professional/Premium, ranging from $149–$339.
Turnaround Times
Resumeble's turnaround time is between 5–7 calendar days (longer than some rivals).
Feedback & Reviews
Resumeble enjoys an average consumer rating of 4.8/5-stars across review sites such as Sitejabber and Trustpilot.
Website Interface & Usability
All the Resumeble webpages are uncluttered, fast loading, and easy to navigate.
Contact & Support
Contact Resumeble customer support via phone, online form, email, and social media.
Resumeble Guarantees
Resumeble guarantees an interview invite within 60 days after completing your document. To date, the company boasts 100% secured interviews.
Pros: Writers with experience in 80+ industries, 1-on-1 approach, discounts offered, 12,500+ satisfied customers, and counting.
Cons: Quite a long turnaround, some client complaints about slow revision times.
Visit: Resumeble
Craft Resumes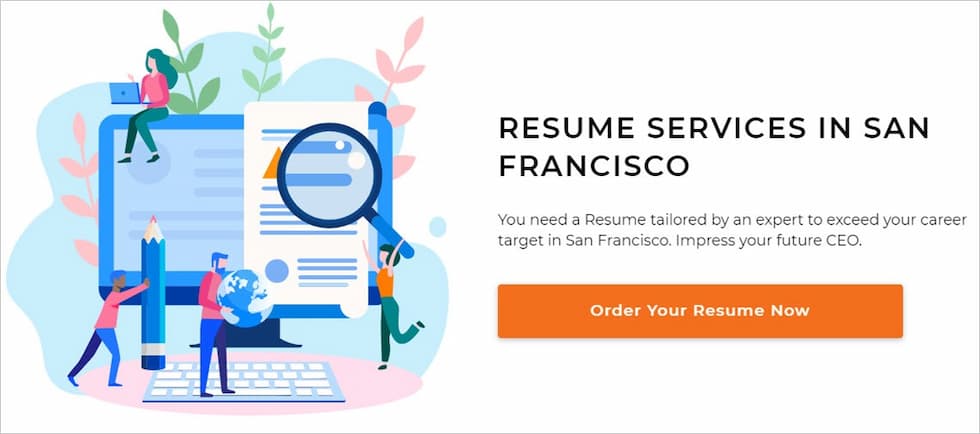 Look no further if you need a talented resume writer in San Francisco. Craft Resumes' expert authors create ATS-optimized documents that impress future employers.
Prices & Packages
There are three packages, Entry, Professional, and Executive. Every plan has four options, each offering additional services. Prices range from $139–$629.99.
Turnaround Times
Turnaround is 5 business days—or sooner—on all orders, 24-hour delivery (extra).
Feedback & Reviews
The average rating is 3.9/5-stars, though ratings were higher in previous years. It seems that late delivery rather than a fall in quality has caused the current frustrations.
Website Interface & Usability
The company website is clean, fast, smooth, and gets right to the point. You can even browse writer profiles and choose an expert author directly from the home page.
Contact & Support
You can reach customer support by phone (toll-free), live chat, and email.
Company Promises
Guarantees include fast delivery times, unlimited revisions, and a 60-day interview promise.
Pros: Free revision, review writer's profiles from the home page, two-month interview guarantee, fast, reliable delivery, no restriction on the number of revisions.
Cons: Mixed, unpredictable reviews from users, limited weekend contact
Visit: Craft Resumes
LinkedIn Resume Writers, San Francisco

LinkedIn is an excellent place to find a freelance executive resume writing service in bay area. It's a simple process that lets you search and review nearby writers before hiring.
Reviews: Depends on the LinkedIn writer
Turnaround: Agreed between client and writer
Packages & Costs: Varies between freelancers
Support Options: LinkedIn platform
Pros: Cuts out the middleman, no pressure, contact the writer directly from the platform, connect remotely or potentially in person.
Cons: You must be a LinkedIn member to use the service; fewer options (plans) than the professional writing services offer.
The Resume Studio

The Resume Studio is the creation of Jared Redick, an SF executive resume writer for 20+ years. This one-on-one service is time-intensive and highly personalized.
Reviews: Too little online feedback to rate with any accuracy
Turnaround: 4 weeks
Packages & Costs: $1950+
Support Options: Phone, email, social media
Unlike most other services, this company doesn't offer interview guarantees.
Pros: Highly detailed resume writing with optional in-depth career coaching.
Cons: Expensive (better suited to higher-paying professionals), slow turnaround, no guarantees, no discount incentives.
Ward Resumes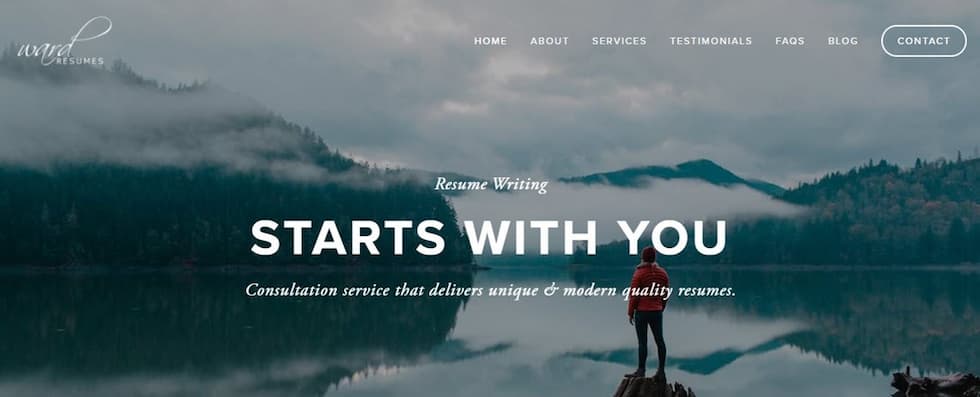 Ward Resumes is a writing service that delivers modern, unique, high-quality resumes. Its writers never use templates or the overused phrases of its rivals.
Reviews:9/5-stars on review sites like Yelp, Google, Yahoo Local, and Facebook.
Turnaround: 5-7 business days
Packages & Costs: 5 plans + optional services. Prices vary between clients.
Support Options: Call direct, online form, email.
The head of projects, Christopher Ward, promises San Francisco's job seekers exceptional customer service and outstanding products.
Pros: Highly rated, personalized service, expert writers with experience in over 40 industries, 100% unique (no templates used).
Cons: Low-average turnaround times, vague pricing.
Bright Side Resumes

BrightSide Resumes offers certified writing services and career coaching. CEO Cliff Flamer is a leading career counselor, job-search coach, and resume writer.
Reviews:5/5-star rating on Yelp.com with over 115 reviews
Turnaround: 5–7 business days
Packages & Costs: 7 full-service packages + a formatting-only option
Support Options: Contact customer services by phone or email
The company promises a free assessment for anyone undecided. However, there don't appear to be any interview guarantees.
Pros: Excellent reputation and feedback, document updates for past clients, free assessment for all services.
Cons: Cheapest (graduate) resume quite expensive, no 60-day interview guarantee.
Klaxos LinkedIn Profile and Resume Writer
Since 2009, Klaxos has offered certified, professional resume writers for bay area job seekers, in North America, and globally. The company creates LinkedIn profiles primarily for executive job seekers and salespeople and ATS-optimized resumes.
Reviews:6/5-stars on review sites, Yelp, Google reviews, and LinkedIn.
Turnaround: average 4 business days for a 2-page resume
Packages & Costs: 5 packages from Bronze to Gold, ranging from $599–$2199
Support Options: Online form, social media
This company offers a 60-day guarantee and unlimited revisions.
Pros: Local San Francisco resume writer service, well-established online business, excellent client feedback, expert writers in over 200 industries.
Cons: Dated website; inside pages look more like a sale campaign than an interactive service; no direct phone number.
FAQ
Are There Any Legit Resume Writers in San Francisco?
There are plenty of legit Bay Area resume services, although the best author for you might not be based in or even around San Francisco.
How Much Does a Professional Resume Writer Charge in Bay Area?
Almost every resume writer in San Francisco displays prices for resumes and various packagers, but costs can vary a lot. At the cheaper end, expect to pay around $139 and over $2,000 at the higher end, which typically includes several addons.
Conclusion
Whether you're a graduate or a much older job seeker, a resume writer in the bay area, SF, can help you secure that precious interview. And remember, the best resume writing service for San Francisco candidates doesn't have to be local. Virtual services connect you to a pool of unlimited talent, making it much easier to find the perfect author.
ResumeWritingLab, ZipJob Resume, and Find My Profession are excellent examples of virtual services. These are online companies that produce ATS optimized files for the whole of North America across multiple industries. So, if you have a document that's not working, why not let the experts boost your chances.