How to Write an Acting Resume With No Experience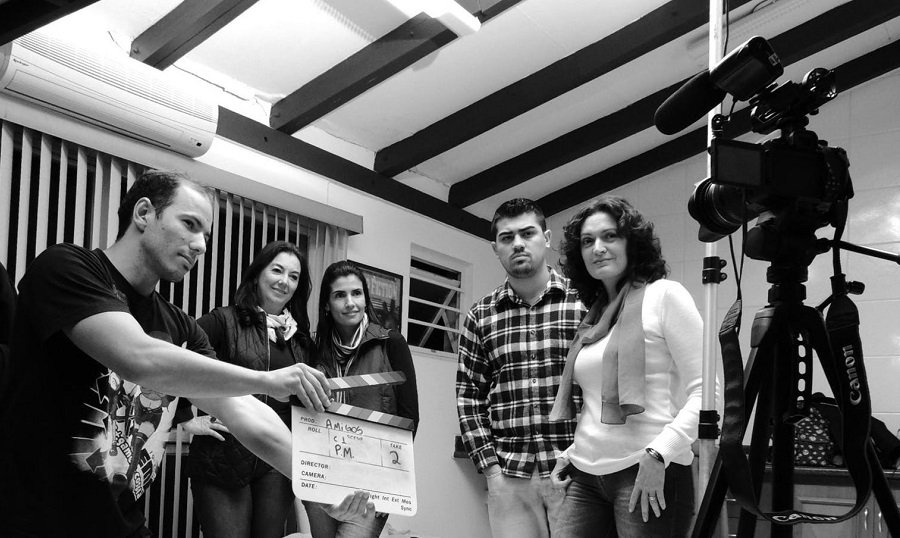 An ideal acting resume template starts with ordinary things. You tell some good stuff about yourself pointing at your uniqueness and abilities to do something different. Then you slightly go to the experience of performing or film acting and add a set of skills that might be very helpful.
However, most actors underestimate the resume value. They don't think about it as about calling cards, which makes an audition or completely fails a try.
How not become overwhelmed while processing the information? How to focus on important details to be interesting and smart on paper?
Here are a few useful tricks from our actor resume writing service experts to make your next performance a big break in your career!

First, never make it big. Can you imagine directors reading huge stories about all candidates? 1 sheet of paper is enough to make an acting resume – no experience doesn't mean the absence of parts.
Besides, good people may have a few courses behind. Even if they haven't embraced themselves as actors, allows them to play unbelievably great.
How to Make an Acting Resume Format Better?
Stick to the standard fonts, like Times New Roman or Arial, crazy fonts sound so unprofessional in the last 10 years;
Use an idea of differently colored headings (like TV, Theater, Skills, etc.), but remember to leave a lot of white space, so the document remains easy to read.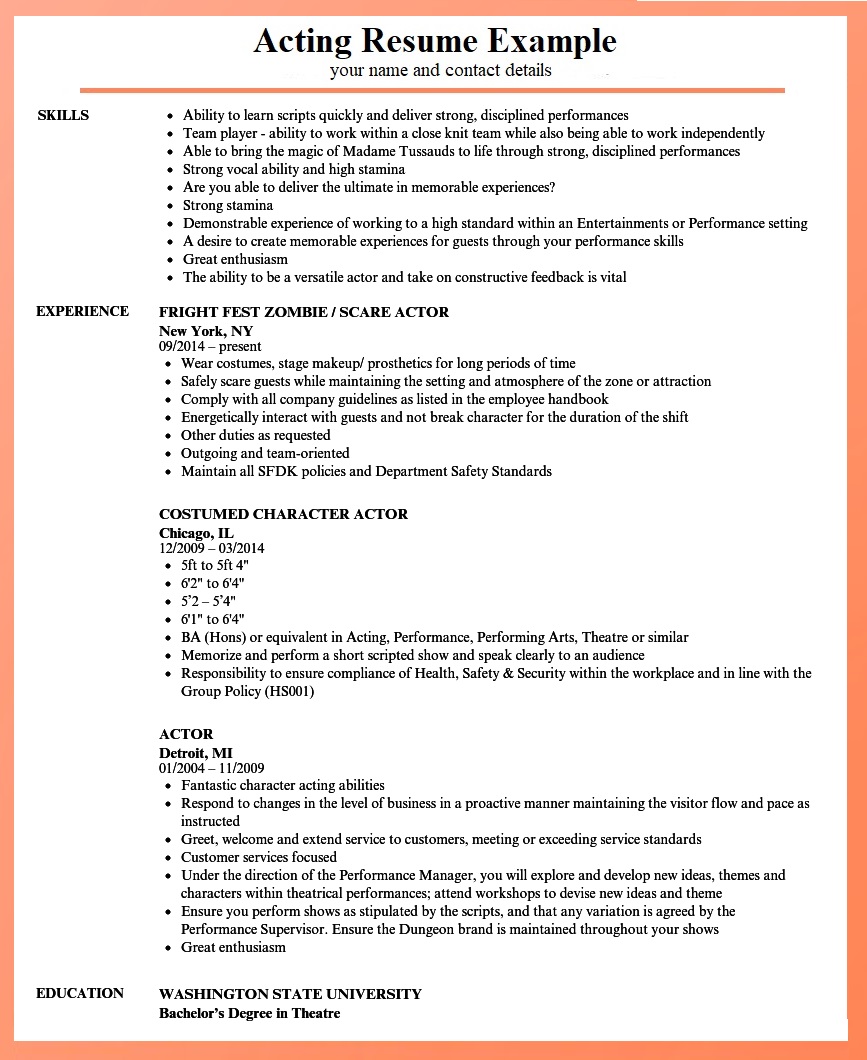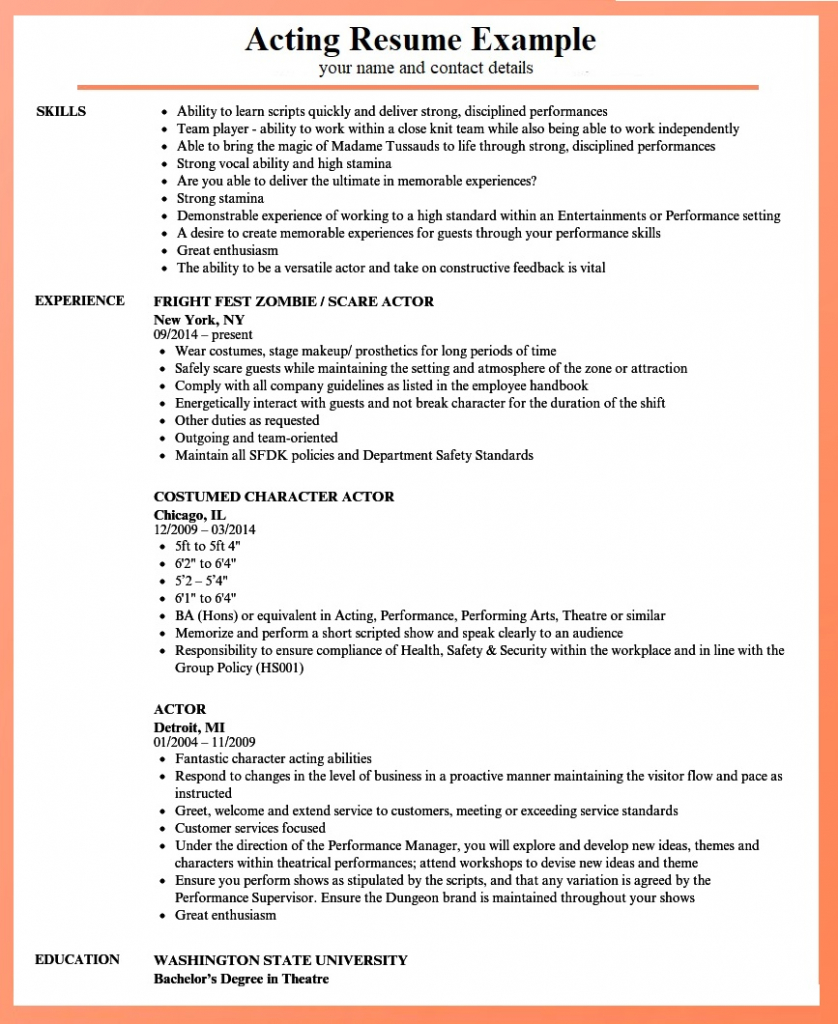 Ways to stand out in the acting resume with no experience are a demo reel, YouTube channel, etc. In other words show them any projects you've been holding on your own, like a blog or Instagram page. In that way, the agency you're applying with will be able to reference you on something and make a resume just great for a position.
About height and weight – it's okay to feel uncomfortable about that. Some actors recommend using a "Statistics Box" right after your contacts to focus a reader on your physical proportions.
You also can write a jacket size, by the way, to skip a part with numbers. Pick up an acting resume sample online to organize it as you like.
People struggling with how to write an acting resume don't often give a shot to the other personal features, like hair and eye color or voice range if you're able to sing.
The purpose of resumes in such a dynamic workspace is to be exactly the prototype casting directors are looking for. Don't feel embarrassed to put these basic physical details making it easier for everyone.

Talking about a film acting resume, there's a high demand for people who can do various things. Look at a list of 10 top skills that make you a better actor:
Doing dialects – you'll be of utmost importance with this one. British, Brooklyn, or some of the European countries – there's so much stuff to learn about and get the dream role. However, use only a definite accent for the role, don't just make another list of one point;
Sports – start from a basic level of fitness. You may be required to work physically, and lose or gain weight in the short term, so show control over your body and don't forget to list any gymnastics, circus techniques, or aerobics, you've done before;
Music-related – dancing, singing, and playing instruments are always among acting resume special skills. You can point it out in the Introduction Letter;
Combat training – well, don't underrate it. Anything related to or describing stage combat (daggers, fencing, and swords), martial arts, or having general weapons experience is very helpful;
Improvisation – clearly, the best expertise, which is hard to get by the way. Whenever you decide to list an "improve" skill, treat it very seriously and prove it with some additional courses, if you can;
Horseback riding – for the last time, don't hesitate to write, even if there are no such scenes in a movie or theater performance. With a good agency, special skills for acting resume are highly appreciated, and you'll get the appropriate audition first;
Stunts – we haven't forgotten about sky diving, cycling spills, mountain biking, etc. Save time for a stuntman, the acting thing is about everything you can do now and you're capable to learn fast;
Driving – how many in-car scenes have you seen? How many actors used to drive on set? It's no big deal, but can make you look professional;
Comedians – a lot of casting directors confess it gives the candidate a different shade;
Just something "unique" – these are the actual words of a casting director. Think deeper about a role. Maybe you've done something related, maybe you got a job that is non-acting and still helpful to understand your character.
Think carefully about your expertise and never lie. Use some additional skills to describe your personality. True professionals will find out.
Also, it's great to have someone sign the Letter of Recommendation for you, to justify any of the skills or training you got and mention a few words regarding your personality.

There's a detail left for a professional acting resume – the projects you've been working with. There are 4 main sections to pay attention to:
Film;
Television;
Commercials;
Theater.
Here's an acting resume example of listing filming expertise:
Name of the Film → Production Company or Director (or both, it's even better!) → Role (lead, supporting, etc.) or Name of the Character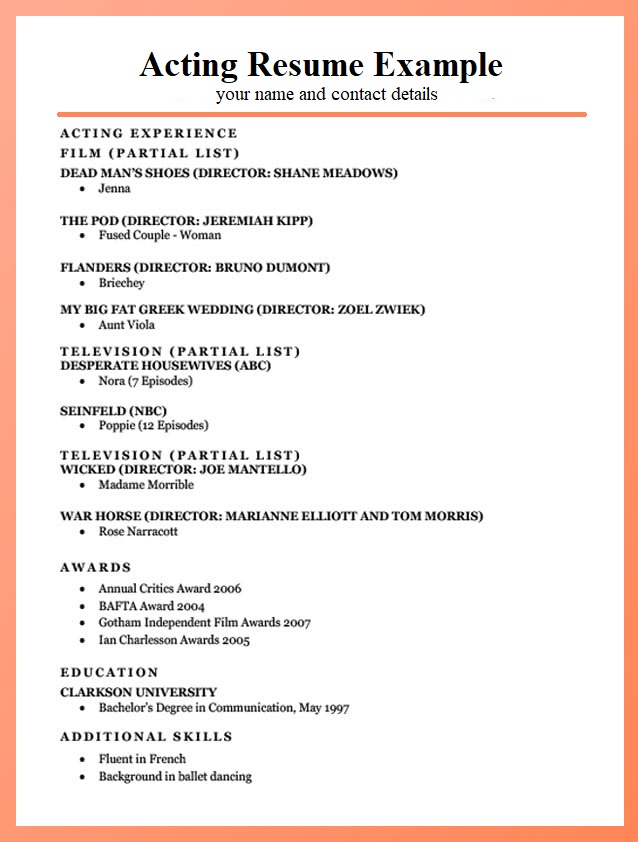 You may use the same scheme regards television or theater projects with one exception –be shy about telling about a school theater. It's also an important experience to share.
Commercials are different. They're not always necessary. So, just add "available upon request".
So, take time to work on resume formatting and make it as good as you're on stage. Don't ever lose a chance to show your talent and get maybe the next big breakthrough in your whole career. Be respectful to casting directors and eager to get an audition.