Computer Science Resume with No Experience: How to Get Hired
From game developer to manager of IT and communications, a range of opportunities is open to you as a computer science specialist. This exciting, challenging, and growing industry has no boundaries.
If you're a computer science graduate, it's time to find a job that really lights your fire. So, if you want a career with a solid future and high earnings, revamp your computer science resume with the tips below. Or ask for help from our computer science resume writing service experts that have helped dozens of applicants already.
'Relevant experience is key, and a resume should make this evident', says Patricia Bryner, manager director at Reyna ITS.
As the U.S. Bureau of Labor Statistics claims, the computer science industry is projected to grow much faster than other industries over the next ten years. So, even if you are just starting out your career path in computer science, learn how to spot a stellar computer science resume a mile away.
Why Study Computer Science
Let's start with the most obvious reason – it is interesting and challenging. So, want to become a game-changer in this industry? Do you want to make a difference in today's world?
Then make sure your resume for computer science gets your foot in the door. Learn how to take the easy way out of the computer science resume writing process with a computer science resume template provided by one of the resume writing services below.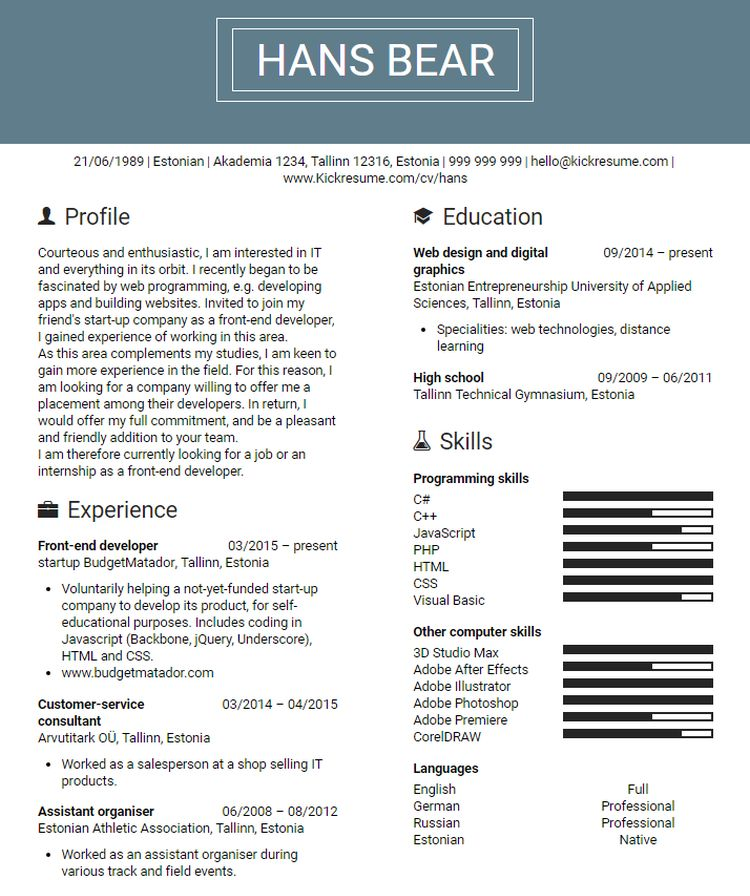 What is the first thing you noticed? The career arc? Or deep technical knowledge?
All in all, the beauty of any sample computer science resume is in the value it provides. It is important to name your resume attractively. Check out a computer science resume example below and see the difference.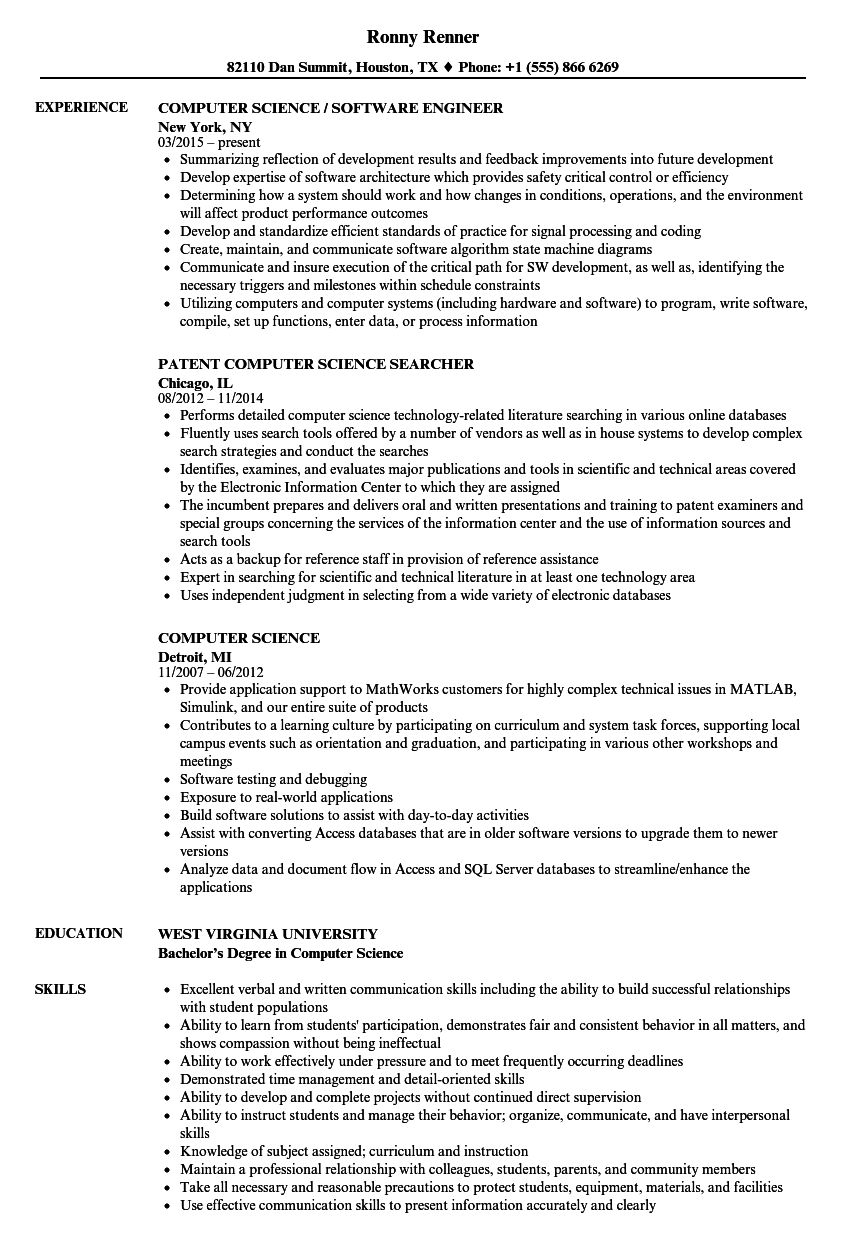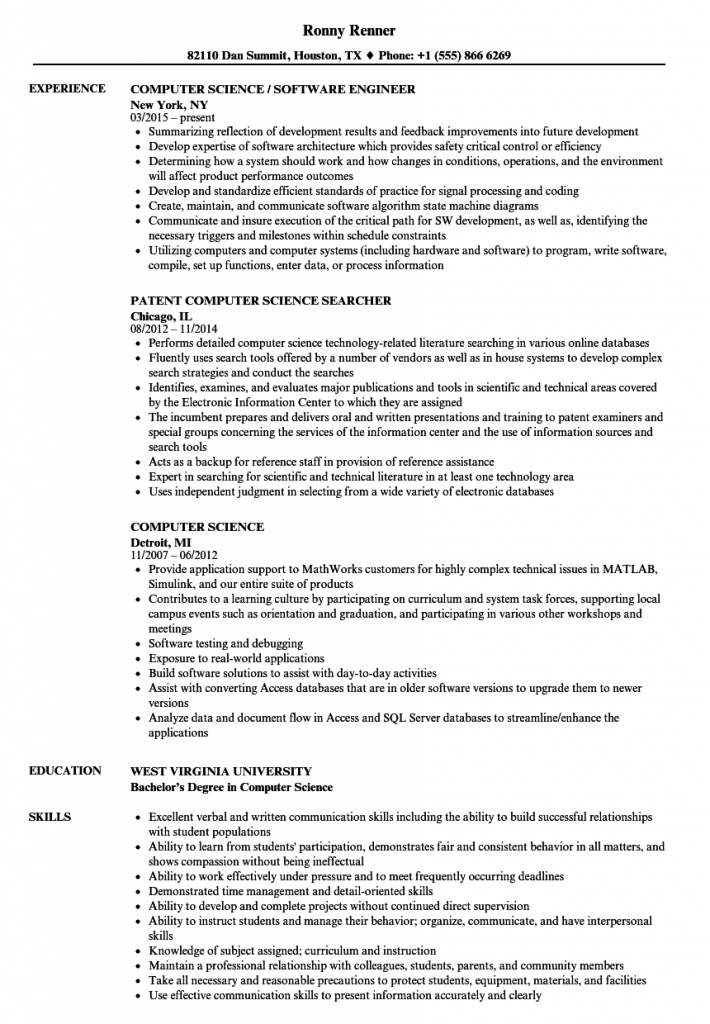 Tips to Create a Computer Science Resume to Be Hired

Are you great at solving problems? Let the cat out of the bag. Are you a student with no experience? No problem, a computer science student resume can also demonstrate your expertise. Want to be hired? Put your expertise to the top. And your value will never be less.
What is the best way to convince a future employer to hire you? Well, a well-writing computer science resume objective could do that trick. Make it sound like a summary of your knowledge. Well, the objective is your 'hello' message that convinces you that your skills are relative to the job you are seeking. Pitch your expertise as the number one selling point and you'll get the attention you need. Put it to the top and it will jump right out of the resume.


While many employers seek specialists with strong computer science skills, your science degree could still have a second priority. Why? According to experts in this TechBeacon article, computer science degrees are not that relevant anymore. That's a fact.
Thus, for a specialist in programming or data analysis, a computer science degree is a must. For all other categories, the real-world experience could be right at home. Have you joined a university club or developed your skills on your own? Big points to you. Make sure it shines in your computer science undergraduate resume. The same is true for a computer science internship resume.



Don't just show your employer that you're familiar with certain types of technology. Prove it with your bullet points. A good idea is to let your bullet points include your specific technical skills as much as possible.
First, write down a list of major things you do on a regular basis. Then find several job listings similar to the job you're applying for. And finally, get creative by writing your own bullet points.
Starting with a verb, each bullet point should include the technology used, purpose, and results, better in numbers. Below you'll find an example of how to communicate your technical skills efficiently. All in all, you could write something like this.


Think your academic or personal projects have no time on your resume? Think again. Incorporating projects into your resume can make a difference in landing an interview. The beauty is that it works even for an entry-level computer science resume. It fits also a recent alumnus looking for tips on how to write a great computer science graduate resume.
Don't even doubt, that if you've done any extra computer science projects in your spare time, include them in your computer science projects for your resume. Got that?
Do you have only freelance experience? Don't be shy to show it. Are you creating a computer science student resume with no experience?
Great, then incorporating your academic project might be the most important part of it. Think a project called 'Reddit Bot', 'Weather App', or 'GitHub Notifier' won't spark attention? Think again.
What do academic projects show to your future employer:
First, you have the skills;
Second, you have the motivation;
Third, you can learn new things;
Fourth, you have resolved to finish the project;
Fifth, you have a topic to talk about during the interview.
Of course, your projects need to go in your computer science resume with no experience. That's where they can make the most sense. Better yet, put your personal projects to the top if you think that they are more relevant.
So, if you're making a career move and take your computer science project seriously, make sure employers will, too.


As our business analyst resume writer say: "With all the software. Languages, technology, analysis tools, and skills you are familiar with, you don't want to spam your future employer for sure. If you struggle to clearly organize these terms, it makes sense to do research."
As a result, your computer science skills resume will look user-friendly and won't create a mess. In the hunt for all those computer science terms, don't avoid highlighting both your hard and soft skills. The more clearly your resume demonstrates your skills and accomplishments, the better your position in your job hunt.
Go Pitch Yourself
One thing to remember here is that the computer science industry is about solving problems. And your computer science resume should clearly demonstrate that.
You are a problem solver, go and make sure your resume is best at showing that off.