How to Present Yourself as a Great Tutor on a Resume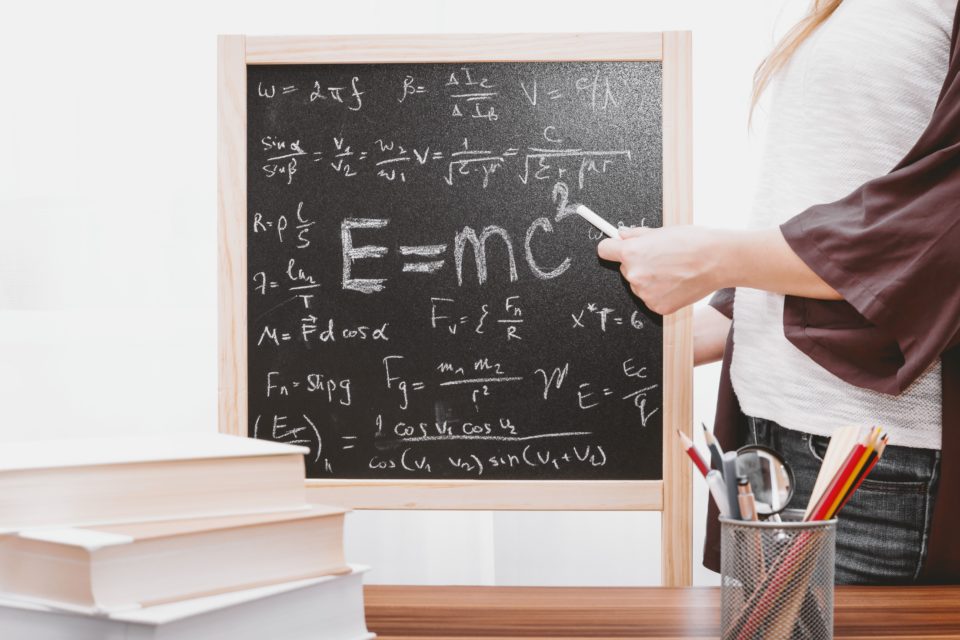 Apart from creating a personal brand, crafting a resume for a tutor is a huge boost to your career path. Learn how to express your experience in a clever way.
Knowledge sharing may be difficult, indeed.
Being one of the oldest teaching methods, tutoring still plays an important role in the learning process. Today, students at all levels receive tutoring to help them master chemistry, physics, math, or even reading.
Start with Job Description for Tutor on Resume
You may be one of the best tutors who can prepare anyone for high stakes tests in math, yet, without a killing math tutor resume, no one knows you exist. In fact, your intelligence and knowledge alone won't do the trick.
What's more important is that your tutor resume description should scream 'I know how to tutor effectively!' That, in fact, can be a result of professional training tutor practices you've received.
So, if you are about to help children & students learn and grow, make your tutor resume worth reading. Sure, tons of tutor resume samples can vastly strength your desire to get started. Otherwise, consider the professional assistance of the online resume writer.
Okay, you're ready to lend your expertise to young people who need a little boost or guidance, now what? One thing to do is to write a private tutor resume that attracts the right audience. You might not realize this, but being a teacher or having a background in education doesn't ensure success. Instead, your tutor job description resume should show that your enthusiasm never wavers.
Put on top your strong desire to help and share your knowledge with others. Show genuine interest in offering the best tutoring, instead of whoever's close by. To give you an idea, check the tutor resume sample below.

Consider Skills to Put on Tutor Resume Objective
To be a successful tutor, be about to focus on your tutor resume skills. Get ready to sell yourself and your services with your resume that packs a punch.
Create a document that displays your tutor skills and experience. At the end of the day, reading your tutor job description resume becomes effective and easy to grasp. After all, you need to demonstrate your tutor aptitudes, communication skills, and patience. But what matters most is to show off your strong interpersonal skills. Not anyone can be a tutor. While competence in the subject is important, having additional skills, such as teamwork, confidence, leadership, quick thinking, and the like can be vital to your success.
Without a doubt, a tutor is a person who needs to motivate and encourage both pupils and students to understand and learn the specific subject in a way that is simple & enjoyable.
That's why including the right tutor resume objective should be high on your list.
Many people think that if one has knowledge of the subject matter to tutor, it makes him/her a tutor. Far from the truth, in fact. Tutoring is not easy. It requires to have pleasure. So, think of your tutor resume objective as something that makes you feel good while tutoring. Whether you find pleasure in providing students with psychological support and knowledge, leading groups, or just helping students to learn, make it crystal clear.
Check English tutor resume example to get inspired.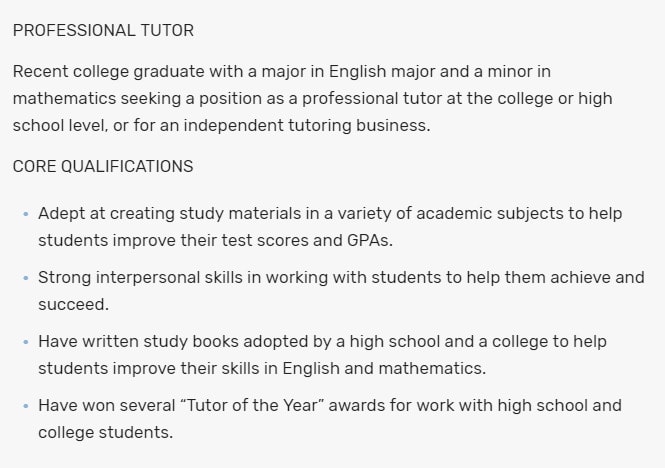 Go ahead, give professional tutor resume examples a shot. Ponder them carefully to discover what skills and objectives can boost your chances big times. Yet, simply following examples won't cut it. If you want to get a price of tutor pie, design a strong tutor skills resume that has an edge over others.
Point to Remember When Creating a Great Tutor Resume
Before you start, there are some important things to consider. Apart from including your relevant education and training, tutoring experience does matter, too. Job experience is what 67 percent of recruiters look for first. The best way to craft your tutor experience resume is to use action verbs relevant to each bullet point. Let's make it clear.
If you're just starting out, use your education information to your advantage. To create an effective tutor resume with no experience, place your education first. But in case you've already got your fingers wet in tutoring, get the cat out of the bag. Place the experience section above education.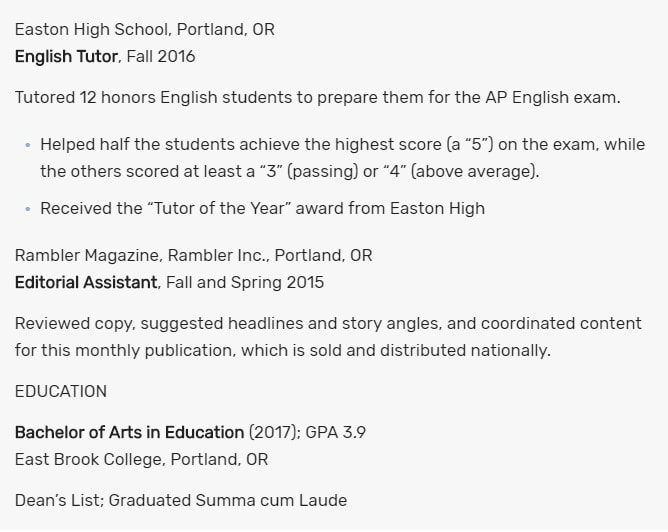 In most cases, focusing on what you did as a tutor hits it big rather than the subject matter. All in all, with over 3 to 4 years of experience into the same field, you have a better chance to jump ahead of the crowd. Take this example of a college tutor resume the best shot.
After all, it doesn't really matter whether you're looking for an ESL tutor resume, online tutor or a math tutor resume, variety abounds. Yet, if you're still confused about where to start, tutor description for a resume is a way to win.
An effective job description is key to put your best feet forward. Take time to think on the functions that you use on regular basis.
Do you prefer to communicate with parents/guardians? Or maybe go over the students' homework assignments big times?
Don't be humble about the things you are good at, instead, outline that on your resume. Say, if you encourage critical thinking in a way that leads to progressive learning, let it jump out of the page. Know the inside-outs of tutor responsibilities resume examples before diving in.
---
---
Need Help in Writing a Tutor Resume?
Confused with expressing your previous work experience? Get started the easy way. If you struggle with your resume to present yourself in the best possible way, a professional resume writing service can be a huge help.
Don't miss out on the great job opportunities with your professional resume. Instead, jump out of 54 percent of job seekers who don't take care of theirs.