Resume vs. CV: Can You Tell Them Apart?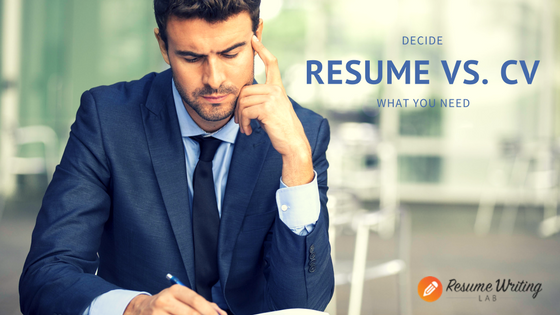 Both a resume and a Curriculum Vitae (CV) are very well-known terms for people familiar with job or internship application process. Often your CV is an obligatory document for students applying for scholarships or grants.
However, even if people do know about the existence of these documents, they rarely understand the difference. The thing is, most of the times our mind perceives two of those terms as one whole. Some people do even consider a CV and resume as synonyms.
So, what is the difference between resume and CV, if there is any? Is it related to the regional peculiarities or the document's purpose?

It's time you can finally put CV vs. Resume against each other and learn the difference between both of those documents. Luckily, the best resume and CV wiring service clarified each term separately.
What Is Resume?
From French, the word "résumé" means "to conclude". The resume is a relatively brief and concise document. It should sum up your main qualifications without any redundant details. That's why it has the following name.
A resume brings together the candidate's job and educational experience, hard and soft skills, main accomplishments, awards, volunteer activities, etc. The content of the resume has to be carefully selected to make it as concise as possible.
Usually, they do not exceed the length of one page, although submitting two-page resumes is still acceptable. This is the reason a lot of people start by writing a resume outline first.
It's not a secret that American employers request mostly resumes than CVs. Most of the resumes look similar and it can be an issue for an applicant to stand out. To enhance the chance of their approval, job seekers have to tailor the resume to every single job position they are going to apply for.
The way in which they need to customize the resume depends on the specific requirements written in the job posting and the selected resume format. Speaking of formats, there are chronological, functional or combined resumes for you to choose.
What Is CV?
From Latin, the term "Curriculum Vitae" means the "course of life". Short as CV, this document includes a detailed record of your professional experience and depending on where you are going to apply, a CV can list the data differently.
For instance, academic CVs include more information about research and teaching experience, as well as publications, obtained grants and scholarships, projects, awards, licenses, etc.
Non-academic CVs emphasize on the candidate's career experience, skill set, accomplishments, honors, and awards. Make sure you know how to write specific CVs like a tech-based CV, for example.
Obviously, Curriculum Vitae is a more comprehensive document compared to a resume. It's fine to dwell on details. The length of a CV varies but usually exceeds the two-page format. The content of each section is unchangeable and has to be written in chronological order.
When to Use CV? 
As it was previously mentioned, Curriculum Vitae is widely used in the academic sphere all over the world, including the United States. This would be an obligatory document for individuals applying for fellowships, grants or teaching, research, and scientific positions. Also, CVs are necessary to apply to graduate schools.
Speaking of Europe, the term "Curriculum Vitae" can often represent a set of all job application documents that include a resume in it. In general, if you are going to work in Europe, Africa, Asia, Middle East and New Zealand, you'll be asked to submit a CV and not a resume.
Although in the countries of the European Union and New Zealand, the term CV is equal to what Americans consider as "resume". The only difference between American and European document is that some EU countries require adding your headshot.
Only in India, South Africa, and Australia both of those terms are interchangeable. Particularly in India, the application document reminds a combination of two.
When to Use Resume? 
If you are applying for a job in the United States or Canada, you most likely need to write a resume. The only exceptions are academic or research positions.
In the United Kingdom, Ireland and New Zealand, however, Curriculum Vitae became so common that resumes are no longer in use.
In general, the American format of a resume is widely accepted in most European Union countries, even though they call this document a CV.
In India, South Africa and Australia there is no particular difference between a CV and resume. Nonetheless, the first one is commonly used for positions in the private sector and the latter — for public service jobs.
Once you learn the difference, make sure to read our high-school resume writing guide too!
Major differences between CV and Resume
For those who might still wonder, what's the difference between resume and CV, here is a resume vs. CV comparison table to help you understand the point.
---
| | | |
| --- | --- | --- |
| Categories | CV | Resume |
| Length | The length is usually 2 or more pages depending on the amount of a fully-described experience, skills, and other qualifications. | 1-2 pages but no longer than that, an additional page with publications and/or poster presentations not included. |
| Format | CVs are always written in a chronological order. | Resumes can be reverse-chronological, functional and a combination of both. The choice of a proper format depends on which emphasis you are going to put in a resume. |
| Content | CVs contain full records of the person's career history | Resumes have a concise but targeted list of experience, skills and other accomplishments. |
| Emphasis on | CVs usually start with the education section and put a great emphasis on it. | People with at least 1 year of work experience place this professional experience section before the education one. |
| Customizability | CVs remain unchanged, so you don't have to customize it for each employer unless you obtain more accomplishments. Any of the other changes should be written in a cover letter. | Resumes are supposed to be tailored for each position. |
| Where to use which? | CVs are a preferred document among employers of the European Union, Africa, Asia, Middle East and New Zealand. Americans use CVs for academic purposes or applying for a research position. | This is a preferred document among employers in the US and Canada. Resumes are also accepted in India, South Africa, and Australia. |
---
Summary
Did you get the main Resume vs. CV difference? If you are one of the job seekers, it's crucial to have at least one of these two documents properly organized and written. At this point, choosing one depends on many factors. Let's revise them for the very last time.
CVs: longer than 2 pages, describe your entire career path, remain unchangeable.
Resumes: 1-2 pages long, briefly covers your main qualifications, can be of several formats and must be customized to each position.
Remember that a poorly written resume or CV can cost you a good spot. If you have poor writing skills or you can't put separate chunks of information together in one flawless document, use our templates or turn to professional CV or resume writing services.