Write a Professional IT Resume: A Cheat Sheet
The foundation of an exciting information technology specialist career starts with an effective resume.
However, it differs from the standard resume template. Look through the following tips to find out how to write a powerful IT resume.
Apply for Help if Necessary 
Applicants can write information technology specialist resumes themselves.
However, not everyone can produce a good paper, so sometimes it is better to use the help of writing services. One of the most reputable is Resume Writing Lab. Its' professionals can provide you with quality papers for affordable prices.
Set a Priority
Even if you took courses in programming and networking, you should better choose one path as, mostly, companies require someone who does either programming or networking.
So, decide what is more important for you and what you do better.
Organize Your Technical Competencies
Technical competencies allow your potential employer to find out about your abilities and skills. Moreover, it helps to highlight the keywords.
Organize your competencies with the help of these topics:
Languages
Operating Systems
Protocols
Tools
Methodologies
Note to yourself: if you choose the programming field as your main, do not mention skills related to networking and vice versa. What is more, do not cheat, list skills you are good at.
Present Your Skills
As you get your knowledge through learning, it would be a good idea to provide brief information about courses you took and the skills you got.
Furthermore, you may familiarize your recruiter with scale projects you created or events you organized (related to the job you are applying for, of course). Do not repeat your CV, just revise these data quickly.
Focus on Transferable Skills
Even if you do not end IT courses but rant to get a technical job, and emphasize your IT skills. Mention the basic skills related to the IT sphere that you used to demonstrate in your previous job.
Besides, technical skills do not forget to list:
Deadline meeting
Desire to promote
Fresh mind and ideas
Tendency to accuracy and quality work
Ability to set priorities and take multiple tasks
Communication skills.
Conduct a little research and find out who exactly an employer of your dream company is looking for and adjust your resume according to his expectation and requirements.
Use Keywords
Most companies use Applicant Tracking Systems (ATS) – special tools helping to scan applicants' resumes and highlight the keywords the company requires.
This step is important, as if you will not pass it, you may not get a chance to be invited to the interview. You should also use these words to upgrade your LinkedIn Profile and make it visible to employers.
For this purpose, you should learn the description of the job and allocate keywords (for instance, previous work experience, Java or any other technical language, a desire to grow and learn other techniques, etc).
Work with Resume Templates
If you are a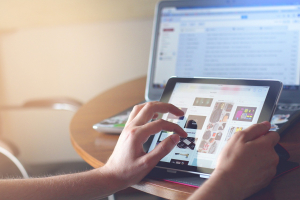 novice and can't get how to write an effective resume, you can apply for ready-made templates.
Resume templates will help you to organize information, create emphasis, and describe your accomplishments. Moreover, samples will ensure that you've mentioned the right information.
As a template includes titles of all necessary sections, you won't skip out any vital information. It gives you an idea of what information you should mention and what you'd better omit.
You just fill empty fields with your evidence and check it out. There are lots of internet resources where you can choose a proper template.
Format Your Text
Your resume should make the right first impression. Text is the first thing that your potential employer will notice. Thus, it must be well-formatted.
Choose a professional font in a size 11 or 12. If you are going to email your CV, use Georgia font as it is very readable. Times New Roman, Arial, or Calibri are also good choices.
Yahoo, by the way, has chosen Helvetica as the best font to use for your resume. You can focus on some sections from your resume making them bold or italicized. The heading of your resume should be a size 14 or 16.
Provide Testimonials and Recommendations
Adding good testimonials or recommendations from your professors or previous employers would be good. Your recruiter would get a chance to learn about you as a worker better.