How to Write an Entry-Level Data Analyst Resume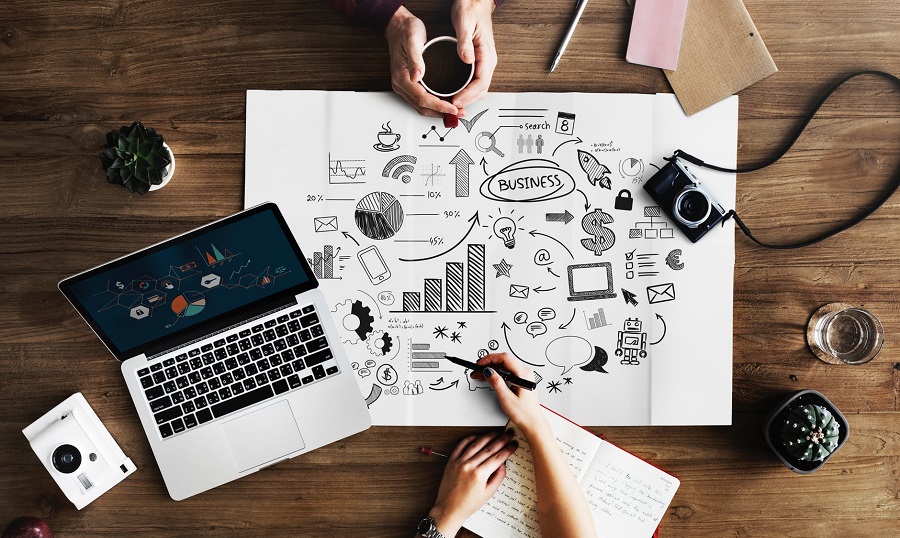 Plenty of data is swarming around the world. Only skilled staff can help us make sense of this data. Would you like to become a data analyst? There are so many advantages to acquiring this profession as this is one of the most in-demand positions these days.
According to the 2018 Future of Jobs Report by the World Economic Forum, there will be an increasing need for software developers and data analysts in the upcoming 10-20 years.
How can you show potential recruiters that you are a perfect fit for this position? You should have a professionally written resume that can prove this. Keep on reading and use the steps from this tutorial to craft your own data analyst resume sample and win the desired job.

The first step towards writing a perfect data analyst resume entry level is to select the right format for the application document. HR managers may pay attention to the way you format the application document.
If they don't find the necessary information within a few seconds, they won't waste their time searching through the whole paper. If you are willing to be a business data analyst, make sure you look at several data analyst resume examples online to get a better understanding of what your final paper should look like. If you need help with your resume, you can always hire professional business analyst resume writers to assist you with that.
One of the best formats for this document is a reverse-chronological resume format. Thus, you will be able to showcase your objective and highlight your skills and relevant experience.
Remember to use white space, add subheadings and just make the overall look of your entry-level data analyst resume professional. You have limited time to make a great impression. Save the document in PDF format so that the formatting is kept intact and the recruiters can find easily what they need.

Now that you've picked the most correct format, add your contact details at the top of the page. Keep this part of your entry-level data analyst resume basic and relevant. Include just your full name, phone number, and email address. It's optional to mention your address as you may find a great position even in another city or state.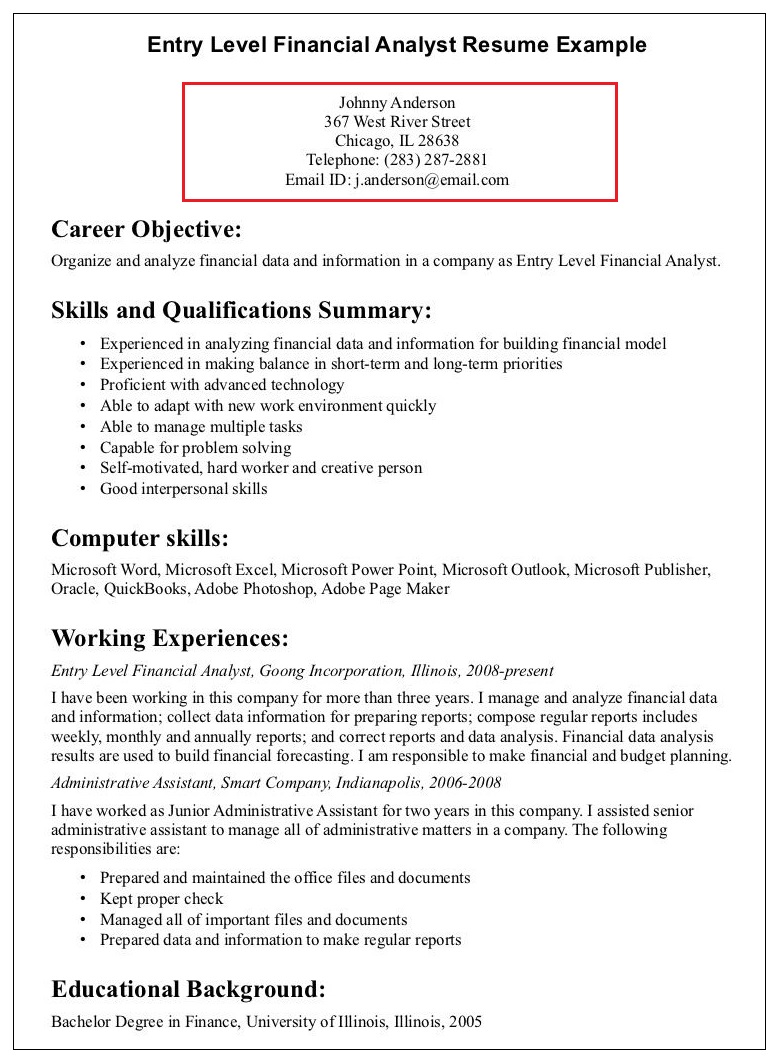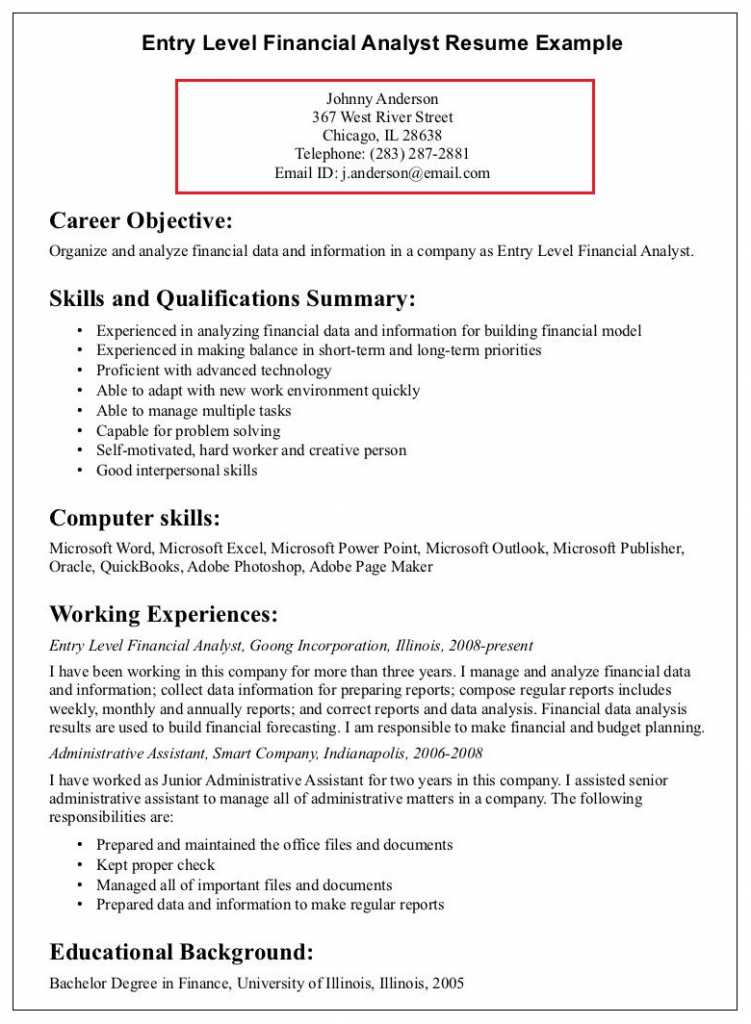 Why do you need a killer junior data analyst resume? PayScale states that senior professionals earn around $130,000 per year and the demand for these specialists will grow to 28% by 2020. So, having all the details up-to-date and relevant is essential to winning the job of your dreams.
Make sure your email address is professional and doesn't include any nicknames. Additionally, submitting a link to your LinkedIn profile may be an extra opportunity to demonstrate your knowledge and let potential employers have a closer look at you.

Every candidate wants the HR manager to think that they are the best fit for the position. The only thing that can prove you are better than the rest of the competitors is having an outstanding SQL data analyst resume.
Adding a creative objective or summary will help you grab the recruiter's attention and make them read the rest of the document. Depending on your circumstances and your current position, choose between these two options.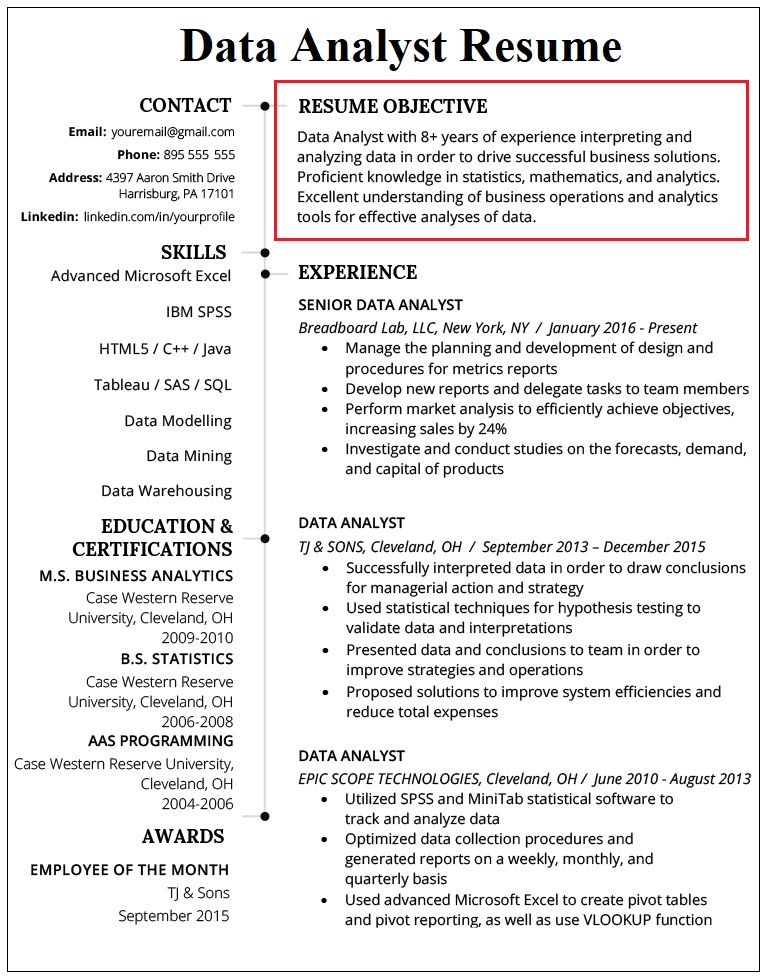 Include a summary in your resume for a data analyst if you have enough work experience and want to emphasize your accomplishments and skills in your paper.
However, if you are changing careers, write a data analyst resume with no experience, or have some gaps in your employment history, then it's better to opt for a resume objective. Mention what you are passionate about and what useful skills you have so far.

This part is especially important for the senior data analyst's resume. You have something to tell prospective recruiters so make sure you don't skip the most essential details. Start with the most recent positions you've had and list up to five accomplishments and responsibilities under every position.
Remember to include data analyst resume keywords and tailor them to fit the description of the job opening. Provide achievements of big data analysis you've completed and give some examples.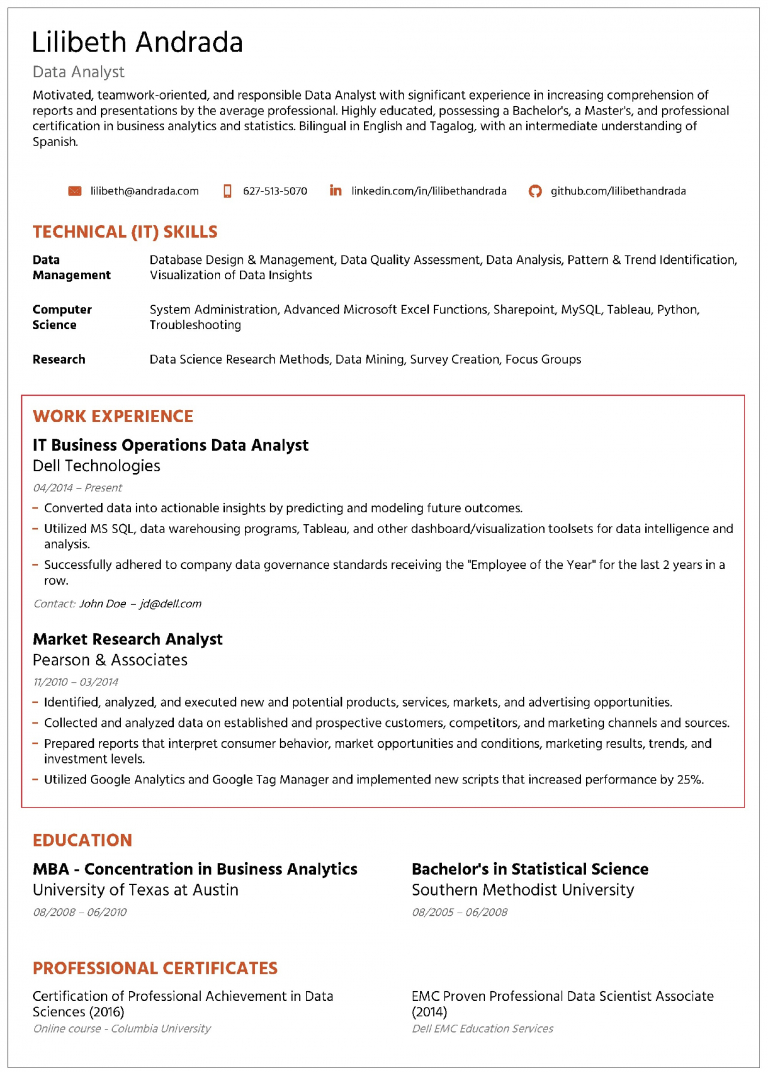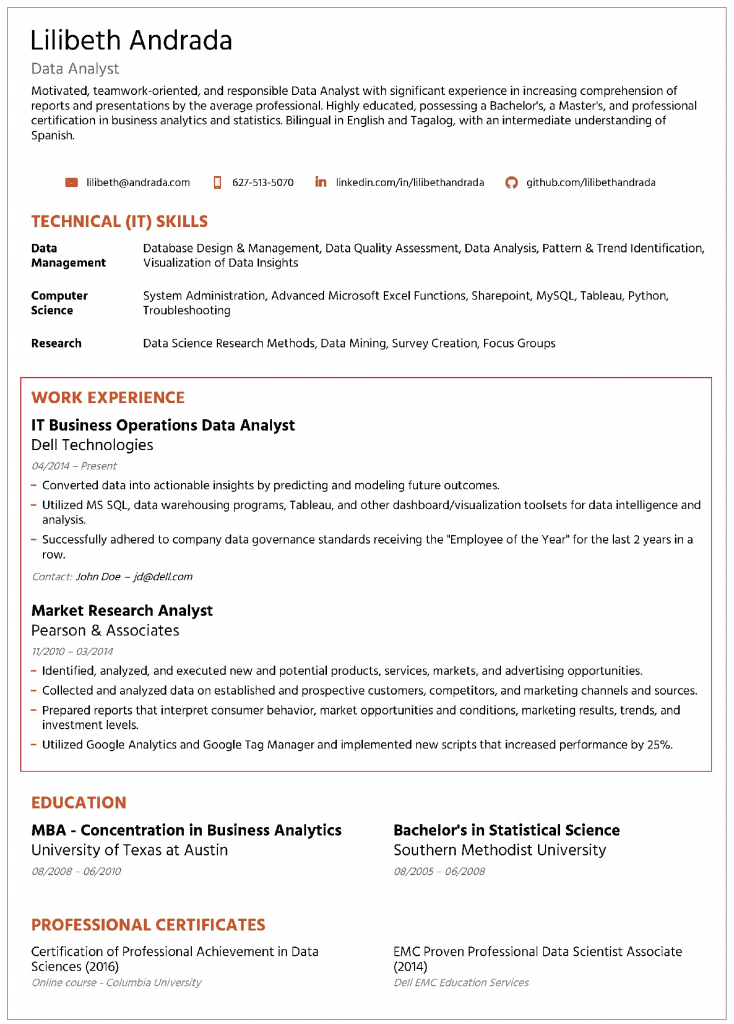 Your education, as well as previous work experience, really matters when it comes to the job searching process. However, mentioning the right skills is just as significant in order to stand out.
Sometimes you may take certain skills from the data analyst job description resume as the job openings state what kind of person the company is looking for. Here are some of the most essential hard and soft skills for a specialist in big data:
Hard skills for your healthcare data analyst resume may include logic and analysis, problem-solving, data mining, programming languages, database management, and design, risk management, system administration, tech support, etc;
Your soft skills may include critical thinking, risk assessment, communication, attention to detail, teamwork, leadership, and decision-making.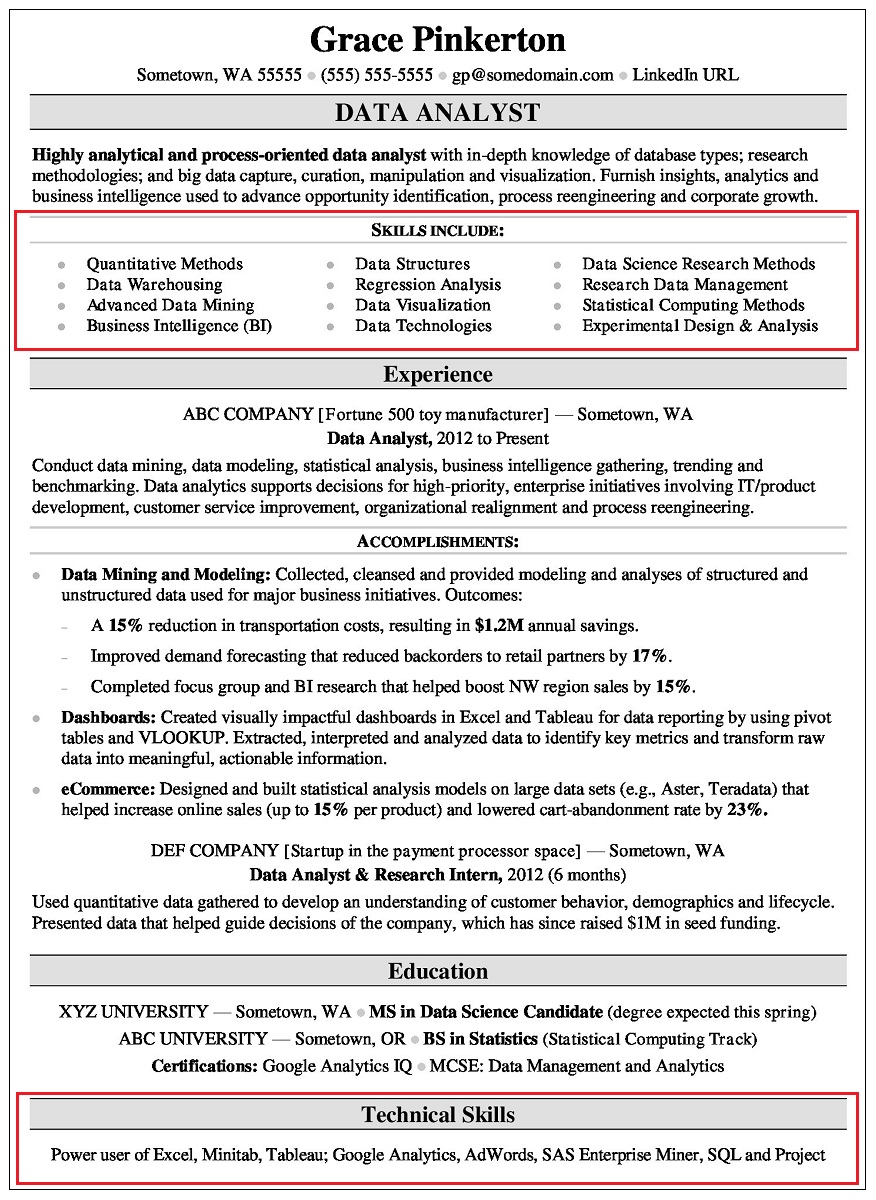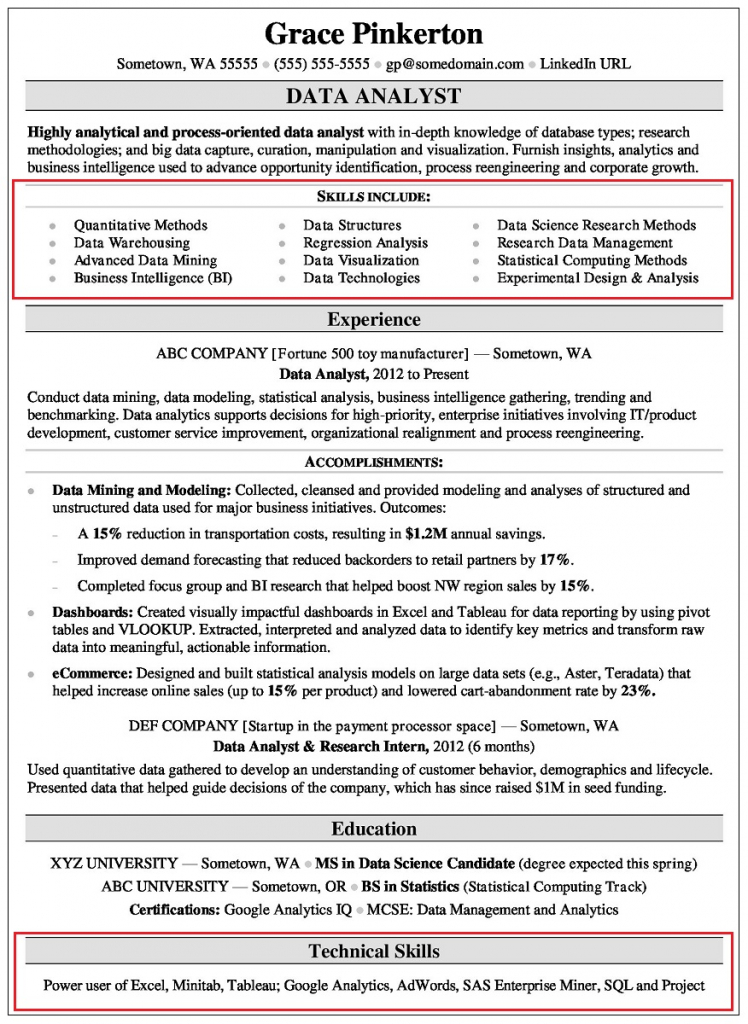 To sum up, being a data analyst offers great career opportunities and high income to those who manage to craft a job-winning data analyst resume that will put them above the competition.