Successful Letter of Recommendation for Employment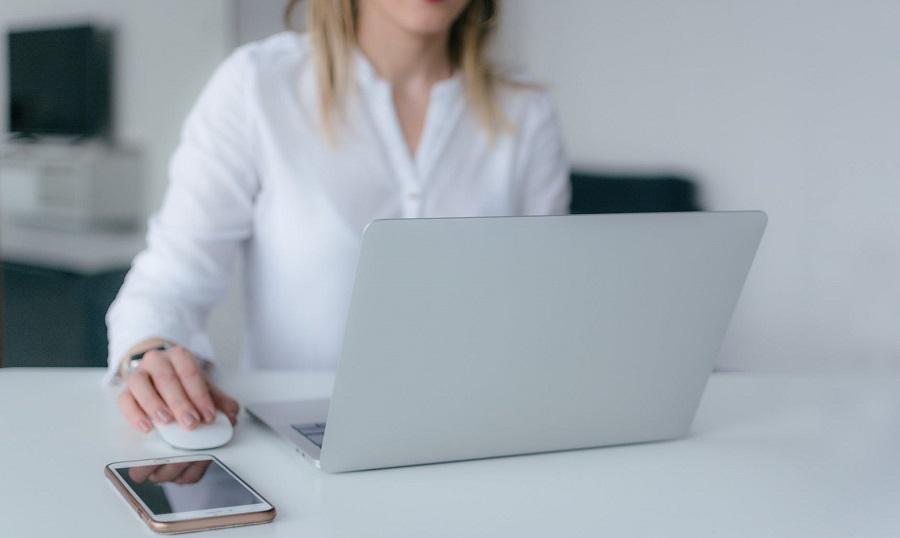 Reference is another challenge, whilst considering a new position. You need to find a person to submit a letter of recommendation for a job. Make sure everything is going according to plan.
Moreover, big organizations usually require more than one paper submitted. Sometimes they request LinkedIn recommendations to understand a candidate's perspectives outside the current specialty.
On the contrary, the manager's or department supervisor's pay grade includes signing a recommendation letter for a job as well. You need to evaluate the workers from the very beginning, to develop their talents and spot their weaknesses. Attention is a key point to write an honest document and helping someone get a dream job.

There are some important tips to mention when someone asked you to write a recommendation:
No rush for starters – remember, someone's career strongly depends on your words. Being the one to refer to is a time-consuming option, take a few days to arrange it properly;
Think before saying "Yes" – when you just became a supervisor, or are super busy, or don't know the person that well or something else – find the courage to refuse. Don't take days to struggle with a few sentences and leave it anyway;
Consider the role – the supervisor and the co-worker seem to spot different skills and expertise an applicant has. For example, if your friend wants you to do a recommendation letter for a job, remember about a concrete role for that person. What to use and what to skip. Don't address a recruiter with "Hi!", don't use too much jargon, etc. Don't make it harder for your friend and one more forbidden – you're not the boss, you're just helping to make things clear for the employer;
Edit a hundred times – well, a bit of exaggeration, but you're not allowed to make mistakes. You're the one, an applicant looks up to, you're the inspiration. Don't let someone down just because of laziness to proofread.
So, before opening Microsoft Word, find a good sample of recommendation letters for a job that is better with structure.
If you need help with writing your professional document, ask us to help.

Your contact details;
Greeting – use a traditional "Dear Sir/Madam", or address it specifically;
Introduction – includes a brief purpose of the paper;
Details – some specifics about a candidate; show you know this person to recommend for a vacancy. Don't write a general description or copy from your LinkedIn profile; it's the most significant and biggest part;
Summary – simply, why would he or she should get a job;
Completion – ensure you're ready for more questions if needed. Write the actual contact details. Consider the fastest way to reach you – phone or email;
Closing – use a formal style, like "Sincerely …" and follow your name with a signature and a job title. Respect people, you'll send a document to, and stick to one style of writing.

Worth remembering – you are supposed to keep a balance. Less than half a page shows you have zero connection to the candidate, but don't become too engaged in the process.
A personal or professional, letter of recommendation for a job, takes 1-2 pages, closed to a CV's usual size. It's very common to provide short documents without a deep explanation and unique points. A friend of yours will probably fail if you just type something general and submit it.
INFOBOX: You may not believe it, but in 2019 nearly 60% of potential job-seekers hadn't finished an application process. So, sticking to submitting recommendation letters and composing a CV, you'll be ahead of two-thirds of the candidates. It's a good motivation to actually get a dream job or a promotion to a higher level.
So, after making clear a length and a core structure, let's go to more details.
As a practical illustration, you got to make a letter of recommendation for a medical assistant. There are some specific achievements to share with a potential employer. Try to adjust the final version to a person. Use real-life examples. It's a guarantee to make an applicant stand out.
What about a newly graduated medical student? It's a good chance to highlight the research part and emphasize a theoretical basis. Get the necessary information and keep in touch with the person you're writing about.
You may also think the best way is just to tell about all the good qualities an applicant has. But here's the tricky moment – you should connect certain skills and a position. Don't distract an employer, there are plenty of other letters to read.

So, as a prolonged summary, let's make things clear. When it comes to a promotion or a new job, a recommendation letter must be:
Addressed – take care about a subject line, if it's an email;
Customized – use a set of qualifications for this position; use the examples to show an applicant can solve problems and act in trouble cases;
Motivational – it must drive a person to call for an interview, and ask more questions, in other words – hire a candidate right now;
Easy to read – right from the part explaining how did you meet a person to experience description;
Summarized – include a phone number, email, and social media. It's not only about a future employee; it's about your reputation as someone people may trust.
What's included in every recommendation letter sample for a job can be divided into 3 main paragraphs:
Letter purpose;
Details + examples (a person's contribution) – the "body" of a letter;
Summary, answering "Why?"
Brief conclusion or phrase "Let's keep in touch!"
According to the advice above and taking into account 7 main parts you should include in the recommendation letter, we have prepared a perfect example: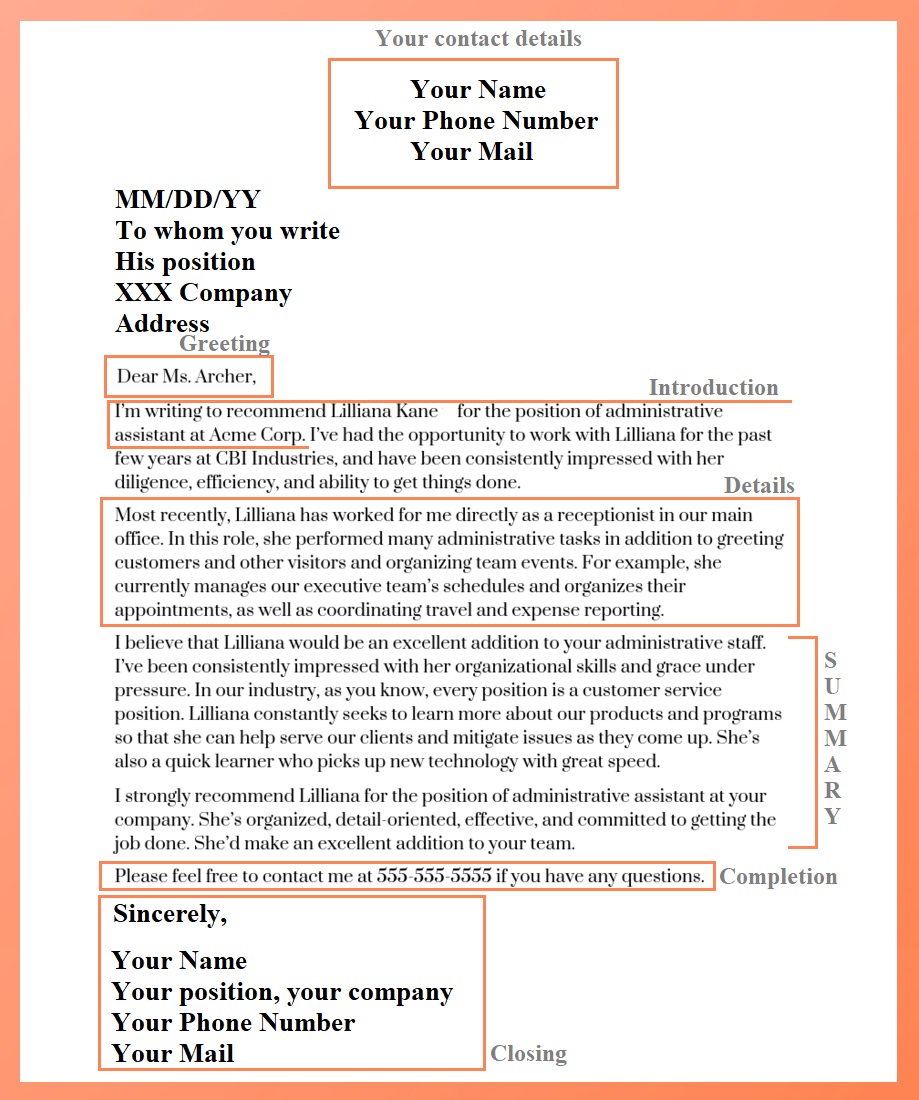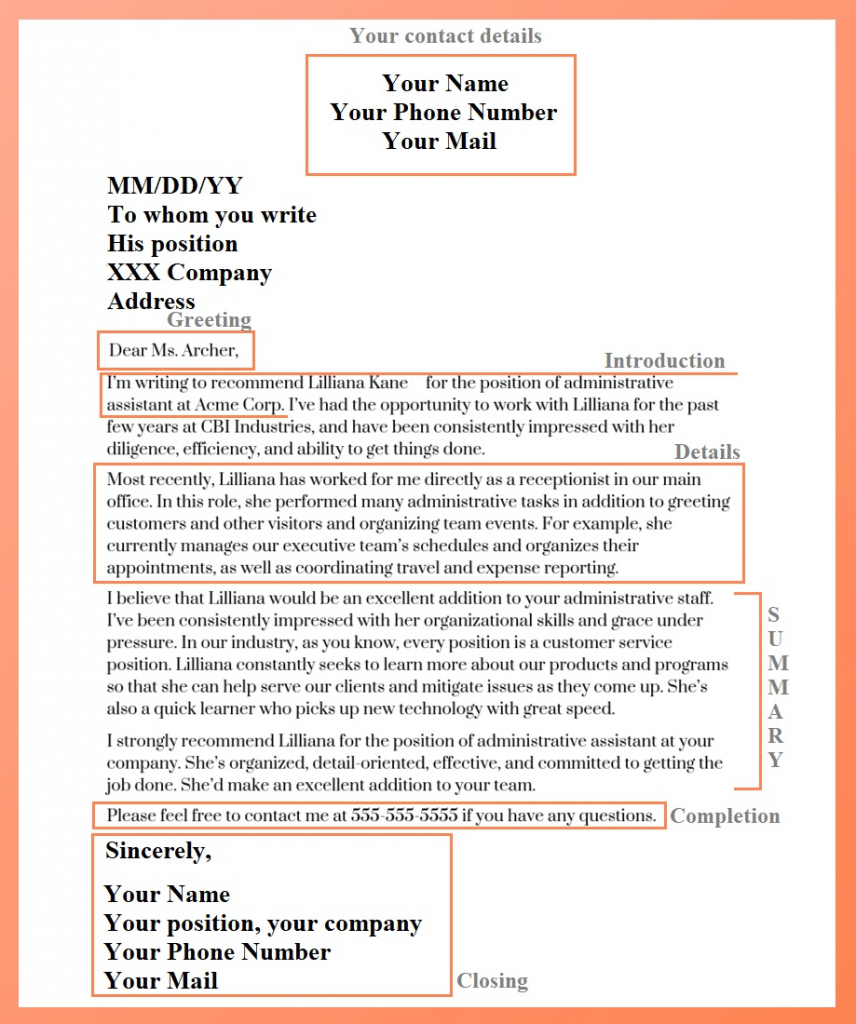 Whoever you're writing about, focus on this particular person. Think outside the box and move out of a standard duties description. Try to prove that you are the only candidate that does something others are not capable of.
It seems funny, but sometimes one sentence may convince an employer to make a call. Just follow the structure, and stick to details!