5 Vital Tips to Create a Massage Therapy Resume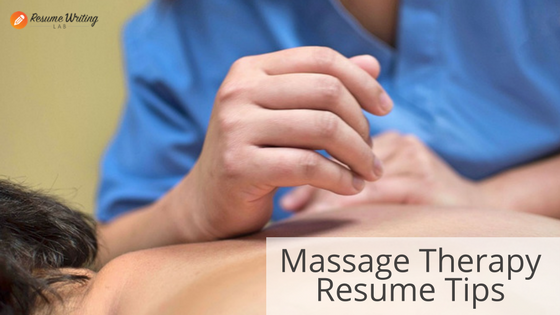 A massage therapist's resume is not a bio-data necessary for getting hired by prospective recruiters. It is actually a marketing tool that aims to sell you to employers and present you from the best possible side.
You've probably found some examples on the Internet, but how do you know which massage therapist resume template will work best for you? Is your current application document fulfilling this purpose?
If you are struggling to land a decent job but want your application to shine and be effective, follow the advice of a resume writing service on how to build an impressive and compelling document for this position.

What to Include In Your Resume?
There are several sections that need to be present in every application document. For instance, you should include your personal details, qualifications, work history, and education in your resume.
Your personal details should contain your full name, address, phone number, and e-mail address. The next step is to mention a profile or summary of your key strengths with the description of the exact position you are looking for.
Keep in mind that being a massage therapist is a unique career and using an online resume generator might not be the best decision.
Massage Therapist Resume Objectives
Many job seekers have the same question of whether they need to include a massage therapist resume objective in their application document. The answer is – yes. This position definitely requires knowledge of special body treatments.
So, a professional in this field needs to have a great knowledge of several massage techniques with a good understanding of body treatments. In addition to some job-specific abilities, you ne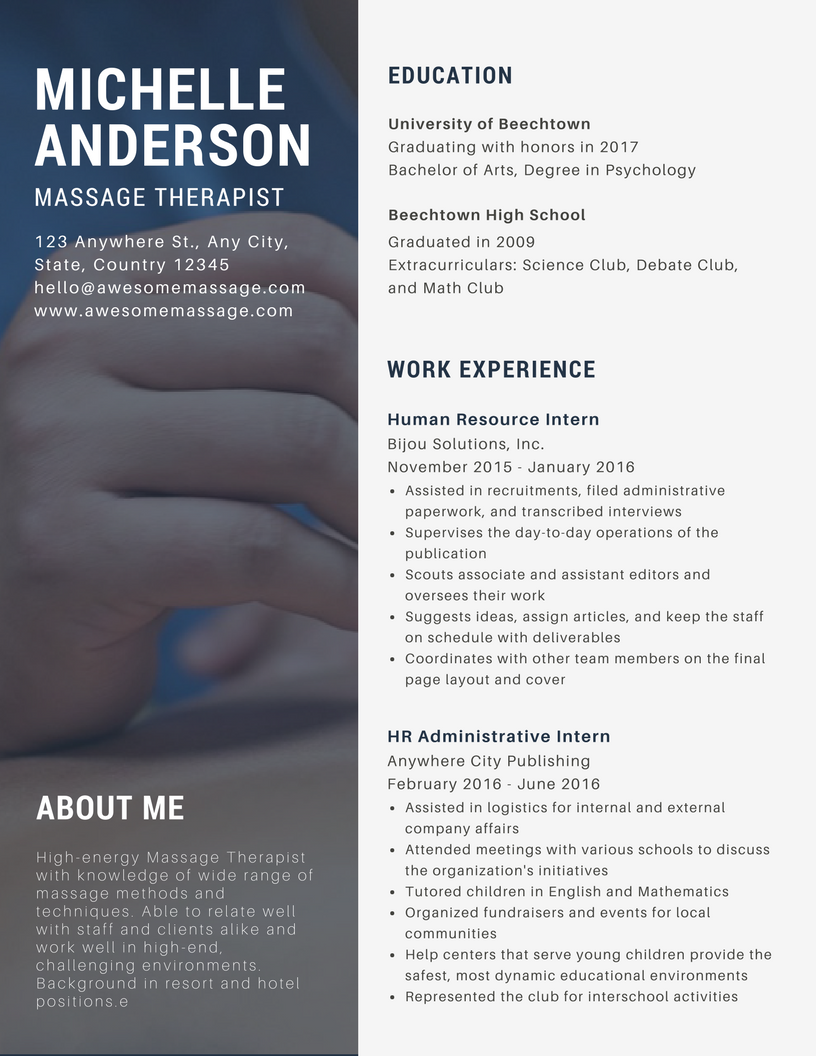 ed to have strong communication skills and intelligence to acquire new knowledge and learn new techniques.
These skills and your key strengths should be included in the objective. Look for a great massage therapist resume sample in order to get a better understanding of these requirements. Additionally, you might want to look through the best resumes for healthcare and compare the differences.
The Right Resume Format
Is a chronological or functional massage therapist resume format better? Which format will better market yourself to the recruiters? Generally, the application documents list the work history chronologically, starting with the most recent job and going backward.
However, if your previous positions weren't related to the job you want to apply for, consider choosing a functional resume format.
This way your document will emphasize the types of work you've done and will make you a great fit for the new position in the massage therapy industry. Don't ignore resume formatting secrets to achieve the best result.
Work Experience and Skills Section
To build a persuasive and effective marketing document, you need to find ways to demonstrate how your previous positions make you a desirable candidate for the new job.
For instance, if you held the position of a receptionist at a medical clinic, you can translate this experience into relevant skills and abilities for your massage therapist resume, such as organizational, customer relationship, and inventory management skills.
Also, be sure to check the best guide on how to find the best career coach to enhance your job search!
Employment History and Education
Of course, don't forget to include the information about your qualifications in your application document. Your credentials will serve a decent proof that you are well-qualified for the new position.
Also, add the employment history section with the location and the name of the previous companies and employers as well as dates of work and the name of your position. Any training schools and information about your education should be added to the document as well.
In case your work experience is not related to the new career, cut it short and make a brief summary. For more information, look through the massage therapist resume example and get the idea of what should be present on your own document.
These tips will be very helpful for everyone and will help you build a persuasive resume that will stand out from the competition.