4 Essential LinkedIn Background Photo Tips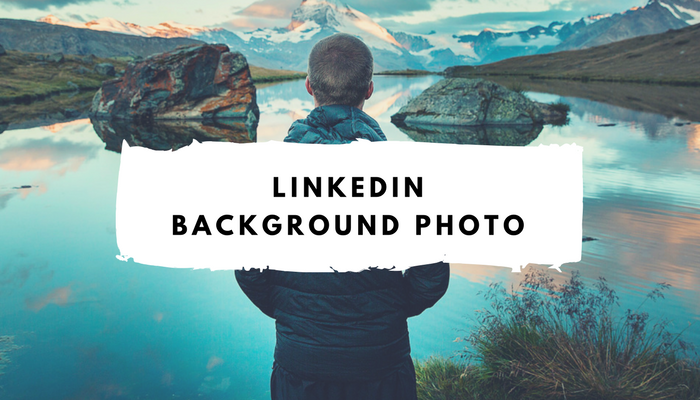 More and more people are joining and signing up to LinkedIn every day in order to start their job search. The vast majority of job hunters want to make sure their resume and profile are perfectly written by professionals, so they resort to the help of LinkedIn profile writing services.
Having a profile written by an expert in your field or industry is the same as having your resume created and fine-tuned by a qualified resume writer. However, the times change and so are the features LinkedIn offers for its users.

Starting from the previous autumn, this website has introduced a new feature for all the members. From now on, background photos became available to every user.
Since this feature is quite new, not all job hunters know where to start and how to take advantage of it and make a LinkedIn profile stand out. So, here are our top creative LinkedIn background photo ideas.
Understand the Purpose

Before the LinkedIn background photos became available, every member could only have a profile picture. This used to limit your possibilities because the best you could showcase was a professional headshot against a boring white background.
Surely it is possible to choose a LinkedIn photo worthy of the attention of employers. But how can you express and show your uniqueness if every job hunter is following the same standard? LinkedIn background photo offers you a chance to do that!
Experts state that placing a background photo for LinkedIn is a wonderful way to showcase your personality and add a personal touch to your profile.
More than that, the cover photo will be placed at the top of your profile, which will be the first thing prospective recruiters will see when they look at your profile.  So, it's a great mistake setting wrong background photo LinkedIn users often make.
In other words, it's a great chance to visually say whatever you would like other people to know about you. This is especially important if you are interested in graphic design job opportunities.
Give Some Information

Use this space to concentrate on the most significant aspects of your personality. You may go a little bit further and not only tell who you are with your LinkedIn background photo but also show where you want to be.
Don't be shy to show your key strengths in order to capture prospective jobs.  First, think about the types of activities you have strong skills or what kind of work you would like to do, and then choose the most suitable words to exemplify those things.
Surely no need to go overboard. Just like a resume can get you fired, an inappropriate LinkedIn background may ruin your professional image.
State Your Targets
In case you are a more proactive job seeker who is willing to get the most out of your job search and finally land a decent job, use your cover photo to let potential employers know that you are looking for a job.
Give a call to action in your header space to let other people know what they can do to help you. Make your message easy to read as it will appear at the top of your profile.
Also, if you are interested in a science career, be sure to check scientific CV writing tips first!
Showcase Your Skills

Your LinkedIn background photo size allows you to include some text in it. This is a perfect place for you to show any important skills and abilities you may have.
Especially if you have little or no work experience yet, a great way to demonstrate that you are qualified for the kinds of jobs you are searching for is to include a photo of you using your skills. For instance, you may show your communications skill or leadership skills in this way.
It's your chance to be creative and to show what exactly makes you stand out from the rest of the applicants and job hunters. Use this opportunity as a chance to tell your own story and catch the eye of potential employers.
Here are +3 Linkedin background image ideas 1400 x 425 



What to Put as LinkedIn Background Photo?
We all think a lot about our LinkedIn profile picture, which makes our LinkedIn page look professional. Since the new LinkedIn look requires a new banner/background for your profile, there comes a great question, what to include as a LinkedIn background photo? Here are some easy tips and ideas from Resume Writing Lab for you to follow:
Do as Required. Premium subscribers have 29 templates to use for their background image, so if you happen to be one of them, you may use this wonderful opportunity. However, if you use a free version, you should customize downloaded images on your own. LinkedIn asks for basic image requirements: JPG, PNG or GIF format and size of 1400 x 425 pixels. Pay attention to the quality, as the picture may have a poor look.
Considering which image would be the best choice for your profile, here is our opinion. When recruiters or any other people use LinkedIn, they expect others to have professional looking profiles. And of course, the text is not one of the very first things employers pay attention to when opening your LinkedIn page – it's visuals that make the first impression. At the meantime, be careful with a super creative LinkedIn background photo. The best option is to create an image with useful text in it, precisely, to <strongwith your main career fields. Text written on the picture works very well, so you may also consider writing motivational quotes or the ones about career, personal development etc.</strong
To customize such images, you might want to use special online photo editors like Canva. It's simple in usage and already has templates with images, texts and even necessary templates for a LinkedIn profile background.